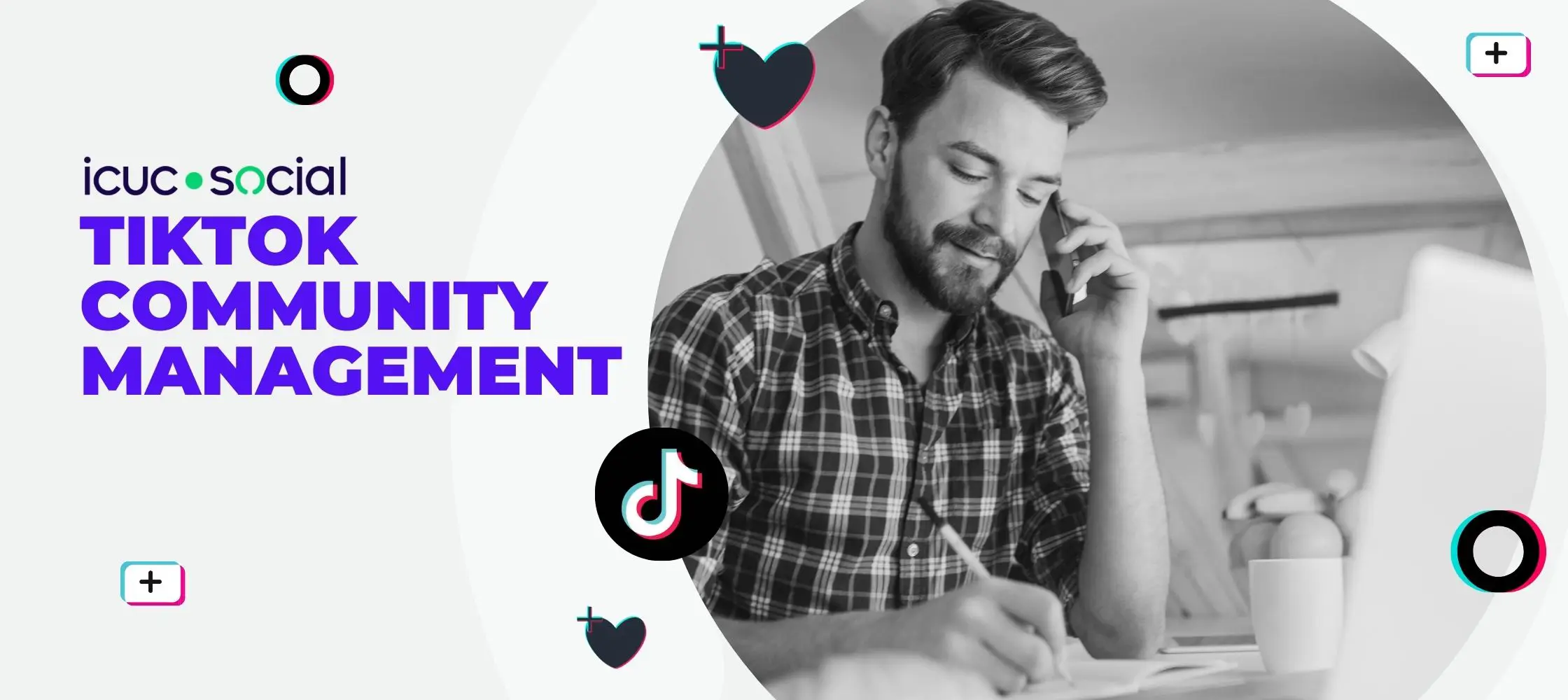 More and more people are joining online community platforms that allow for grouping. Making connections with people who have similar interests is one of the primary drivers (66%) for users engaging in online communities. TikTok has tapped into this consumer demand. Its algorithm outperforms competitors in discoverability and connection, and its hashtag grouping feature is one of the reasons why creators have flocked to it in droves. For businesses trying to find success on the platform, it comes down to the strength of your identity, and community. The following ways are essential to building yours.
What is Community Management?
Community management is the process by which a brand or business fosters connection and loyalty with brand loyalists, patrons, and community members on any social platform or online forum. Community management is a separate role from social media management, and it is now an essential role within the marketing and customer service sectors of business.
How Can Brands Create a Community on TikTok
Post consistently
As creators and brands, we're not necessarily just working "the algorithm" to optimize TikTok marketing strategies. On the contrary, marketers should look to their audience for how to behave. One behavior that can show your audience you are thinking of them is consistency. We recommend to brands that they show up consistently, no matter what the cadence is.
Ultimately, your sweet spot for posting isn't going to be where another brand's sweet spot is. While one brand benefits from posting 2x a day, another brand shows up twice a week and sees similar returns. When it comes to TikTok, your consistency is based on an iterative process of measurement and improvements, as well as your team's capacity to deliver within that consistency.
Join the conversation
There are hundreds of thousands of conversations happening on TikTok daily. Today customers want connection within those conversations, not just likes. Customers want brands in on the action. In 2022, 82% of users using online community platforms say they would be welcoming of brands who join in. Typically, brands with large followings or multiple platforms tap into community engagement strategy and allocate a community manager fit for joining and leading those conversations.
Engage with other brands and users
As a brand, it's your responsibility to not just be engaging through content, but also to engage with your people, the loyalists who adore your product and mission (as well as other brand connections — don't be afraid to engage with even your competitors). TikTok provides easy ways to engage, from shout-outs to branded collaborations; from user-generated content (UGC) to music-based trends. Make sure engagement is a part of your overall TikTok marketing strategy for optimal brand awareness.
Respond to comments and direct messages
There is a great reshuffling of online customer service — the customer service of yesterday is the community management of today. Gone are the days of solely 'contact@company.com' email inquiries. Customer service is a public affair, according to the McKinsey group. People increasingly expect rapid responses 24/7, and social media is becoming a preferred channel for customer service interactions. This is a challenge for brands. What's the fine line between customer service and engagement? Part of a community management strategy is looking at the kinds of comments and messages you're getting and integrating cross-functional needs. Because of this, you may build templates in partnership with the customer service team, for example. No matter the strategy, the #1 most important factor is timing: be quick.
Tips for a Successful Community Management Strategy
1. Listen to your audience
The social media world never sleeps so that means you shouldn't, either! Kidding.
There are tools (and 24/7 global teams), who do that for you now. Listening to your audience often involves a social listening strategy and the best suite of social listening tech for your team. At ICUC, we work with tech like Sprinklr and Brandwatch to monitor, track, report and analyze the unique behaviors of your followers, your general target audience, and your industry vertical. As a result, when your brand is mentioned anywhere – or a product associated with your business, you'll know! Social listening is key to building your social media presence.
2. Monitor conversations
Keep in mind that certain public platform pages have different APIs for third-party software tracking. HoweverTikTok doesn't have a publicly available API, so the tools we've mentioned above will have a harder time scraping through all notifications. It's likely this won't always be the case. But, in the meantime, brands should consider hiring a social media monitoring team for manual tracking, as a part of their wider social media strategy.
Social media monitoring teams work around the clock to observe the entirety of your brand's social media presence on TikTok, from conversations, hashtags, and mentions, to trending content, and more. From there, a monitoring team's job is to flag any problematic content, track, and report audience sentiment, and in some cases – depending on the scope of work – engage with the audience which can look like answering frequently asked questions or referring someone to a product page link. Most importantly, at the end of each reporting period, your team will receive a comprehensive report on the who, what, when, where, and how of TikTok activity.
3. Set goals and KPIs
There are many common metrics to look at on social platforms: followers, likes, comments, and shares. Different from its competitors, TikTok provides additional analytics to take into account. TikTok's in-platform reporting allows you to measure weekly and monthly growth, total video play time, consumer insights about who is watching, and more. To ensure your TikTok marketing strategy is competitive, take advantage of these KPIs.
4. Measure your results and improve
Last step — measure and improve! Your audience's TikTok feed is constantly iterating based on their behavior, interests, and wider trends. Don't be discouraged if one month your results take a slight dip – this is just an opportunity to repeat what works, and get rid of what doesn't. Improvements may look like honing in user-generated content (UGC) or revising your posting frequency. Test and test again! Every brand's KPIs are going to look different according to wider company objectives.
Build and Grow Your Community on TikTok
Building and growing a TikTok community — amongst all the other channels you're working with — is fun, yet challenging. Consider outsourcing the job to a community management agency. At ICUC, our strategists and community engagement specialists are online 24/7 in 52+ languages to build, scale, and engage your authentic TikTok community.
To learn more, schedule a chat with us.