Drive ROI with global engagement and deeper brand insights
Management expects answers. Where do competitors stand? Have we improved customer sentiment? Where are there gaps for improvement? What's trending? Social media provides a lens to answer these questions, but getting started is easier said than done.
Whenever we work with CPG & retail marketers, we start with the customer. It's an approach that goes beyond counting "fans and followers." It means listening to all the conversations related to your brand. With ICUC, your customers aren't just following, they are molding purchasing decisions based on a refreshed, authentic, and nearly unbreakable connection to your brand.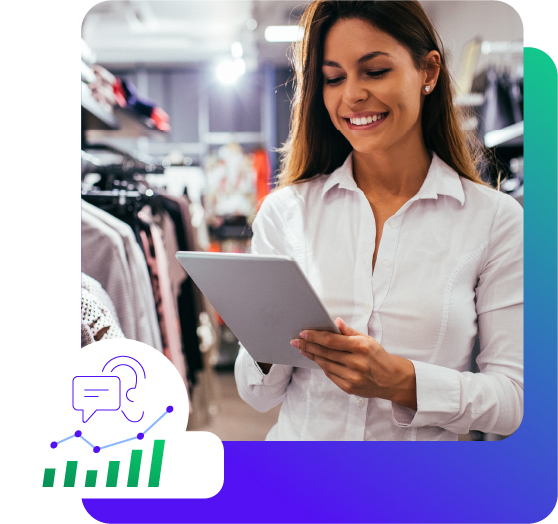 Embrace an ever-changing market with confidence
The tastes of CPG consumers are rapidly changing; what works for your brand today might not appeal to your audience next month. ICUC is backed by tech and human insights, offering a suite of social listening services to trend-set fast-moving digital moments and optimize creative power plays. We're one step ahead of the curve, so that means you are, too.
Deepen brand awareness and consistency at a global scale
Our team of embedded social media managers, engagement specialists, and online moderators work around the clock to not only build brand traction, but also to proactively engage the global masses with consistency, authenticity, and targeted awareness, in over 52 languages. We find your superfans, as your #1 brand advocate.
Generate new leads & drive ROI with a targeted, loyal community
Still relying on focus groups and shelf placement to understand your target audience? Reveal an entirely new set of insights collected from measurements of our social listening tools — from activity reporting, influencer identification, and campaign performance analysis, all on a global scale. These digital data insights are proven to increase ROI and generate new leads for your business.
You'll maintain and enhance a unique brand voice in a hyper-competitive market
You can access real data, in real-time, when you need it most
You'll identify key areas to create, promote, and engage with 24/7 eyes on the prize experts
You struggle to maintain relevancy in crowded feeds, fields, and store shelves
You are slower to act on key market data insights, simply for lack of time
You miss key engagement opportunities, and possibly, your next superfan
Ready to turn your social media channels into a force for your business's success? We're here 24/7 to engage your customers, build your reputation, manage any level of crisis, and more.
I hit submit. What happens now?
Expect to hear from our growth team in 24 hours.

We'll book a discovery call to identify your brand's online business challenges.

Once partnered, our team begins our 4-step onboarding process to build a custom program addressed to your specific needs.
Do people use social media for CPG?
In today's digital climate, consumers are starting their search for consumer packaged goods online. An increasing number of people are using online searches to make CPG purchasing decisions, and if your business does not have a strong online presence, your brand will fall to the wayside.
What social channels should CPG brands have a presence on?
93% of mothers engage with social media daily; mothers are the deciding factor for most CPG purchases in most homes. While the powerhouses of Facebook and Pinterest reign supreme for mothers and other CPG shoppers, ICUC will help your company assess what platforms will be most effective for your niche audience.
We want to do more with social media, but our budget isn't extensive -
can you still help us?
ICUC will try and come up with a solution that falls within your budget's parameters; contact us today to get started. Our value add is that we become an extension of your team, allowing you to scale without the expense of hiring.
Will social media help us stay on top of our CPG competitors?
It's never been easier for consumers to switch brands within the CPG industry. Stay ahead of your competition by doing a deep dive on your audience. ICUC helps you communicate your brand value and leverage UGC to drive sales.