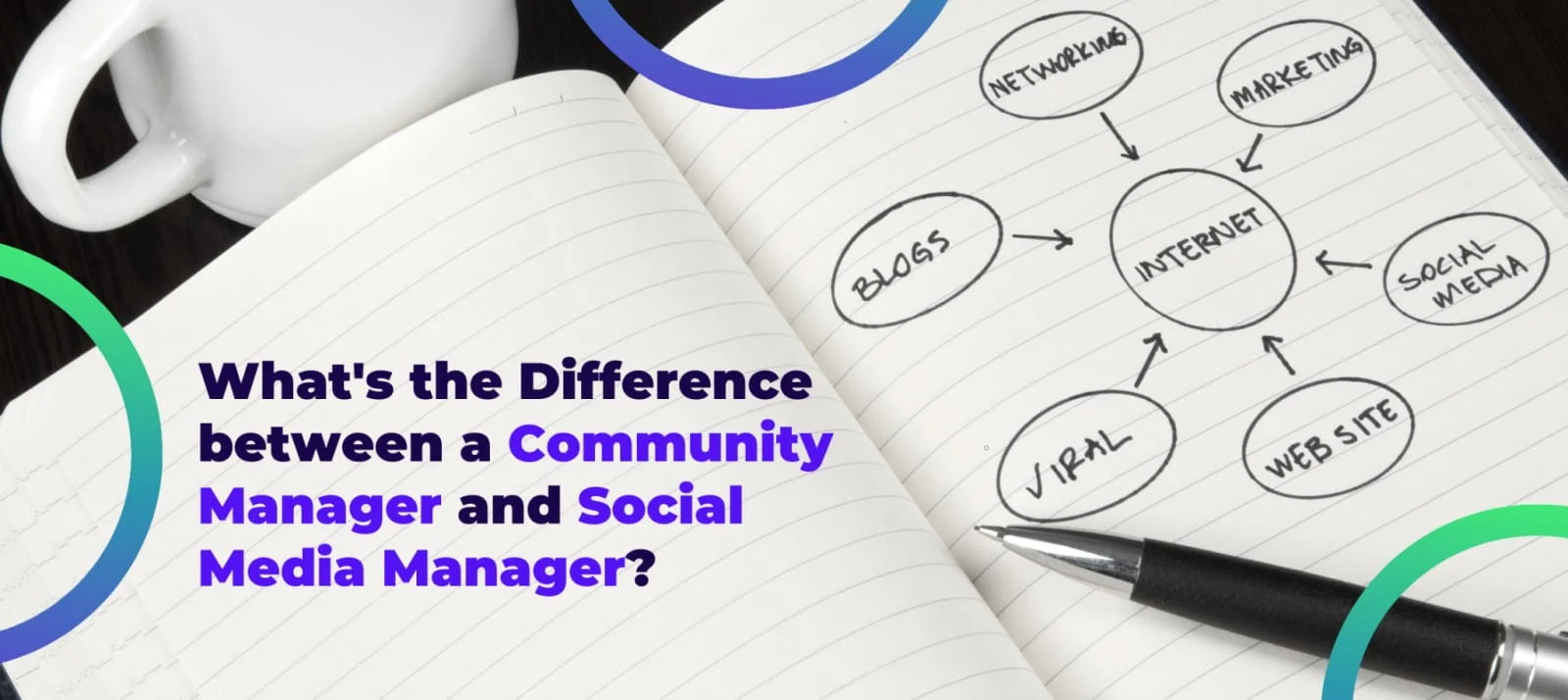 What's the Difference Between a Community Manager and a Social Media Manager?
Social Media Managers and Community Managers work hand in hand to reach the common goal of developing and maintaining brand awareness. Both roles use a strategic framework and look for opportunities to broaden the brand's reach. Responsibilities can even be shared between the two as they support each other. While the two roles share some similarities, the distinguishing factor lies in how they interact with their audience. The Social Media Manager acts as the brand by creating content and posting as the brand's account on social media, whereas the Community Manager acts as an individual user and moderator who develops and builds community through online discussions, with a constant pulse on customer engagement and feedback.
What is a Community Manager?
Community Managers serve as the moderators and primary engagers on social media platforms. Their #1 goal is to build and grow the community through active participation, not necessarily "content creation." They develop and maintain brand voice to ensure it represents brand values, and use scripts and a strategic framework to respond, engage, and escalate community member feedback – including keeping their finger on the pulse of pop culture and trends. In community management services, managers spend a considerable amount of time monitoring the performance of individual campaigns and driving high engagements and positive sentiments. They strategize ways to keep the conversation going on social media by staying on top of the latest trends and building the online community.
What is a Social Media Manager?
Social Media Managers have the broader task of ensuring the image presented on social media aligns with the brand and the needs of the consumer. Both Community Managers and Social Media Managers create experiences and encourage brand loyalty – but a Social Media Manager does so through consistent content. The content they create and curate shapes how their audience views the brand. Not only do they manage what the brand posts, they set metric goals for how the content performs and curate new content based on the social media strategy, ideal personas, and unique value propositions. Platform metrics and social listening tools (which a community manager also uses) help further inform the content.
What are the main differences and similarities between the roles?
Some may consider these roles two sides of the same coin. They both focus on engagement and retention, but through different methods.
Social Listening
Both roles spend a great deal of time monitoring trending conversations across social media platforms. These conversations will affect content creation, content scheduling, and engagement strategies. Social listening methods will vary for both roles, though some activities may overlap (see more below).
Community Manager:
The Community Manager dives into the comment section of brand posts to find the sentiment, any recurring issues that people may be encountering with offered products or services, or common references to pop culture. This allows them to make informed decisions about which engagements to address and how to address them.
For example, in 2016, Sprint CEO Marcelo Claure was met with backlash after promoting a video that included a racially insensitive comment. Hurt users relayed their disapproval with words like "racist" and "tacky." Claure followed up with a nonchalant comment on his thread which prompted users to lose trust in the CEO and the company. Situations like this require a Community Manager who is in charge of evaluating the responses and making a decision based on community reactions, legal recommendations, the brand's history in the area, and any other factors that could potentially complicate the situation.
Social Media Manager:
The Social Media Manager's social listening search expands beyond the context of comments and brand mentions. They'll use any information gathered from the Community Manager along with other collected data to strategize how to operate in the future. Other data can include reactions to the content, pressing media issues, trending news that their audience cares about, or any other pivotal information to support content creation for future campaigns.
For example: Back in 2014, brands recognized Game of Thrones as a central cultural phenomenon, and it quickly jumped into the content conversation. Social Media Managers likely spent time monitoring original posts from GOT fans to find out when users were most active, what they typically associated with the show, and the media coverage of this show. Tim Horton's Twitter page (with historically inconsistent engagement) saw a huge leap in engagement with their Mother of Donuts tweet. Utilizing the show's popularity, their Social Media Manager created assets that users wanted to see.
Content Creation and Planning
Though Social Media Managers primarily tackle the content creation and planning process, Community Managers are an integral part. Content creation and planning involves using the information they've gathered from social listening, anything relevant happening with the brand – such as product launches or campaigns – and current social trends to then craft content. They also develop moderation guides to help answer questions, choose which comments won't be responded to, and evaluate any potential concerns that may be expressed based on the campaign.
Social Media Manager:
Social Media Managers connect with several departments to learn about new products, promotions, and initiatives that they want to increase awareness on. They workshop ideas with groups like legal, product development, and sales in order to create campaigns. In the planning stage they take many items into consideration including timelines, budgets, and relevance to best determine the assets, channels, and desired outcome of the campaign.
Social Media Managers think strategically about how to position the brand on each platform, taking note of previous campaigns and performance. They monitor the current issues that may affect how users receive a new post or campaign.
For example, if a brand is preparing to launch their Pride campaign for June and an incident occurs that negatively affects the LGBTQ2+ community, the Social Media Manager has to make the decision whether to go ahead with their planned content or to pivot by going black or putting out a statement of support for the community.
Community Manager:
Community Managers have a deep understanding of the buyer persona and their motivations. In the content creation and planning process, Community Managers design the perfect way to engage with their audience. They offer a strategic point of view and provide insight on the best way to reach their intended audience, the time of day that their audience is most active on the platform, and the concerns that may arise from the content. Along with data, their knowledge can help the Social Media Manager manage expectations for lead generation and content performance. Community Managers are also integral in choosing how the comments will be moderated as well as determining engagement priorities
Metrics
As with most areas in this industry, data matters. By looking at metrics such as the rate of engagement, the movement of follower counts, and the return on investment, Community Managers and Social Media Managers can better understand how successful a brand is performing across social platforms. Each of these roles may view similar metrics but for different reasons – with the Social Media Manager focusing on content performance while the Community Manager is prioritizing customer satisfaction.
Social Media Managers:
Social Media Managers have a lengthy list of metrics they track to ensure their efforts are yielding positive results. Metrics around engagement, ROI, and awareness give great insight into whether the type of content was effective with their audience, whether their audience is shifting, and if the number of leads offsets the cost of creating and promoting the content.
Community Managers
Community management metrics are all about customer satisfaction. Community Managers will view engagement metrics, but also look at the top used keywords and topics that appear often. This lets them know which community responses were well received (and which ones were not), any moderation tactics that they may need to reconsider, and ways they can connect with users in the future.
Knowledge and Skills
The knowledge and skills for both roles are almost identical however some muscles may be exercised more than others in each respective role.
Communication: Strong writing skills are essential to both roles. Social Media Managers should be able to create copy that would accurately capture the voice of their company and the overall tone of their audience. Great Community Managers have the ability to embody the audience and connect with them in an authentic way.

Customer Service: Social media is often a space where customers feel safe expressing their excitement about a product or service as well as their disappointments. Community Managers typically keep their eyes open for individual opportunities to turn negative moments around and celebrate positive ones. They know how to use words to acknowledge the user and their feelings without being defensive or unkind. Social Media Managers often focus on trending customer service issues and strategize how they will address these concerns on social media.

Creativity: Any role on social media requires a great level of creativity and out-of-the-box thinking. Because most platforms are saturated, it is easy to lose the attention of your target audience. It is important to research entertainment, popular cultural references, common language, and trending content. Brands should know how to use these but find unique ways to stand out in all of the noise.

Adaptability: Both Social Media Managers and Community Managers should have the flexibility to pivot their goals and messaging whenever necessary. As they work in each social platform, they have to quickly identify potential PR concerns and be confident to make decisions to protect the brand.

Social Media and Content Management Platforms: As social media platforms are the heart of these positions, those in the roles should have in-depth knowledge of how the top platforms work. They should know how to find and use the analytics tools and the best way to set up their dashboards to find the right content to monitor and engage with. They should both keep a close eye on any updates that can affect or improve how the brand operates on these channels. Continuing to learn is the best way to increase expertise in this space.
Conclusion
Often, Social Media Managers are relied on to complete Community Manager tasks which can be overwhelming and unrealistic for larger brands. Both roles work together but their individual tasks are vastly different. As companies grow, they may need a team to optimize their brand awareness across social channels, provide effective customer service, and make informed decisions to have a lasting presence. A company like ICUC can alleviate the pressures of having enough resources to build a community on social media. Our skilled team of Community Managers, Social Media Managers, and Content Specialists can be your eyes, voice, and spirit while you take care of your leads