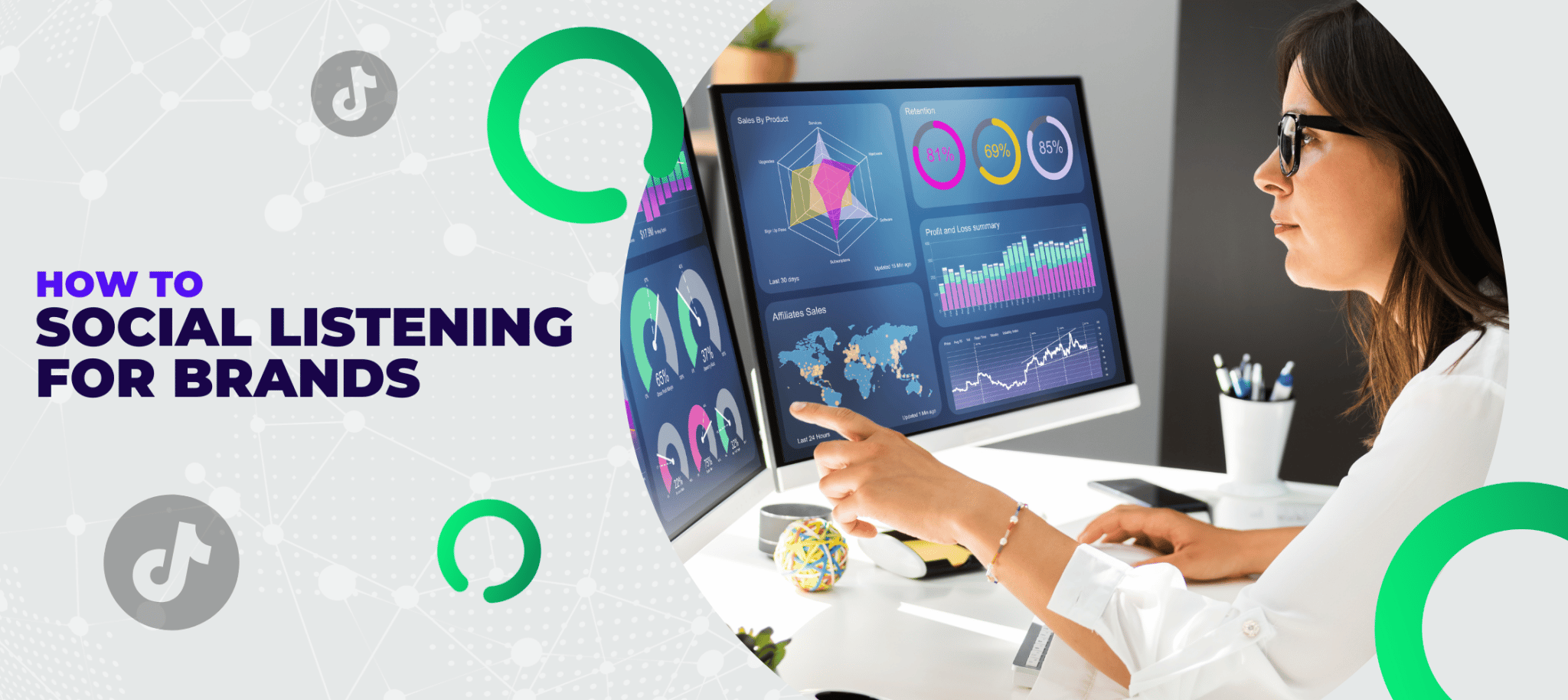 The process of monitoring online conversations and collecting data from different social media networks is called social media listening. The best approach? Know your target audience and business goals. From that point, you can take a look at your resources to find the best way to achieve those goals. Tools or a social listening service may come in handy to get you started.
Why Brands Need to Get Social Media Listening Right
Social media listening can help you keep an eye on your online brand mentions and general customer sentiment about your brand and products. You can then quickly and efficiently respond to any engagements and adjust your social media strategy according to who's talking and when.
What are the benefits of social media listening?
Maintaining a positive brand image and reputation

Identifying opinions and needs about your brand, products and services

Focusing on your customer experience strategy to stay closer to your audience and create meaningful engagement

Listening to your customers and competitors
Identify content gaps and make sure your content makes sense

Avoiding or reducing crisis when necessary

Getting access to data to analyze communications and engage quickly

Identifying marketing and growth opportunities
Social Listening Best Practices
Tools only work well when your teams do, too. Social listening tools provide such an ample amount of data that having the right analytics team or employee, on top of a keen eye for creative usage, is key. Here are a few social listening best practices:
Industry Intelligence: Know Your Competitors
Keeping an eye on your competitors is key. Knowing what your direct and indirect competitors are up to can give you a gold mine of information. It will help you know how to stand out among your competitors and differentiate yourself from them. It is also a great tool to help you improve your social media strategies, as you can learn from their mistakes.
Analyzing your competitor's performance will help you see what is helping them to succeed. It will give you a great base on where to start to build your own social media listening strategy. You do not want to copy them, but you want to learn from what they are doing to get ahead of the competition.
When monitoring competitor activity, ask questions like:
Who is their audience and how are they feeling about your industry?

What type of content is working best?

On which platform they are receiving the most engagement?

Are they launching new products or services?

What SEO keywords are they using?

How are they connecting with their audience?

What feedback are they receiving from their audience?

What are they doing well or not so much?
The data and conversations you will find might reveal some gaps and opportunities in real-time in your industry marketplace that you could step up and fill. For example, you might find out that one of your competitors' audience is seeking a solution for a specific issue that they are not providing. That's your chance to step in and provide this new product or service.
Understand Your Audience & Join The Conversation Where They Are
Brand sentiment is a helpful benchmark to know what people are thinking about your brand. It can be positive, negative, or neutral. This thermometer will help you know how your brand is perceived overall and help you quickly catch any potential critical situation that might negatively impact your brand.
Turn your customers into advocates with user-generated content (UGC) – any unpaid and unsponsored content created by people across any network. It's an effective form of engagement for you and your customers, as "37% of everyday social media users are who (your customers) are most likely to take a product recommendation from" (BazaarVoice). With user-generated content, your products and services get to be shown organically by your customers, as they get noticed to potentially grow their own following in return.
One of your customers might post about how much they love your product, or provide a poignant anecdotal story about how it helped their day. You might also come across a conversation where people are looking for solutions that your brand, product or service can offer. Those situations are the perfect opportunity to create meaningful engagements, join the conversation and promote your customer service.
Known for their excellent customer service Nikes jumped on the opportunity to engage with a retweet to one of their audience photos promoting their product.
Now that's how you start the month strong! Way to get after it, Andrea. 💪

— Nike (@Nike) June 1, 2022
A customer might point out frustrations or problems with your current product or service. Not all bad reviews are bad – Use this information as an opportunity to escalate to the product team.
The well-known brand Starbucks got great use out of their social media listening by giving some very useful information following a customer tweet. Their prompt response puts their customer service forward and encourages more positive feedback from their followers.
Hello Bobby, I am sorry to hear that you are not able to access the Starbucks website. I would be concerned also if this happened to me. Can you please try to access our website through this link https://t.co/jre0VWLVyi? Thank you!

— Starbucks Canada (@StarbucksCanada) April 8, 2022
Listen for The Right Words and Topics
The keywords and topics your brand monitor might evolve over time. Social media listening tools will help you keep track of the words and phrases your audience is most likely to use when they talk about your brand, services, and products.
Any time someone mentions your brand name or a variation of it you will be alerted and can act quickly upon it, as most consumers expect brands to respond within a 24-48 hours window. These tools can help alert you to words related to a social media crisis or content you'd need to escalate to leadership. Your community management team can track those words to be automatically flagged to you and your team.
Possible keywords include:
You brand name and social media handle

You product and services names

Your competitor's name, handle, products and services

Keyword and hashtags related to your brand and industry

Trending keywords and hashtags
For example, Subway got great use out of listening to keywords related to their brand. In this particular case, they were able to engage with a customer that didn't tag them. Without a good use of social media listening tools, the brand would have missed out on a chance to engage with customers.
The greatest form of love

— Subway® (@SUBWAY) June 22, 2022
Use the Right Tools
Using the right tool will automate your tracking process with more precision, and clearer results, and time-saving delivery Pick the right tool to:
Track your progress, reach and engagement in real-time.

Track and analyze your competitors' moves.

Identifies trends and content in your industry.

Track influencers that engage with your brand and your competitors.

Identify and pick the right hashtags and keywords.
Different tools bring different features. Your brand will benefit from picking the right tool according to your needs to take your brand content to its full potential.
Here are our top 5 social listening software:
Sprinklr

Brandwatch

Zoho Social

Mention

Meltwater
Measure Success & Iterate
After spending some time collecting data via social media listening, you should now have a good understanding of what works and what doesn't. Leverage all that information to build and analyze your strategies to measure your success.
You can get a plethora of data in a report, depending on your campaign goals, but the most common would be:
Sudden peaks in mentions volume

Seasonal trends

Sentiment changes

Engagement rates & speed

Clicks & reach

Specific products or services conversation difference

Demographic insight

Campaign performance
Social Listening: Our Tips for Each Platform
As each platform is different and helps achieve different goals and reach different types of audiences, you might want to start by listening to the platform where your audience is the most active to get useful data quickly and efficiently.
TikTok Social Listening
Social listening on TikTok will allow your brand to go beyond and analyze data from audio, videos and comments. TikTok is a great platform to reach a younger audience (16–24 years old). If that is your targeted customers, TikTok social listening might be a great way to get a better understanding of your audience and help you improve your overall strategy.
TikTok is moving quickly on a daily and monthly basis. If your brand is on the platform, your audience is moving with it, and you need to be able to keep up. Users spend a lot of time on TikTok and consume a lot of content. The TikTok audience interacts a lot with influencers that influence their purchase decisions. Social listening tools might help your brand leverage this data to find influencers that match your brand and audience interests and attract more sales.
With TikTok's mix of audio, video, text overlay, and captions, audio-centered Social Listening is essential. TikTok's Marketing API only provides reporting on ads, and few social listening platforms can monitor audio-based content.
A TikTok social listening service combines human monitoring teams and social listening tech. On such a fast-paced platform, social listening helps your brand be active 24/7 so you won't miss one audio mention of your brand and be able to drive engaging, trending content.
Social Listening on Facebook
Most popular social platform worldwide and business-friendly, Facebook is a good place to start a marketing campaign, create a customer base and learn about your customer experience with your products and services. Facebook social listening will give you a chance to know how people perceive your brand and help you adapt your marketing and growth strategy with the data you collect on the platform.
Facebook is one of the social media platforms that is the most integrated into your audience's day-to-day life as almost 1 in 3 adults regularly get news on Facebook. Brands can use Meta's oldest platform to grow relationships with your customers by interacting with them and quickly recognizing your customers' issues and directing them to the best way to fix them properly.
Social Listening for LinkedIn
LinkedIn is one of the most trusted social media networks with a sincere professional audience interested in content that informs, educates, helps, and entertains. Particularly helpful for B2B marketing, connecting with people and brands that matter the most to your brand will help you reach and grow the right audience.
Social listening tools for LinkedIn will help you track and participate in discussions related to your industry, as it will most likely improve your reputation, your brand awareness and help you gain more business. It will also help you know what content you should create as the LinkedIn audience is looking for higher-quality content with a more professional approach.
You might also want to look into influencer marketing – LinkedIn regroups professionals that might be leaders or innovators in your brand fields.
Twitter Social Listening
Twitter is a community-based platform as users love to expand their network, follow and engage with content they are interested in. Twitter social listening may be used more for customer service as brands and customers come mostly on this platform for it.
Twitter gives your brand a great opportunity to interact with your audience, and recognize and appreciate your customers' opinions. But make sure to respond quickly to comments and mentions as your audience is expecting a swift response to their interrogations. A quick and effective response to negative comments might also positively increase your brand image.
Another great tip to build an audience on Twitter is to engage in conversations that don't mention your brand but are relevant to it. It will help you get known in your industry and attract potential customers.
Social Listening for Instagram
Search engine of some sort, Instagram is the perfect platform to start with and build your social media strategy on, since according to an Instagram Trends Research Study 44% of people surveyed use Instagram to shop weekly Instagram stands out with a content-oriented display that makes it easy to share and create a story, as well as connecting with your audience and targeted customers, without the noises and distractions present in some other social media platforms.
Start social listening on Instagram by setting up a monitoring alert to help you track all the mentions and keywords you and your audience are interested in. You'll access a bird's-eye view of everything that is happening around you and give your audience a richer experience that will positively impact your brand.
Conclusion
Social media listening is an effective part of an overall marketing strategy, shown to improve brand messaging and engagement numbers how can organizations best approach social media listening depends on many factors such as their goals and their audience's use of social media platforms.
Partner with a team of 24/7 social listening experts to know the who, what, and where of your brand online, across any social channel. Learn about full-suite social listening services.