Keep your community in the driver's seat
Keep your customers, drivers, and loyal brand fans safe both behind the wheel and behind the screen with a hands-on, tech-driven approach to community management and digital customer care. Our 250+ teams are built to understand nuanced automotive language, proactively respond to crisis moments, and navigate a hefty social media landscape, all within rapid response times. Plus, our 20 years of around-the-clock, around-the-world capabilities make us the best at what we do, so you can focus on what matters most.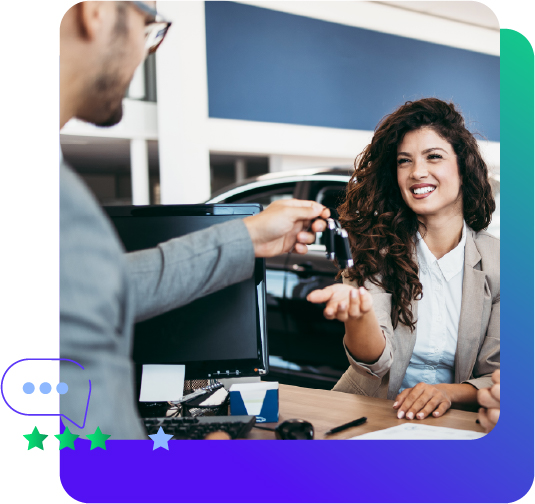 Uniquely appeal to new drivers and loyal fans
Through data-driven strategy and reporting, our teams are equipped to understand, report & act across digital touchpoints with highly nuanced and often technical automotive language and appeal.
Grow, protect, and advocate for your brand, at scale
Our team of over 250 social media leaders and experts speaks over 52 languages and has been strategizing optimal online engagement and moderation for 20 years. If you let us, we'll become your biggest brand advocates, a seamless extension of your team, ready to grow alongside you.
Drive ROI with targeted data points
Our span of social listening tools reveals an entirely new set of insights on your niche audience segments– from activity reporting, influencer identification, and campaign performance analysis all over the world. These methodologies within digital data insights are proven to increase ROI and generate new leads.
You'll enhance the customer experience with highly nuanced and often technical automotive language
You can access real data, in real-time, to drive ROI
You'll maintain a consistent reliable brand voice, as you grow globally
You can't reach all customer touchpoints with the growth and size of your business
You feel vulnerable to crisis customer moments, and missed areas of connection
You miss audience data points and brand mentions, simply for lack of visibility
Ready to turn your social media channels into a force for your business's success? We're here 24/7 to engage your customers, build your reputation, manage any level of crisis, and more.
I hit submit. What happens now?
Expect to hear from our growth team in 24 hours.

We'll book a discovery call to identify your brand's online business challenges.

Once partnered, our team begins our 4-step onboarding process to build a custom program addressed to your specific needs.
How do I make the link between social media and sales?
The Impact of Social Media on the Automotive Industry is real. ICUC offers retailers an integrated way to connect social media to sales. By using our platform to turn user generated content (UGC) into ads and shoppable galleries that lead to your website or online store.
What's the best way to quantify the ROI on everything that we do?
If sales are important to your organization, then you need an integrated solution. ICUC connects to audiences early in the buyer's journey, so we have the most success in driving sales. We listen every step of the way to help you stand out from the competition.
How do I find the right Influencers?
ICUC marries consumer surveys with social media data to steer your content plan. Our team of experts know how and where to connect with retail industry influencers. We'll work with them to amplify your reach.
How do you price your services? What is your pricing model?
Our pricing model is based on several variables:
What volume of content do you need ICUC to manage?
What kind of response time (SLA) are you looking for?
What channels does ICUC need to manage?
Are responses scripted or unique based on situations?
Do you need publishing/scheduling services?
What are your goals?
As you can see, it takes a conversation to get through the questions above – fill out the form on this page and we can get started!