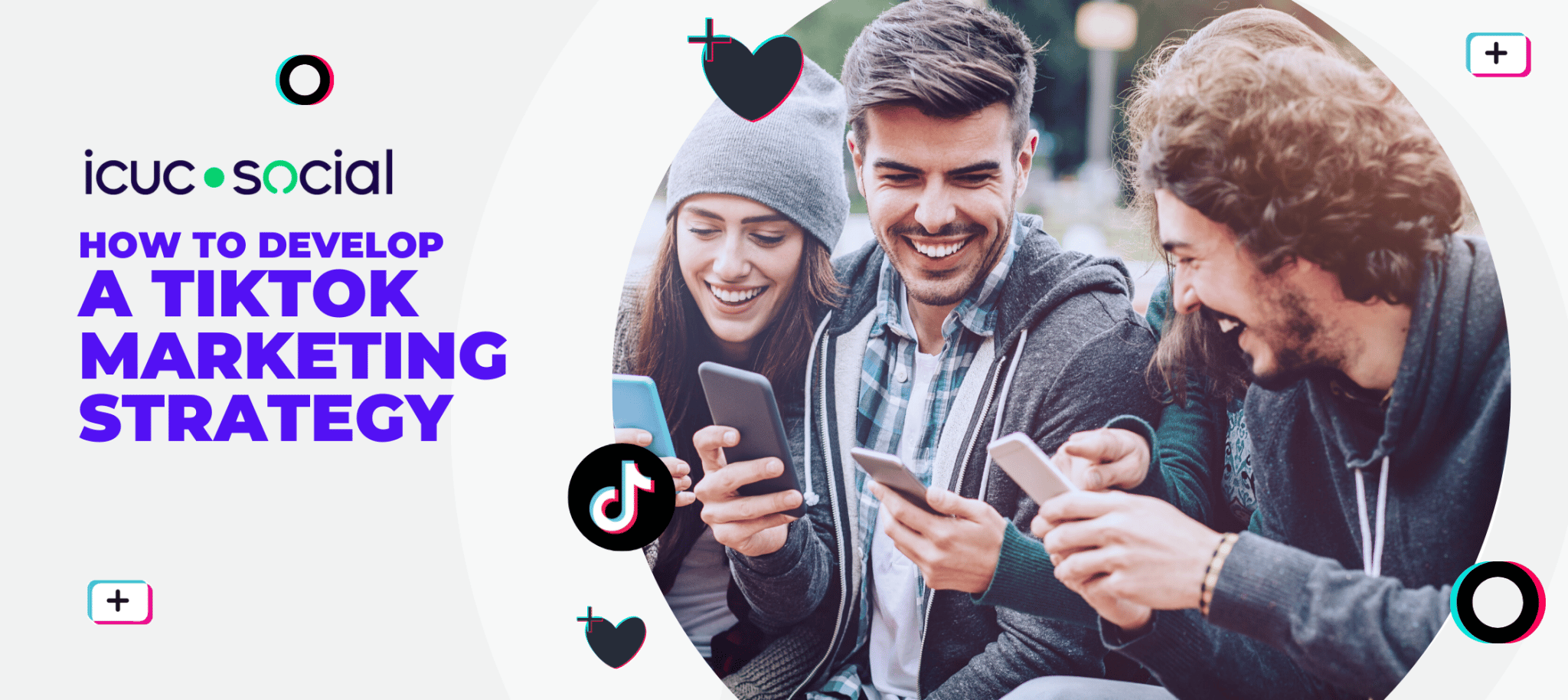 While TikTok is the sixth most used platform in the world, it has quickly emerged as the social space for businesses to build new communities and brand awareness.
TikTok is a video-sharing social media app that garners over 1 billion unique monthly active users and is great for businesses that are looking for growth on social media. From challenges to reviews, users flock to the platform for a variety of reasons – including the the small bites of content that can inform and inspire.
How do businesses establish themselves on this highly saturated platform? Start with a strong TikTok marketing strategy to develop best practices for your brand moving forward.
Step 1: Create Your TikTok for Business Account
The first step to TikTok success is starting a TikTok for business account. The main benefit of using the TikTok business account is the access to guides and resources to make your presence known on the platform. Here, you can also create and manage paid ads to ensure that you are seen by your audience.
To set up a business account using your personal TikTok account:
Tap profile in the app. This will bring you to your profile page where you will have several options. Choose the menu option.
Tap Settings and Privacy > Manage account > Select "Switch to Business Account."
You will be prompted to choose the type of industry your business is in and you are in TikTok business!
To set up a new TikTok business account, visit the TikTok for Business site,
Tap Create Now. This will bring you to the Ads Manager website.
Tap 'Sign Up Now' in the upper right corner of the page. This allows you to solely create a business account without linking it to a personal one. Once you complete the form, you are ready to make your TikTok debut!
Step 2: Competitive Brand Research
Any marketing strategy or campaign should be in the interest of the brand's image and in service to its customers. The brand's target audience does not want to see content that is just trendy, it needs to serve a purpose. What kind of reaction should your content elicit?
A good way to gauge this is by checking out some of the live content that is not only getting views but content that TikTok users are interacting with. Viewing the ads for brands in your industry that demonstrates a positive ROI can help you stay on top of what keeps the attention of your shared audience.
To view these statistics:

Visit the Creative Center and tap 'View More' below ads.
Filter the ads by the country, industry, and the objective of the campaign you're planning.

If your goal is to drive your viewers to your website, view the traffic objective.
The Reach objective allows you to see the ads that generated the most impressions. This does not necessarily mean full length video views but the amount of unique users the content crossed paths with.
To see the content that held the view of users, take a peek at the Video Views Objective.
The Catalogue View is for brands that have featured products that have previously shown interest in those products.
Lead Generations offers insights on those ads that include instant forms for concrete interest in a company or service. This allows businesses to gather contact information and other details from their customers.
The Community Interaction objective is used for ads that are primarily focused on bringing more traffic to the brand's page.
Whether you are starting out organically or you want to jump right into ad creation, these insights will give you an idea of which brands are successful.
Step 3: Define Your Target Audience
TikTok has a reputation of being best suited for Gen Z and with good reason. According to Statista, as of 2021, Gen Z ruled the halls of TikTok with 25% of its users being between the ages of 10 and 19. While it may feel like TikTok is very niche, this does not mean your target audience can not be reached on this platform. It is best practice to create content that will appeal to your target while incorporating viral trends.
The information you gathered after researching competitor videos can give you a sense of who is watching those videos. This can help you discover a subset audience that you may not have originally targeted but would still be interested in hearing from you.
For example, ESPN joined TikTok with the intention of gaining views from Gen Z TikTokers, though their typical audience are millennial males. They leaned on attention-grabbing clips such as sound bites from the popular commentator, Stephen A. Smith, and videos of impressive young athletes. As their following grew, their brand's target audience of millenial males followed. Today their status as one of the top brands on TikTok is attributed to the mixture of content that mimics the shows that capture their television viewers and viral trends. Sports replays, nostalgic clips, and user-generated content has helped them to extend their reach on the social platform.
When defining your audience, start with your current target outside of the platform. This foundation can help you eventually branch out to users that you may not have previously considered.
Step 4: Plan Your Content
The key is finding the right type of content to convey the message that your business wants to share and aligning it with the popular content on the platform. This includes hashtag challenges, music and sounds that users want to hear, and authentic experiences to humanize your brand. With this in mind, your TikTok strategy should fall in line with your overall marketing goals. TikTok is simply a tool to help bolster those goals and amplify your brand identity.
Read also: How Often to Post on TikTok.
The first step to planning your content is understanding the trending content and choosing what works best for your audience according to the above insights:
Using the Business Creative Hub:
From your business account, tap Creative Center.
Toggle between Songs, Hashtags, Creators, and Videos to see what's getting the most interactions.
Tap analytics for each of the listed items. This will reveal the growth of interest in the video, creator, or hashtag, a breakdown of the demographics, location of viewers, and a word cloud of related keywords.

Using the For You page:
From your personal account, go to the For You Page.
View the menu toward the left to see Popular Topics, Accounts that TikTok believes you would enjoy, and Discover hashtags and music that are trending.
Videos:
TikTok Challenges: TikTok Challenges are the quintessential call-to-action videos. Depending on the challenge, users may record a dance, create artwork, or cook a meal and challenge others to do it too. Challenges usually come complete with a hashtag so that the challenge videos can easily be found.
Tutorials: Just as the name indicates, tutorials on TikTok are short how-tos. This can include how to order a particular beverage, how to create a hairstyle, or how to increase income. Many users spend hours searching for the newest way to add spark to their everyday lives.
Reviews: There was a time when Youtube was the go-to platform for all videos, including product/brand/experience reviews. As of 2021, the average watch time is 24 hours on TikTok compared to 22 hours of watch time on YouTube. Because it is a short video platform, the reviews are to the point compared to full-length, Youtube reviews. Tiktokers use this platform to divulge their work experiences, give their opinions on purchases, and express their thoughts about brands.
Songs: Music has proven to be the great equalizer on TikTok! It is a trend that is not as restrictive as hashtags or challenges. As different demographics can become connected to the same songs, music casts a wide net to catch the eyes and ears of users. It is also more likely to find popular music that aligns with your brand image. You can also add trendy songs to your videos and mute the sound to appear in the search for the song without actually including it if it doesn't fit the vibe.
Hashtags: Hashtags are used to connect similar videos and can help your audience find your content. They are a great way to identify the content that users want to see, build a community, and help your content be visible to users who are interested in a particular topic.
Using the right hashtags: Hashtags should not solely be chosen based on popularity. They have to make sense for your video, your brand, and your audience. Hashtags that are used in competitor videos or influencer videos can lead to your video when you use the same ones. This will drive your intended viewer to your related video and possibly your profile.
Creating Hashtags: Choosing to create a brand-centered hashtag can help you find your community of fans. To help popularize it, use it in most if not all of your video captions. You can even encourage your viewers to use it too by starting a hashtag challenge.
Hashtag Challenges: Hashtag challenges are call-to-action content that brands use to encourage TikTokers to create videos according to the parameters of the challenge.

For example: Imagine you're running a sneaker brand and you want to encourage users to show off the sneakers, so you use the hashtag #strutyoursneaks. Tiktokers will then create videos or photo montages of how and where they style their kicks and add the hashtag to their caption to participate in the challenge. Others will want to buy your product so they can join in on the fun and be a part of your community.

Creators:
Viral TikTok creators are also referred to as influencers. Influencers by definition are trendsetters and tastemakers who sway the interests of their followers based on the products they endorse. Typically, they've garnered a high follower count or are an established business or celebrity. Influencers can impact the success of a brand by sharing their review or by using the product in a video. The energy drink company, Bang, is proof of the success that could be found when partnering with influencers. While Bang has been available since 1993, it redefined its brand by connecting with several TikTok influencers. With over 1 million followers, they went from an energy drink brand to a household name on TikTok.
How do you connect with influencers?

Reaching out to TikTok influencers could be as easy as tagging the TikToker in a comment, or sending a direct message but the best way is by connecting through the Creator Marketplace. Using the Creator Marketplace, creators can be found and matched to business accounts so that they can collaborate. It's best to identify the creators who best fit your brand vision. Their followers should be a part of your target audience and their reputation should align with your brand's mission and values.
When choosing the type of content you want to share, start with what has worked for your brand on other platforms, sprinkle in what is already working for other brands in your industry and top it with what is doing well overall on TikTok. The content that does well on TikTok is generally lighthearted, fun, and creative
Step 5: Record Your First TikTok
As noted, Tiktok is a space for short videos and those on the longer end of the spectrum may not fair well on this platform. While videos can be up to 10 minutes, 15 seconds is still the sweet spot, just long enough to showcase your dancing skills, quirky voiceovers, and/or product placements.
How to Record a TikTok Video in the app:
Start by tapping the plus sign at the bottom of your screen. This will open up the camera where you will either record or upload a video.
There you can add audio, play with filters, and include other effects.
Once you've found the right way to prepare for the perfect video, you're ready to tap record.
After you complete your video and make any necessary edits, just tap the check mark.
Thereafter, craft a caption that best describes your video and includes the hashtags that will optimize your content.
Post!
Step 6: Engage With Your Audience
Across social, engaging with users is a surefire way to keep their attention. This tells the audience that your business cares about them. It develops a relationship and leaves a lasting impression on every individual engaged with as well as every individual who sees the conversation develop.
Starbucks is a brand often labeled as the star of staying engaged. Not only do they focus on engaging with as many replies as possible, but they are also skilled at providing meaningful & unique responses. User-Generated Content (UGC) and Tutorials dominate their content garnering about 100 comments per video.
Best Practices for Engaging:
Engage as often as possible: Engaging with multiple comments under your videos to develop relationships with your followers and potential fans.
Engage with viral content: Commenting on popular videos that is related to your brand but not in direct competition, can increase your visibility and intrigue those who aren't already following you. It increases the chance of leading non-targeted audiences to your profile.
Engage using the video function: TikTok gives the option for business accounts to reply to comments with a video response. Brands can comment with their clever quips through videos that bring a fun personal touch to the comment. This option should be used sparingly to avoid wearing down the novelty of a personalized response. The exclusivity of video responses can prompt users to comment often in hopes of getting a personalized video from their favorite brand.
Hire a community manager: If your brand is looking to grow quickly, or is already seeing audience growth, you'll save time and money by outsourcing community management engagement strategies.
Read also: Top 5 Tips to be the Most Engaged Brand on TikTok
Step 7: Measure Performance & Iterate
Brands with Business Accounts have the opportunity to keep an eye on their TikTok success through the extensive analytics feature. It looks at how users are reacting to your content as well as the other content that they are interested in. This includes how many viewers have viewed your profile, how long they spend watching your content, and how they found your video. The analytics tool breaks down who your audience is by gender identity, location, when they are active and other categories that will inform your future content.
There are a few limitations to TikTok monitoring, or social listening, capabilities. Third-party social listening companies like Sprinklr and Brandwatch recently partnered with the platform to provide more in-depth trend-watch reports for video content, but for bigger brands, much of the ephemeral video content will require a community management team to track mentions in captions and text overlays, in addition to audio recordings.
Working with a community manager or a community management team can help your brand with TikTok social listening and track the following:
Brand mentions in text overlays and captions
Optimize User Generated Content
Track hyper-fast moving trends
Understand a Gen Z heavy audience
In partnership with a community manager, here are a few ways to leverage these trends using TikTok's available analytics:
Valued Content: The analytics tool provides a detailed look at which of your videos are most popular and how this content is found. If you find that your content is generally found through music, you may want to prioritize creating content based on music or dance challenges that include a popular song.
User Activity: A valuable metric is when your target audience is active on TikTok and specifically when they are accessing your content. You can choose the best time to post to ensure your viewers see your content. This can also help you identify how often your brand should be active on TikTok.
Audience Demographics: Understanding who enjoys your content helps you define your subset audience or those you've unintentionally reached.
For enterprise brands, growing on a brand-new platform can feel challenging. Meet TikTok's new demands and your business growth needs with a global social listening and community management agency. Book a call with ICUC.