News, Media & Entertainment
Understand and influence your audience in a changing digital landscape
Focus groups – every team has used this trusty research method at one point or another. But today's audiences demand a different approach. They are more distracted yet discerning. They have limitless options and get to be hyper-choosy about them. They are awash in an ocean of endless content—and play the role of the creator as well. 
In the era of the unfocused consumer, the methodologies of yesteryear won't do. News, media and entertainment organizations must maintain cultural relevance and customer attention by focusing on conversations that matter. With ICUC's team as your human-led team, you'll be leading the conversation ONLINE, not following it.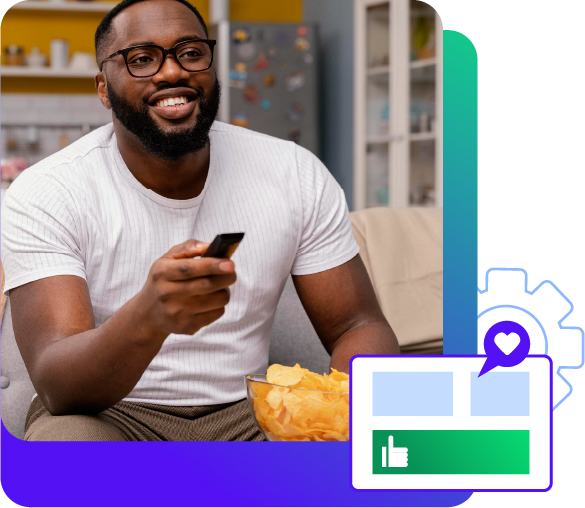 Source valuable customer insights in real-time across the digital sector
Today's audiences have limitless options and get to be hyper-choosy about them. As an extension of your team, ICUC's analytics department gathers in-depth customer insights across news platforms and social channels so you know whose eyes are on your next storyline.
Know what readers want as it happens with social listening
News and media companies spend millions of dollars on campaigns that fizzle out. With ICUC, you'll gain access to personalized social listening tools to track competitors, monitor news comments, and moderate sentiment so you can gain clarity right now — the only time that matters.
Keep up with real-time conversations
Shape perception and control the narrative. With ICUC, you get a scalable team of social media engagement specialists with eyes and ears open 24/7/365. We help you transform endless comments and mentions into trackable opportunities for success.
Free up your in-house team
Save money and time by partnering with an A-team of social media managers that support and trust your brand. That way you and your teams can focus on the creative work you do best.
Navigate social media as a content channel and a new dimension for market research.
Outperform your competition with research-backed insights to get your story seen.
Get 24-hour monitoring across your digital channels — yes, Reddit too. 365 days of the year.
Miss out on trends and relevant conversations that could build a bond with new and existing audiences.
Waste dollars on campaigns that miss the mark.
Risk being branded as archaic or irrelevant.
Ready to turn your social media channels into a force for your business's success? We're here 24/7 to engage your customers, build your reputation, manage any level of crisis, and more.
I hit submit. What happens now?
Expect to hear from our growth team in 24 hours.

We'll book a discovery call to identify your brand's online business challenges.

Once partnered, our team begins our 4-step onboarding process to build a custom program addressed to your specific needs.
Can you help us get ROI via social media?
Yes, we certainly can. Some companies invest time and money into social media, but they can't quantify their results. We have the social media listening strategy, monitoring and tracking tools you need to understand your social media data. ICUC can deliver social media intelligence.
Do you have the tools to target specific audiences and segments
within those audiences?
Of course. We use social listening to crawl the entire social web to find out what motivates your audience. We help you engage audiences you've never been able to access before.
I'm concerned that our budget isn't hearty enough for social media
entertainment - what's your range?
Contact us and we will discuss your budget. We will maximize what you have by acting as an extension of your social media team. Our global team of 350+ experts is unmatched.