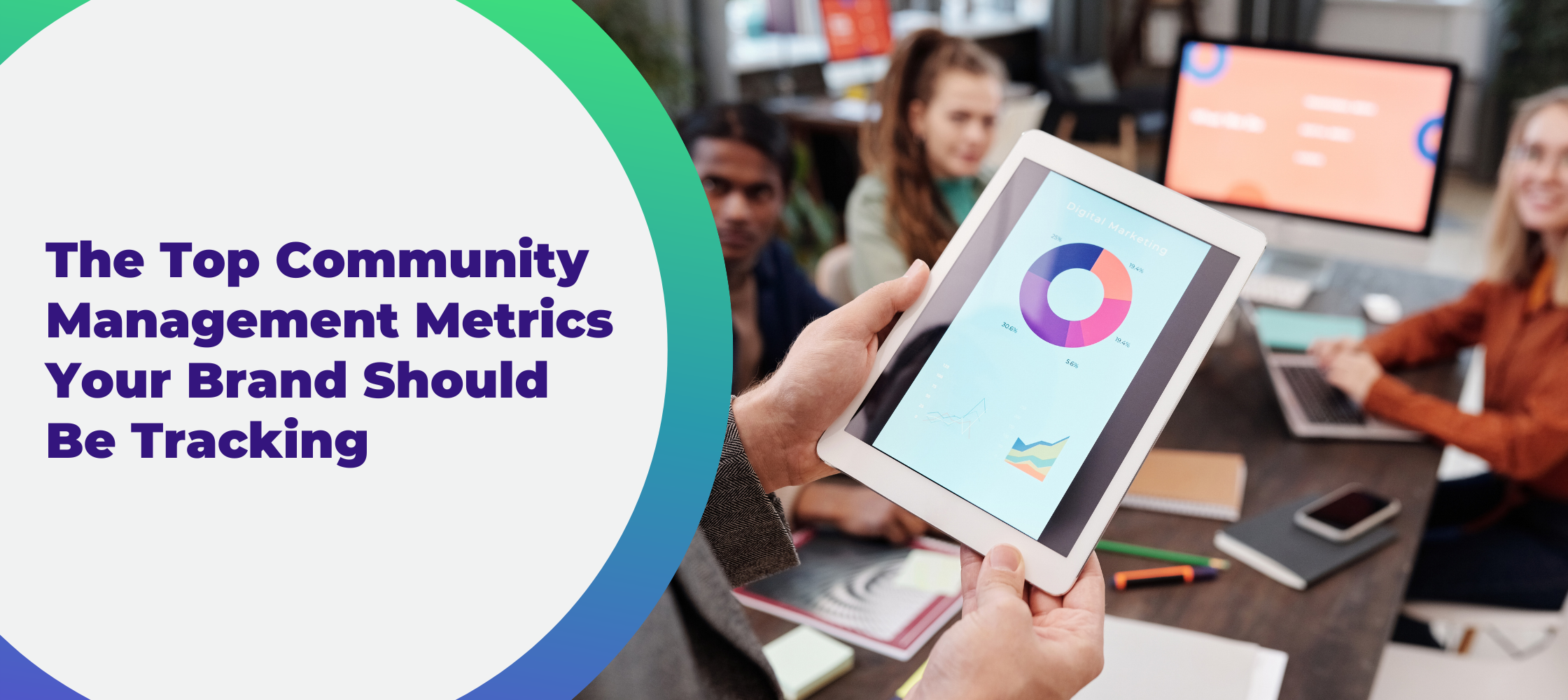 The Top Community Management Metrics Your Brand Should be Tracking
Community managers are the experts on their brand's online audience. They seamlessly connect the brand with their audience to create a community and relationship that extends beyond business to consumer. This community consists of brand followers, their followers' followers, and any other potential users that may come across their content. As a result it's important the brand represents themselves seamlessly across all platforms, and has a way to monitor and track performance across the board.
That's where data comes in. Whether a brand has a significant following or is still growing, community management metrics allow you to set goals, measure performance, and optimize your marketing efforts by analyzing the results.
Understanding Community Analytics
Data is great, but it is only as good as it is useful. With so much data available, it can be easy to gloss over metrics without recognizing the insights available. Here are some questions to better understand the type of insights you can uncover and the importance of them from a bigger marketing picture.
What are the different types/categories of metrics?
Social media strategies should always include goals for key performance indicators to understand the state of the brand's presence on social media and to know what the intention for growth is. Generally, community management metrics can be bucketed into three categories: community retention (how often users return to a page/how they participate), engagement (foundational metrics that tell us what our audience wants to see), and conversion (how well we are turning potential customers into returning customers). Community managers should think about the following questions to better understand how metrics can turn into insights.
How are users interacting with the existing content?
Staying abreast of the content that is attracting more interactions helps to understand what the audience is interested in.
How do users feel about the content and the brand?
Viewing sentiment metrics allows brands to gauge how users feel about the brand and their content.
When is your target audience using social media?
Posting content during the times that your target audience is most active is crucial for maximizing the potential of your organic content.
How successful are your call-to-action posts?
Keeping an eye on how often users complete the action prompted by the brand's ads or posts can give insight as to whether they are reaching the goals they have set for their campaigns.
What is your audience saying about the competition?
Finding the answer can help identify areas of opportunities as well as gaps in your marketing and product offerings.
Why are Community Analytics Important to Community Managers?
Community analytics give community managers a comprehensive view of whether they're meeting their benchmarks. Reading comments or viewing reactions only provides a snapshot of how your target audience feels about your brand. The following metrics provide a framework for setting goals and measuring performance over time.
The Top Community Management Metrics to Measure
As the community manager builds and fosters brand community, these metrics help quantify the value of their efforts, measure results over time, and communicate these results to leadership.
Community Retention & Use
Community retention and use refers to the utilization of the community – both on social media as well as on websites and discussion boards. These quantifiable views tell you how often your members return to your page or site and how they participate. These are brand loyalty metrics that can lead the way to growth and popularity among your target audience.
Customer Retention:
The customer retention rate can be calculated by viewing the number of website users or followers you have at the beginning of a period, the amount you have at the end, and the total number of new users you've attracted during that period.
For example: If your brand has 16,000 followers at the beginning of the month and 20,000 by the end of the month but your brand gained 5,000 followers during the month, the customer retention rate would be calculated:
20,000 – 5,000 / 16,000 X 100 The retention rate = 93.75%
Measuring this overtime gives an idea of your brand's reach and growth potential. However, there are other metrics worth viewing to understand the reason for your brand's current customer retention rate.
Audience Retention:
Audience retention on social media refers to how captivating the brand is. This metric doesn't reflect the sentiment, but it does show how long a user views your content, reads your blog posts, and/or listens to your podcast. It indicates whether your content is successfully reaching your target audience or if it is simply being skimmed over.
There isn't one formula that can reveal audience retention. However, you should keep a close eye on the content that receives the most views, or webpages that have the most unique viewers, to understand what your audience finds valuable.
Moderation Metrics:
To maintain a safe space for your community to interact, it is imperative to keep track of your social media moderation efforts. The top reasons for removals, bans, or blocks can be useful in determining your community rules, keywords that need to be filtered, and which types of posts entice the offenders.
Engagement Analytics:
Engagement analytics are the foundational metrics that allow community managers to identify what their audience enjoys seeing from the brand versus what isn't as eye-catching. As the community manager works with the social media manager to create content, these numbers can allow them to modify their approach.
Engagement Rate:
To gauge the effectiveness of a post, start with the engagement rate. The engagement rate is one of the metrics that provides guidance on which posts gain the most attention. The reactions are indicators that the post is effective.
For example: If you have a holiday campaign and notice that on days you post text only posts, the follower count stays the same or declines versus days that product images were posted, this indicates that your audience prefers to see visuals. Conversely, if your engagement rate is high during the campaign but the follower rate declines, it might be time to do a sentiment check.
The engagement rate can be found by dividing total number of engagements by the total number of impressions.
Social Sentiment:
Social sentiment provides a deeper view of how users feel about the brand, their products, and their content. It expresses how much the public trusts the brand and can influence how your brand chooses to interact online. Traditional social listening provides insights for how users are discussing your brand, the industry that your brand lives in, as well as any positive or negative experiences that users may have had with your company. Monitoring the key terms used in reference to your brand allows you to leverage opportunities and trends, and even make changes in planned content to meet the desires of customers.
Social Share of Voice:
The Social Share of Voice (SSoV) determines how influential your brand is as compared to other companies within your industry. Competitors share your target audience and have similar goals, so it is imperative to pay attention to their content, engagement rates, and the context of conversation about their brand and social pages. Your brand should pay attention to the keywords that are used to describe competitor brands, keywords most used to compare your brand to others, and any posts/trends that have a high engagement rate. This helps your brand join in the ranks of pages and content that are recommended to your intended audience.
Conversion Analytics:
Conversion Analytics are the methods used to measure the success of call to actions which lead to increased interaction and have a greater chance of turning leads into returning customers.
For example: If your brand is offering an informational session about the company, you may choose to create an ad to reach your target audience. Every user that clicks on the provided link and signs up for the informational session counts as a conversion.
Conversion Rate:
The conversion rate offers insight into how many users in your community are completing the actions that your content prompts. This metric is useful in evaluating what your community responds to and identifies opportunities to improve marketing efforts.
The conversion rate is the total number of visitors to a site or impressions on a post divided by the number of users who complete the action.
For example: If the above ad for the informational session reaches 10,000 people and 200 sign up for the session, the conversion rate will be 200 / 10,000 = .02 or 2%
Click Through Rate:
The click through rate reveals the relation between how often your call-to-action post or ad is clicked and the total number of impressions it receives. This also helps you understand how effective your content is. The click through rate can be calculated by dividing the number of clicks by the number of impressions.
For example: Using the same example, of the above 10,000 impressions, the ad receives 400 clicks. The Click Through Rate is 400 / 10,000 = .04 or 4%
Lead Generation Metrics:
Leads are users who aren't current customers but are showing interest in your company based on your marketing efforts. This may include users who find your website on your social page, from a google search, or through paid posts. Keeping count of how many unique users find your business and how they find it can help you understand the best way to reach new customers. If you notice that you have more traffic to your site from Instagram than Facebook, you may want to target your efforts to Instagram because that is where your target audience is.
Using unique identifiers for each user, Google Analytics can offer insights on how many new lead inquiries there are for your brand. This information can help you calculate the lead generation rate. It can be measured by dividing the total number of leads by the total number of visitors or unique clicks on the ad.
For example: The 400 unique clicks include 150 new leads. Perhaps, they've heard of the company but never gained additional information.
150 / 400 = .37 or 37% of the clicks were from new leads.
Benefits of Measuring Community Management Metrics
Every community management decision should be based on a desired outcome. The ability to achieve that outcome rests on how the progress is tracked. These numbers act as a compass for the direction of the marketing strategy. Tracking community management metrics consists of more than just viewing the numbers provided by your CRM. It involves analyzing the data to optimize your marketing efforts.
Increase Engagement
Many of these metrics lead to developing a greater sense of who your audience is, what their interests are, and what they expect to see from your brand. Your creative strategy should be centered around engagement metrics, which reveal what your customers care about.
Promote Community Growth
Understanding what your audience likes and doesn't like allows you to make the necessary changes in your marketing strategies based on the data you gather over time. You can work towards meaningful community growth by considering which content gains higher audience retention, greater lead generation, and higher click through rates. The goal is brand loyalty and the only way to know if your audience is consistent, or consistently growing, is by establishing a baseline and measuring growth.
Enable Proactive Responses
Staying on top of the conversation around the brand helps to mitigate any potential issues that could arise and leverage opportunities to connect with their audience in a meaningful way.
Conclusion
There are a slew of metrics that community managers can analyze in order to gain more insight into how the brand is performing on social media. Monitoring, analyzing, and planning how to use this information to optimize your marketing efforts is not a one-person job. Our talented community management services team is ready to be an extension of your brand and lead a successful community management plan. Learn more by connecting with our team today.