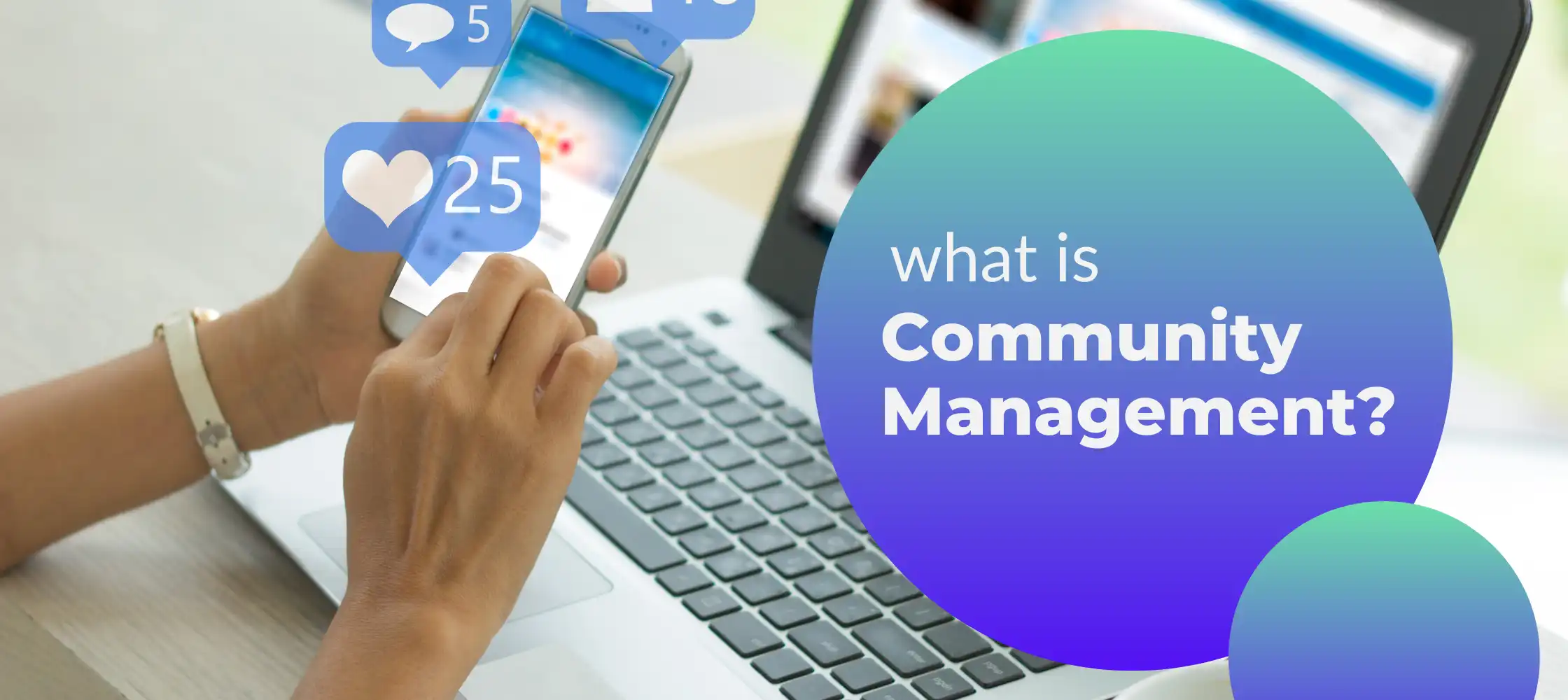 Building a strong online community and customer base is essential to any social media strategy, which only becomes more important as your brand grows.
Community management acts as the container to grow and manage this online community. In this article, we'll look at the different types of community management and how to create a winning strategy for your brand.
What is Community Management?
Community management's goal and purpose is to build, manage, and nurture strong online community relationships among customers, partners, and even employees. Community managers and social media managers work behind the scenes (and across social platforms) to interact with your target audience. How a brand interacts and engages with people across social media platforms, forums, and websites, may vary depending on the demands of their community management and social media goals.
Why is Community Management Important for a Business?
Community management is essential to growing an online community that will drive sales, bolster your brand reputation, and build an online following, as well as:
Maintain and initiate an online community:

Build a thriving and engaging online community to give your customer a sense of community and ownership.

Develop a strong engagement strategy:

Determine the best way to interact and engage with your audience on social media to attract and retain customers.

Offer higher quality customer service:

Community management is a great way to provide personalized and immediate support to customers with a quick response time.

Increase your ROI:

Providing customers with timely information on products and services as requested improves your chances of generating more sales as customers feel important and appreciated.

Get feedback from customers:

Community management can help your brand generate new leads through positive reviews from your online community. Online feedback and word-of-mouth are some of the best ways to build and improve your brand product and service awareness.
Some brands choose to outsource community management, while others prefer to keep it in-house, depending on their business needs.
Types of Community Management
Understanding the different types of community management will help your team identify what your brand needs. Reminder! Your community management strategy plan should reflect your social media goals to help guide the process.
Online community management
With online community management, your main focus is to build and strengthen online relationships with customers. Community managers engage with community members on social media channels for the unique purpose of creating a community via, for example, a Reddit forum, Facebook group, or Discord group. Online community management encourages user engagement and provides support. Online community management is a long-term goal, as it can take years to bolster engagement and create a supportive community.
Social media community management
Social media community management goals are more specific and short-term. Community managers focus on content and social media marketing initiatives to drive sales and conversions. Social media community management is a tool to share information with your audience and advertise products and services to the right customers.
Customer community management
Customer community management prioritizes high-quality customer service support to their community. This type of community management offers a chance to interact and connect with customers to get their feedback and answer commonly asked questions. Customer community management is best for brands with user-centered products. These communities often involve sharing tips, tricks, and issues users may experience through social media forums, FAQs, community websites, and question-to-answer community-based discussion boards.
Keep in mind, too, the secondary results of customer community management – sales. Your community manager is responsible for catching opportunities to upsell, drive productized conversations, and build brand loyalists who will come back to buy based on affinity.
Event community management
Event community management focuses on creating and fostering community hype around any event through a tailored and valuable customer experience. Virtual or in-person events benefit greatly from community management to respond to community members' questions, build fidelity and trust, and offer extra experience value to customers.
Crisis community management
Crisis community management focuses solely on crisis management and resolution by adapting content in real time as conversations and situations change. Managing a social media community during any crisis requires strong and specific communication skills to handle incoming questions and anticipate audience needs. Listen to your community members with empathy, provide reassurance, and answer their questions promptly.
Internal community management
Internal community management offers opportunities for employees, partners, vendors, and suppliers to create relationships amongst themselves that build a sense of community and belonging in the workplace and boost morale and overall happiness. Remote working environments can particularly benefit from internal community management to improve internal communication, engagement, collaboration, and team building. Bring team members together in a more relaxed environment with interest groups, team chats, and virtual events.
Gaming community management
People from all around the globe come together to share their love for video games, build connections, and seek advice on how to improve. Social media management for the gaming industry helps create meaningful gaming experiences and offers player support and community moderation to keep people engaged with games long after they finish playing. Gaming community managers can foster engagement with a plethora of online gaming tools, such as text chats, forums, rooms, videos, events, newsletters, social media, and even live streams. This is a niche and growing brand service.
How to Create a Community Management Strategy
A strong community management strategy will help your brand build a community of customers that care and enjoy engaging with each other and with your brand. Create a strategy that fits your needs and goals to build a successful and active social media community.
1. Define your audience
The more you know about your audience, the better equipped you will be to create content and foster interactions that will fit your audience's visions, interests, and needs. On the flip side, your voice and tone also determine the kinds of interactions your brand has with its audience.
2. Set goals and metrics
Your goals should reflect your vision of how you want to use social media to help your brand grow, the kind of community you want to create, and the type of engagement you want to offer.
It's important to pick the metrics that matter most to your brand – this is how you measure your unique successes. Metrics can include growth in audience members, overall engagement (likes, shares, mentions, hashtags, messages, comments), traffic to your website as well as the potential increase in customer satisfaction, sales, and brand awareness.
3. Identify your channels
There are many different platforms available where you can engage with your community depending on your engagement strategy. Pick your channels according to your target audience interests and the platforms they engage the most, from Facebook, Reddit, Instagram, online forums, and community focus platforms.
4. Create content
Your audience seeks meaningful and high-quality content. Create engaging content for your community members according to their interests and needs to add value to your brand. Try different types of content to see what works best for your audience, from sharing tips and tricks to asking questions and seeking feedback. Take a look at trends and hashtags that could fit your brand image and entertain your audience.
5. Build a team
Community management can be an overwhelming task that takes time, energy, and availability. A social media community management team should help your brand attract, nurture, and build a robust online customer base. Choose proactive and engaging team members to fill the community manager position in-house or outsource to a community management services agency.
6. Monitor and measure
Social media listening, platform analytics, and other analytics tools can help you monitor your online community performance. Using these tools, you can look at your social media metrics to get an overview of your content engagement and interactions. These metrics inform which community management practices are working best for your brand community.
7. Adapt and evolve
Your metrics and community feedback are key to identifying areas where you can improve. Implement feedback given by the audience to evolve with your community and stay on top of your community needs. Improving products and services following community feedback is a great way to engage your audience and make them a valuable part of your brand.
8. Encourage participation
Develop an engagement strategy that includes tools to encourage users to interact with your brand and amongst themselves. Encourage users to introduce themselves, ask questions, share, and engage with other members. Your community management team can also provide tips and resources to onboarding members to create a safe online space for your community to grow.
9. Communicate effectively
Your community management strategy should include guidelines to guide your community management team on how you want to interact with your audience – from tone and voice to specific template responses. Guides can inform tone and grammar usage, as well as more subtle cues of ways to build compassion and authenticity through online communication.
10. Have a crisis plan
A crisis communication plan should help prepare your team to react quickly in any possible crisis, as well as predict and identify potential crises before they even happen. As such, pre-set plans help them know the right steps to take and how to respond to de-escalate any potentially critical situation.
How to Measure the Success of Community Management Strategies
Success means different things for different brands, depending on the specific goals and metrics you set and track for your brand. Short-term community management strategies involve short-term gains. For example, you may choose to integrate a new crisis mitigation plan into your guidebook, or decide to add overnight and holiday hours to your community management scope of work.
Long-term strategies are typically more complex and are integrated into your larger social media and marketing goals. For example, to improve longer-term customer loyalty measured over a year, your team may look to overhaul your entire response templates, hire an overnight agency, and build in review management. In short, define what success looks like to you, and take the first step to get there.
Community Management is Essential
Community management is essential to growing a thriving online community to help your brand achieve your social media goals. A strong community management strategy is essential to driving customer loyalty and delivering on your brand promises.
Book a call with a 24/7 team of experts who will stay online around the clock so you don't have to.