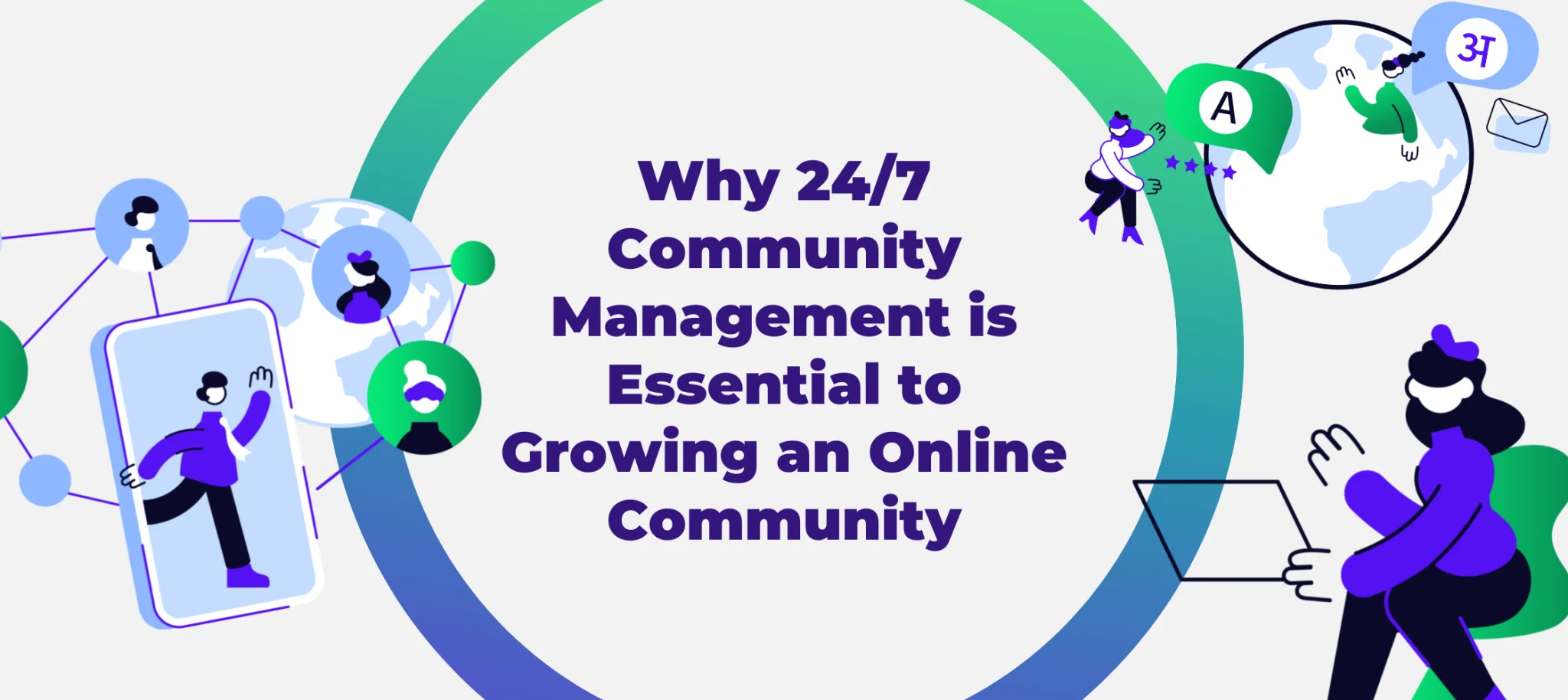 Community management is essential to initiate and maintain an online community. Nowadays, customers expect quick and efficient customer service. Twenty-four-seven community management allows your brand to attract and retain the right customers at the right time, day or night, no matter the time zone.

To build a thriving and engaging online community you must give your audience a sense of community and ownership. Your community needs to feel like an important and meaningful part of your brand. Twenty-four-seven community management is essential to help strengthen your community by providing real-time personal attention to your members, as well as getting your brand covered during periods of high or crisis traffic.
What is 24/7 Community Management?
Twenty-four-seven community management means having a community manager or a team of community managers that work together around-the-clock to respond in real-time to your online brand community, managing all messages, reviews, tweets, and comments in a timely manner as they come in.
Since your community has access to your brand at all times, 24/7 community management helps you reach your customer base and audience in an authentic and engaging way, thus building a strong relationship with your community.
How to Grow an Online Community with Community Management
A strong online community can drive sales, boost awareness and improve your brand image. There are a few things you can do to grow your brand online community with community management. Some of the most valued communities are a place where people can connect, engage and feel encouraged to share. You must keep your customers and their interest in mind, always.
Establish Goals
Your "why" is one of the most important things to think about when you want to grow your online community. Considering this question beforehand allows you to establish your goals and build the foundation and vision of your community. Your goals should be built on how your brand wishes to engage with your audience in a way that will help you reach your business goals.
Choose Community Managers
Your community manager will become the heart and brain of your journey to grow your online community. Take your time and ask questions to make a wise choice. A good community manager should be people-oriented, passionate, proactive, and engaging. Find someone that will foster your community and can better connect your brand with your audience.
You might choose a community manager among your current team or outsource to a well-trusted agency that provides community management services.
Define & Enforce Community Guidelines
Community guidelines are a set of rules that you create for your community to ensure a standard of expected behaviors within your community. Those guidelines will help create a safe environment for your community to interact and grow in.
The type of guidelines you choose will define the tone of your community, introduce your brand culture, and clearly define what type of content can or can't be shared. Providing clear guidelines upfront will help your community grow smoothly and strong. Guidelines can include what type of languages, behaviors, and interactions are part of your community culture. They can also reinforce your community, as members may naturally play the role of moderator.
Community guidelines are also very important for your community managers. Clear guidelines will help them monitor, engage, and take action in an efficient way, as actions were already pre-approved by your brand. For example, they will know immediately when to highlight relevant and interesting posts or when to remove inappropriate content. Social media moderation services can also help your brand in managing and applying community guidelines as needed.
Develop Engagement Strategy
To develop a strategy to initiate and maintain an online community and social network, you need to ask yourself some questions about your audience and potential interactions your brand wishes to have with them:
Who is your audience?

What kind of interactions do you want to create and have with them?

Where should those interactions take place, on what platforms?

What type of content will you post?
The way you interact with your online community will determine how you will manage your online presence. Some social media platforms might be more useful than others according to your brand audience. Choose social media platforms based on your community style and interests – where your brand and your community's needs, meet.
As the community owner, developing an efficient engagement strategy will help your brand and your community manager to set you for success as quickly as possible.
Onboard All New Members
The faster your new community members are on board, the faster they will start contributing to the community. Help them feel at home by encouraging them to introduce themselves, and share and engage with other members. Your brand can also make a great first impression by sharing tips and resources for new members, such as community guidelines, brand culture, and interesting resources or websites.
Provide Personalized and Immediate Support
Human connection and interaction is key to building a strong and engaged community. Make sure your community manager replies to comments, messages, tweets, etc. as quickly and efficiently as possible. It's a great and easy way to showcase your customer service and help your overall brand image.
Provide personal attention to your members via one-on-one support, as human connection is always better than canned or automated messages. Additionally, paying attention to details is essential to help your brand grow an online community. For example, you can add a touch of authenticity and compassion to your interactions by calling each of your members by their names.
Providing answers to community members quickly goes a long way. When responding to questions or concerns, be sure to provide quick links to applicable resources – such as a link to an FAQ or help page or a phone number. You can go the extra mile by following up to make sure all is resolved.
Review Feedback and Improve
Take a look at your community management metrics and gather feedback from your online community to see where community management is lacking or can be improved. This will give you an overview of what type of content and interactions you can increase or decrease to better cater to your brand and audience needs.
Feedback from your community can also help you improve your products or services, as an engaged audience will help you understand how your customers really see you through those online interactions.
With all this information you will now have in hand, identify your priorities and specific areas where you can improve. Then brainstorm solutions and implement feedback to allow you to continuously improve your online community management and overall brand.
Benefits of 24/7 Community Management
Growing a strong online community takes dedication and resources. Getting on board with 24/7 community management will benefit your brand in many ways since and help you reach your social media goals more quickly.
Bolster Brand Reputation
With a 24/7 community management team in place, your brand will be able to go above and beyond and showcase higher-quality customer services. An increase in response time to your community inquiries is a great way to bolster your brand's online image and reputation.
Increase ROI
Real-time community management will help your brand awareness and most likely generate more sales and revenue. Providing your customers information on your products and services in a timely manner improves your chances of generating more sales, as customers feel important and appreciated.
Build, Scale, and Engage Online Community
Building and growing an authentic online community, true to your brand values, takes time. Your brand will benefit from 24/7 community management, as you will be able to develop, promote and strengthen your community in a more time-sensitive way.
Generate New Leads through Positive Reviews
Positive reviews from your online community can help you get in touch with new customers. Online feedback and word of mouth is the best way to build and improve your brand services and products' positive awareness. With 24/7 community management, your brand will be able to catch new leads and meet customers' demands, while other brands might be sleeping.
FAQs
Community management is essential to growing a strong online community. It is not always an easy task to develop a strategy to initiate and maintain an online community and social network. Take a look at some of the most frequent questions on how to build an online community on social media to help you and your brand achieve their goals.
What makes a good online community?
Community members are the heart and soul of any online community. A good community is built with members that care and enjoy engaging with each other. An active online community discussion needs enough members to make it happen. You also must have a committed community manager that has the energy to simulate community collaboration and engagement with excellent content and compelling topics that suit your audience interest and needs.
What are the most effective ways to grow an online community?
Similar to any other kind of business, an online community can effectively be grown by promoting it to your target audience and customers. To do so, you can
Find the platforms that your target audience uses the most

Invite people directly to join your community

Optimize your community content for search engines

Create content that your audience is interested in

Engage meaningfully with your audience and encourage them to engage with each other

Promote your community on social media, via paid ads
How long does it take to grow an online community?
As each online community is unique and growth rate differs from one platform to another, there is no specific timeline to grow an online community. This process can take some time, from a day to up to a few years. Growing an audience can be a slow and challenging process at first, but with the right tools, knowledge, and a strong social media strategy, you can make it happen.
Growth might also depend on what the community stands for and what type of content is being shared. Certain topics might get more interest and attract more members than others. How long it takes to grow an online community also depends on the effort you put into building and engaging with your community audience and growing with them. Having access to sufficient resources such as an experienced team member or an online community management agency can help your brand grow an online community more effectively and quickly.
24/7 Community Management with ICUC
Engaging customers in your brand voice requires time and expertise. ICUC's community management team knows how precious the online relationship between your brand and your customers is. To keep and grow this relationship, 24/7 community management is key.
With years of experience in social media, our team will help your brand engage an authentic online community true to your brand value and goals. Our community management team knows how to attract and retain the right customers at the right time, on a global scale and spanning 52 languages.
Conclusion
Community management is essential to growing an online community that will help your brand gain visibility and engagement. Developing a strategy to initiate and maintain an online community and social network can be challenging, as resources and knowledge are key to growing an engaging online community.
Book a meeting with us to learn more about growing your online community with a team of 24/7 community management experts.