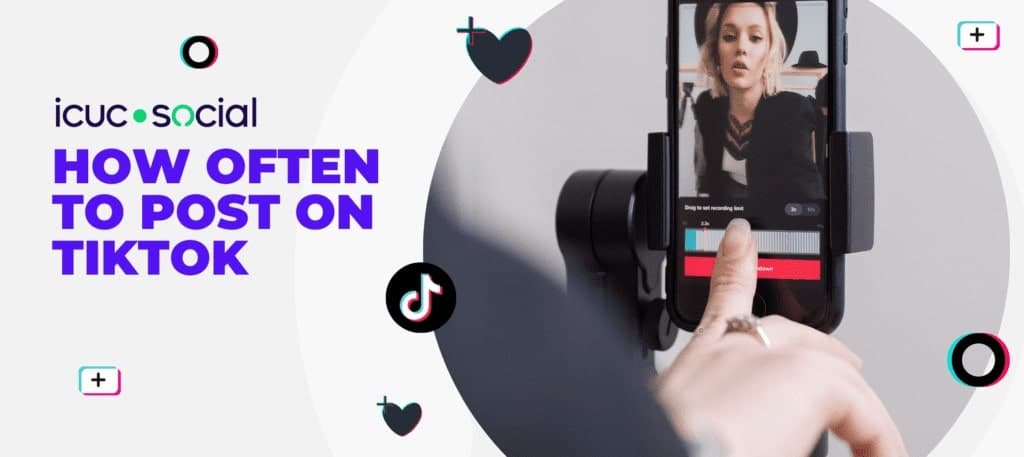 TikTok is a valuable tool to reach audiences all over the world. With over 2 billion downloads, TikTok quickly became one of the biggest social media platforms. It can be tricky and time-consuming to know how often to post on TikTok to put your audience engagement in a sweet spot. To help you determine the best cadence for your brand we've provided pointers below.
How Often Should a Brand Post on TikTok?
The general rule of thumb for TikTok posting frequency is to post engaging high-quality content as often as you can. Most brands will benefit from posting 1 to 3 times per day, but this is no hard and fast rule. Focusing on high-quality and engaging content, over quantity is the most important aspect of your posting strategy.
There are many things for brands to consider when determining a TikTok posting schedule.

Things to Consider When Deciding How Often to Post on TikTok
As you decide on how often you should post on TikTok, provide your target audience with something to look at, expect, and be excited about. Posting high-quality content at the best time indicated in TikTok analytics, and adjusting as you go, is essential.
Quality vs Quantity
Brands should only create as much content as they can without compromising quality. High-quality is essential to growing an audience on TikTok or any social media platform. But there is a balance to find between quality and quantity, to stay consistent with how often you post on TikTok.
Quality videos on TikTok can be achieved by making shorter clips with a clear image, trending music, and interesting visual effects such as light, words or emojis. To get a clear image, take the time to set up your camera or phone properly to get a good angle and lighting.
Posting a couple of high-quality videos occasionally might not be enough to grow your global audience. You may need to adjust the quality to get a little more quantity. Don't be scared to play around to find what works best for your brand.
You may also want to keep in mind the importance of engaging with your consumers on TikTok and not dedicating all your resources to creating only videos. Being an engaged brand on TikTok also plays an important part in how brands grow their audience on TikTok.
What does the data say?
The TikTok algorithm will show your content more the more you post. Frequent and consistent posts are usually rewarded by the TikTok algorithm.
According to TikTok, the algorithm is influenced by a combination of factors and recommends content based on those. User interaction (like, share, comments), subject, video information (captions, audio, hashtag) and device settings (location, language) are key factors to consider to reach your target audience at the right time.
Brands should monitor their TikTok analytics to find their sweet spot and determine if there is a point where posting more has diminishing returns. You must find the optimal posting schedule that pleases your brand, your audience, and your resources, as well as the algorithm. You may want to keep an eye on your overall performance of the platform until you find what works best for your brand.
Can I Post Too Much on TikTok?
Usually, posting more than 4 times per day can be too much. There is no need to burn all your resources on making more TikTok videos, as usually more than that won't drag any more engagement or growth to your brand. You should focus on making high-quality and engaging content for your followers.
Tips & Strategies to Maintain a TikTok Posting Schedule
As you get more comfortable and confident, you will get to know how to use the power of TikTok to leverage more engagement for your brand. Keep in mind that there are no magic tricks here, as every brand and audience is unique, and those tricks need to be catered to each brand needs and specifications. Here are some tips and strategies to get you started and keep you on the right track on how often you should post on TikTok.
Plan Ahead & Determine a Schedule That Works for Your Team
Creating a content schedule and planning is the best way to keep everything on track and make sure you reach your goal. Planning content outlines in batches beforehand can help relieve some of the stress of maintaining a consistent TikTok posting schedule.
Keep in mind that there is no point rushing things to get things out to post. Waiting and making better quality content will always be a better move than posting right away. Make sure to schedule time to engage properly with your audience to generate more engagement.
You can spend a day planning for the whole month, updating and adding a few things here and there as they come. A social media scheduler may also come in handy as it will automatically publish your videos at a specific date and time, that you previously set.
Finding the posting schedule that is right for your team may require some trial and error. Don't hesitate to seek some help as a TikTok social listening service may be useful to see how things go and help you reach your goals.
Timing
The best way to connect with your active users is to post at the perfect time when they are most likely to be on the platform. To get there, a good idea is to find where your primary audience is located (country & time zone). It then makes it easier to determine peak hours on the platform for your audience. Peak hours are usually in the morning when your audience wakes up (6 AM to 10 AM) and in the evening when they get ready for bed (7 PM to 11 PM).
With all that information in mind, you are fully equipped to determine the best and more efficient time to post. You can easily establish a schedule that fit with most of your audience. You might be a post away from exponentially growing your brand, since determining the best timing is a key to how brands go viral on TikTok.
The Ideal Amount of TikTok Posts for Your Brand
TikTok is becoming a trendy popular social media platform as more and more brands and consumers get on board. Establishing your optimal posting frequency can be tricky, but your hard work is likely to pay off as TikTok is an on-growing social media platform to reach consumers all over the world.
High quality post, consistency and timing can have a real impact on your brand reach, outcome, and leverage in creating more growth and engagement. Keep in mind that you are likely going to need to adjust as you go to make sure you are constantly evolving with your audience.
Whether you've established your presence on TikTok, or are running your first campaign, ICUC helps brands scale their community for long-term engagement and loyalty. Book a call with us.