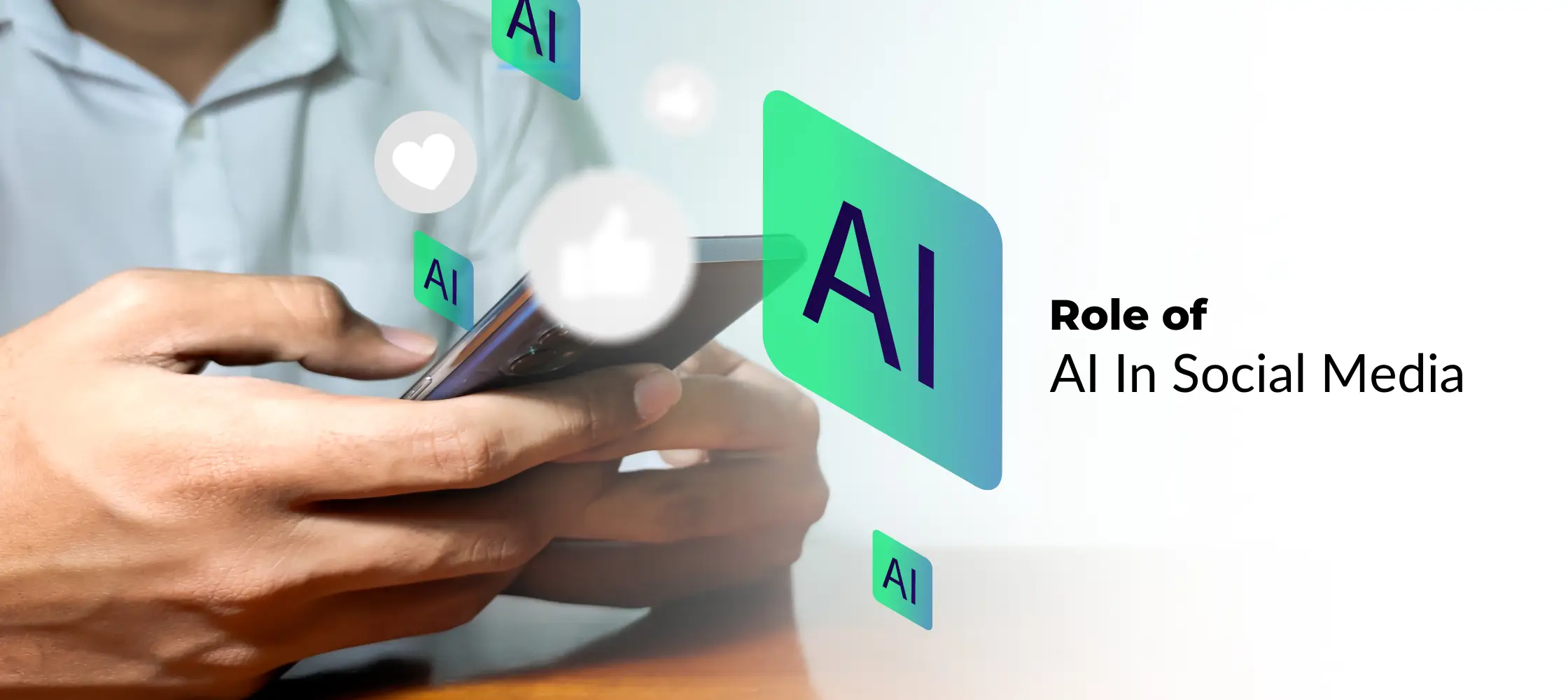 Artificial intelligence, as known as AI, plays an important role in different industries, from technology and science to health and business marketing. AI is shaping the social media landscape as we actually know it – marketers can build entire marketing campaigns as well as develop copy for social captions or advertising slogans. Controversy is growing over platforms run by OpenAI, such as ChatGPT, for example. From ads to content consumption, users remain unaware of AI omnipresence in social media platforms as artificial intelligence works behind the scenes.
What is Artificial Intelligence?
According to Investopedia, "Artificial intelligence (AI) refers to the simulation of human intelligence in machines that are programmed to think like humans and mimic their actions". With human-like intelligence, computers are able to recognize patterns and images, work on classification tasks, make decisions, and judge as humans do, to name a few.
Artificial intelligence can be found in social media software to help marketers streamline their day-to-day tasks:
Chat and messaging tools

that automate chatbot conversation for your customers.

Content spell-check tools

to help you write mistake-free posts and content.

SEO tools

to help you improve your content ranking in search engines to outrank your competitors, reach more customers, and discover topics that your audience is invested in.

E-commerce tools

to help customers filter content to find the information they are looking for.
What Benefits and Disadvantages Does AI in Social Media Have?
Artificial intelligence enables marketers, users, and creators to extend capabilities on each social media platform. Below is a list of beneficial use cases, as well as disadvantages when considering how you'll use AI.
Benefits
Facial recognition

: AI is able to recognize images to help tag people on social media, but also filter inappropriate images to prevent them from being posted.

Increased security

: AI prevents data and identity theft and detects and also combats spam automatically.

24/7 availability

: AI-powered chatbots can respond to customer needs efficiently and in a timely manner to improve overall user experience.

Recommendation engines

: Artificial intelligence is built to help users find content, products, accounts, and other users similar to what they already like.

Analyze sentiments

: AI helps social media marketers understand their audience's needs and interests, as well as any potential business opportunities based on trends and social media activity.

Revenue acceleration

: AI is key to brand strategy customization to gain maximum benefits and create higher ROI. AI-powered social media advertising uses historical data to run campaigns based on your target audience's preferences and values to reach them effectively, boost engagement, generate more leads, and convert them into customers, which leads to higher ROI.

Reduce cost

: AI efficiency helps businesses reduce unnecessary costs such as operational and marketing costs with task automatization and effective marketing promoting opportunities.

Content testing and optimization

: AI helps brands and content creators make sure their marketing strategy choices can reach their full potential.
Disadvantages
Quality concerns

: AI is not quite yet able to cover gray-zoned content, as it currently focuses on more black-and-white information.

Possible plagiarism

: AI content is pieced together from various sites and will usually reword existing content found.

Content devaluation

: Algorithms may devalue AI-created content that is formulated with the main focus to rank higher in search engines.

Emotionless and lack of understanding

: AI focuses on keywords without truly understanding the text, which might not be as informative and supportive as needed by users.

Misinterpretation of content

: Human editing is still required for quality checks for most AI tasks.

Lack of creativity

: AI can't generate new and fresh ideas as it only uses existing data to create content.
How Is AI Used in Social Media?
Digital marketers can use artificial intelligence as a tool to guide them on a plethora of social media decisions to help streamline their overall process. From content creation and social media listening to optimization and automation, the future of AI in social media is undeniable.
Content creation and curation
Social media AI has been trained to go through numbers, clicks, user interests, age, regions, internet profiles, user preferences, and purchase habits. All this data helps digital marketers take proper action when it comes to creating content that fits different audiences' needs and interests. Artificial intelligence guides brands toward what will work in their social media marketplace according to algorithms and data accumulated over time.
Personalization
Artificial intelligence can help marketers better understand buying behavior so they can offer their customers more personalized, engaging, and converting content. Using algorithms, deep learning, and important data sets, AI learns from user habits to make recommendations that would normally take months for humans to gather.
Social listening
AI algorithms are used to find important data sets on social media and label them for marketing purposes. This data is accumulated and leveraged to create unique content appealing to specific customers. Social media listening is possible due to artificial intelligence capabilities to classify and manage large amounts of content.
Optimization of paid media
The future of AI in social media comes into great use to help businesses optimize their social media strategy investment to refine content targeting in the most efficient way possible. AI helps brands with their content scheduling and posting across different platforms while at the same time freeing up the marketing team to focus on more productive tasks – all while ensuring high efficiency and quality of paid media.
Improve response time
Social media marketers using AI as part of their social media marketing strategy are able to make customer journeys hassle-free by being able to filter and categorize comments and messages to respond quickly and easily.
Automation
The use of AI in social media can be an undeniable tool for brands looking to reduce costs and enhance customers' experience. Conversational AI systems, also known as chatbots, can mimic how people communicate in real time. Brands can elevate their customer service experience with conversational chatbots that can run indefinitely to answer user queries 24/7 with no direct supervision. Automation is a great way to strengthen brand image and offer quality customer service.
How Are Social Media Platforms Using AI?
Most of the top social media companies have already embraced AI in taking their business to the next level. It's helpful for everyone involved —managing social media platforms is not an easy task, as a lot of content needs to be shuffled through. With AI, brands are able to analyze high volumes of data to find social media trends, hashtags, and patterns to understand user behaviors that will help them improve the user experience on their platform.
Facebook
As one of the first platforms to introduce AI in social media, Facebook implemented multiple AI-powered tools to improve user experience. They use AI to suggest people and content to users based on their choices, web preferences, and browsing patterns, as well as help identify visuals, recommend tag options, recognize faces in photos, and various other tasks.
Twitter
Twitter uses artificial intelligence to categorize every single tweet to provide content people most care about at the top of their feed. Their AI can suggest replies to users while they are commenting on tweets or answering comments, as well as detect fraud propaganda on the platform.
Twitter also uses neural network intelligence to crop photos in a way that maximizes the aesthetic output. Twitter AI studies eye tracking to record what part of pictures people look at first to understand which part of a photo is most appealing to users.
Snapchat
Snapchat uses AI-powered lenses on its filters to detect faces and differentiate structures and features within it. They also benefit from AI to target ads efficiently to users that are most likely interested in them. AI is key to developing marketing strategies that provide valuable insights into trending topics at the moment they are most talked about in the Snapchat community. Marketers and influencers can then use this information to cater content to their audience that is meaningful to them.
Instagram
Instagram benefits from AI to customize content for the Explore tab, based on user behavior and interaction data to display accounts that individual users might like. AI helps Instagram bring more user engagement than before and considerably enhances user experience on the platform.
TikTok
Artificial intelligence now plays an important role in any TikTok marketing strategy. AI-based recommendation algorithms help TikTok reach extreme user engagement. TikTok AI features help brands leverage TikTok for social listening, as TikTok artificial intelligence tracks each and every user's behavior as they watch recommended videos, as well as mapping personality and highlighting emotion patterns. This platform is able to suggest more content that would fit users' interests. The addiction that TikTok engenders in users showcases the progress AI has reached in social media platforms.
Final Recommendations
Understanding how to integrate artificial intelligence into your social media marketing strategy is not an easy task. Our social media experts can help your brand understand how to benefit from this technology to obtain social media success.
Learn more about our 24/7 social media community management services. Book a meeting with us.