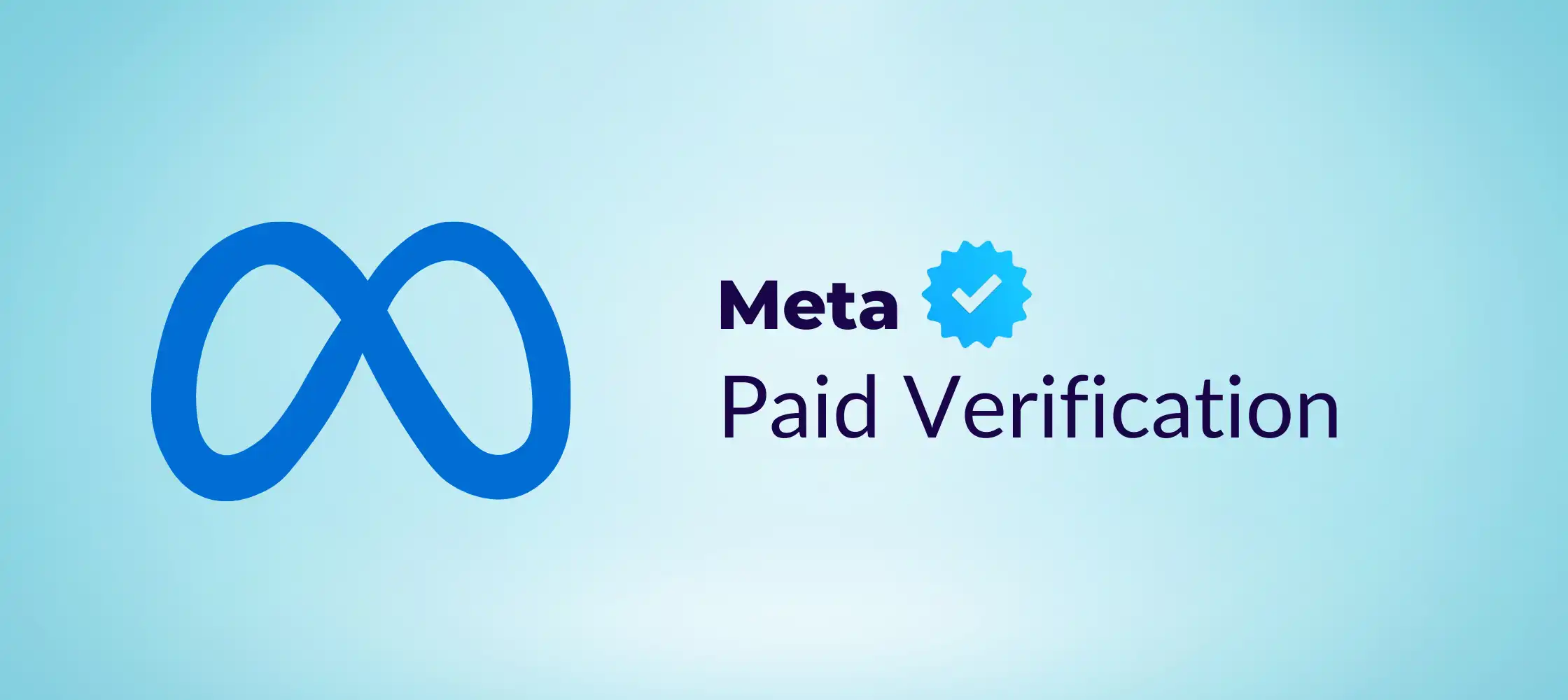 Facebook and Instagram recently announced that they're launching a paid verification program for all users. The program is labeled Meta Verified and is likely following the footsteps of Twitter which introduced Twitter Blue last November. The move could present a shift in revenue models within the social media industry which has largely relied on ad revenues till now.
At the same time, the program could have an impact on brands and companies that have been using social media platforms to grow their consumer base.
Let's have a look at what Meta Verified is, how it can affect brands, and how brands can protect their reputation as the program is rolled out throughout the world.
How Does Paid Verification Work on Facebook?
Meta (formerly Facebook) announced in February this year that they're testing a subscription bundle in New Zealand and Australia that offers users a verified badge among other features. Last week it announced that it was expanding the subscription to the US after seeing positive results from the testing.
The subscription bundle branded Meta Verified offers users on both Facebook and Instagram a verified badge. The program makes verification, which was previously limited to popular celebrities and influencers, accessible to all users.
Meta Verified can help business owners or creators build an authentic brand on social media platforms and avoid fake accounts or account impersonations.
Along with verification, the program also offers users proactive account protection. Meta promises to monitor the platform for accounts that may be attempting to impersonate verified users.
Meta Verified subscription also includes advanced customer support for subscribers. The platform promises to connect users with a real person if they face any account-related issues, instead of having to navigate through chatbots or getting directed to support documents.
Meta Verified Subscription Cost for Individuals
If you're in the US, New Zealand, or Australia, you can get the Meta Verified subscription through the web or through their mobile apps. The verification will cost you $11.99 a month through the website and $14.99 every month if through the app (Android or iOS).
Meta has laid out a set of requirements to be eligible for the program. As of now, the verification is available only to individuals above 18 years of age. The account must also show minimum activity requirements and users must submit a government ID that matches the name and photo on the account. Meta Verified is not currently available for business accounts.
Meta Verified Subscription Cost for Businesses
Meta Verified Subscription will soon expand to businesses on Instagram, Facebook, and WhatsApp in selected countries. As of September 19th, 2023, Meta will launch testing for Verified Subscriptions for businesses in the coming weeks for Instagram and Facebook, while the testing on WhatsApp will begin at a later date. The verification cost starts at $21.99 every month per Facebook page or Instagram account, or $34.99 every month for both. The subscription cost for WhatsApp has not yet been determined.
Meta has laid out specific criteria to be eligible for the program. Businesses must meet certain requirements such as minimum tenure on their business account, page minimums, and account activity, as well as have two-factor authentication activated.
Getting Verified on Instagram
The process and requirements to get Meta Verified are the same for both Facebook and Instagram. That said, you have to apply (and pay) separately to get verified on both platforms.
Instagram creators may benefit significantly from Meta Verified. The subscription service offers users more tools to reach and grow their audience. For instance, it promises enhanced visibility in search, comments, and recommendations. It also promises 'unique ways to express yourself' which as of now means exclusive stickers for Instagram and Facebook stories and reels.
Meta Verified also offers a pack of 100 stars every month for subscribers to show their support to creators.
Meta has made it clear that if you're already verified on Instagram — because you're a creator, journalist, or a celebrity — there won't be any changes to your accounts. The verified badges for both Meta Verified accounts and accounts of notable figures will look the same.
However, the platform limits the additional benefits, such as enhanced visibility, customer support, and exclusive tools, to subscribers of Meta Verified only. This may serve as an incentive for some of the previously verified creators and influencers to pay for the features.
As of late September 2023, Meta has announced it will expand Meta Verified to businesses and will start testing the subscription on Instagram and Facebook in the coming weeks, while no date has been announced yet for WhatsApp.
How Brands Could Be Impacted By Paid Verification
Now that Paid Verification for business has started rolling out, brands can better coordinate their social media efforts with a business authentication, verified badge, impersonation protection, access to account support, and exclusive features to help them get noticed.
As verification becomes more accessible, it will become easier for brands to find legitimate creators and influencers on these social media platforms. Influencer fraud is widespread in the creator economy and brands struggle to distinguish between authentic creators and fake accounts. The verified badge has always been useful, but since it was available only for large creators, it benefited only brands with deep pockets.
But now, the Meta Verified program can help companies collaborate with micro and nano influencers with more confidence.
Once paid verification is available for businesses across the board, companies of all sizes can use it to generate trust among their customer base and drive conversions through these channels. We can also expect Meta to create tools directed toward business owners when the Meta Verified for business launch is completed.
What Happened With Twitter Paid Verification
Introducing paid verification or Twitter Blue was one of the first steps that Elon Musk took after he bought Twitter. Soon after launch, the program started facing serious issues.
Twitter Blue created a PR crisis for many brands
Right after it was launched, many fake accounts purchased the subscription and pretended to be famous brands or celebrities. Fake accounts in the name of Coca-Cola, Nintendo, and even Tesla wreaked havoc on the platform with unflattering tweets about the brands.
Many brands made serious losses due to imposter accounts
One of the most notable among these was an imposter account in the name of Eli Lilly, a major insulin manufacturer. The fake account tweeted "Insulin is free now" which caused the company's stock to crash.
Lockheed Martin, SpaceX, and Tesla were some of the other companies that made huge losses because of imposter accounts.
Bad actors used Twitter Blue to amplify misinformation
Many bad actors realized that a subscription to Twitter Blue amplified their tweets and gave them more reach. This prompted them to use Twitter Blue to spread misinformation for political and financial gains.
How To Protect Your Brand Once Meta Verified is Rolled Out Globally
Meta appears to have learned from Twitter's mistakes in launching a paid verification model and brands may not have to worry much about their reputation. Meta has strict standards for verification and they won't let users change their profile names once verified. The company is also taking its time testing paid verification for businesses, starting with Facebook and Instagram verification in the coming weeks.
That said, it may be a good idea to be prepared considering the risks. Here are some ways you can protect your brand:
Social listening
By investing in social listening, brands can stay on top of discussions about their brands on the internet. If any fake social media profile pops up or if there are any negative trends around your brand, social listening can help you take control of the narrative quickly.
It can also help you leverage any new trends or events to launch social media campaigns.
Social media moderation
A dedicated social media moderation team can keep your brand safe on all social media platforms at all times. They can monitor discussions about your brand and the engagement on your social media platforms, and take timely action in the event of a crisis.
For instance, if a fake account starts spamming your comment section or spreading misinformation, a social media moderation team can quickly prevent any damage to your reputation.
Community management
Keeping your brand safe is not just about responding to a crisis, but also about proactively building an engaged community of customers. This can help quickly pass your message to your customers in a crisis and mitigate the damage. It can also enhance the customer experience and loyalty.
Meta Verified is Coming. Get it Right With the Right Strategy
As of late September 2023, Meta will launch paid verification for businesses in the coming weeks. Meta Verified can offer businesses new tools to grow their social media and reach their audiences. At the same time, there's a risk of imposter accounts creating a PR crisis.
With the right social media and PR strategy, brands can navigate the paid verification model and get the most out of it.
Ready to grow a loyal online community through your social media channels? Talk to our experts.