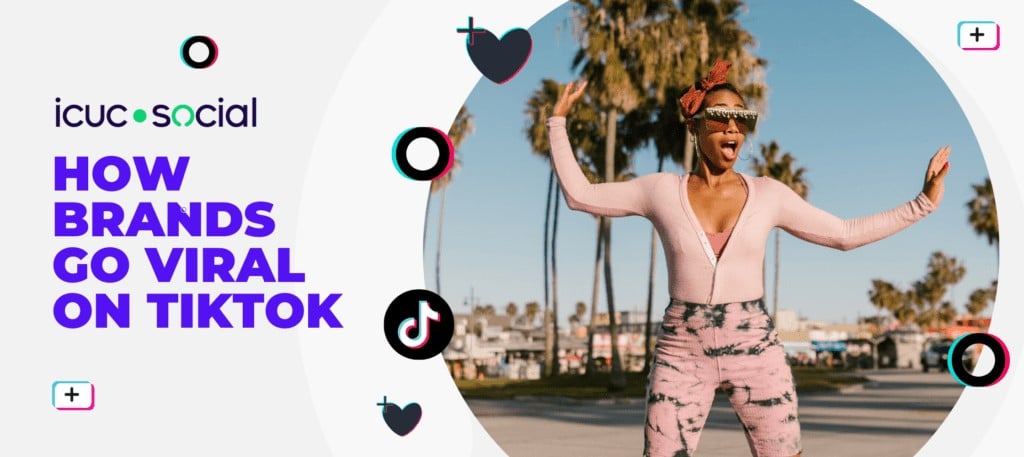 Founded in 2012 and launched in September 2016, TikTok is the fastest-growing social media platform of all time. Hence, TikTok is a brilliant opportunity for brands to boost their credibility and growth in a creative and playful environment.
Liked and often shared, a viral video can help your brand get noticed and jump on the top TikTok brand tier. Keep in mind that how brands go viral on TikTok depends on many factors, such as content quality, audience niche, engagement and knowing how often brands should post on TikTok.
Here are our top 5 tips to get you started and be part of viral TikTok brands.
1. Hop on Viral TikTok Trends
Brands using TikTok well are on top of social media trends. They either hop on viral trends or start their own. To do so, the most basic approach is to spend some time yourself on the app to see what others are doing. Simply getting on board with viral TikTok trends is a great way to bolster your brand posts.
Hashtags and hashtags challenges are very popular on TikTok. Top hashtag challenges can attract millions of users. But, as for other networks, keep in mind that to optimize engagement, the rule is to never overuse them. Choose your hashtags wisely as they help when users search for content.
A clever choice is to find a good balance between generic hashtags that are competitive and more specific ones that are not yet as well known. You can use TikTok itself to find the hashtags that fit your brand best, since TikTok will suggest related hashtags when you search for one.
Example: Milk Bar Goes Viral Doing the #HaveYouEverBeenInLove TikTok Trend
The bakery chain Milk bar knows how to capitalize on popular TikTok memes, formats, and audio to catch their audience's attention. The brand got in right once again by putting their own spin on the #HaveYouEverBeenInLove TikTok video trend. Milk Bar got the pulse of the platform and was able to easily join this trending topic. Viewers enjoyed seeing their favorite brand taking part of a current trend and putting their own spin on it.
2. Collaborate with Influencers and Content Creators
A smart way to use the platform is to use influencers communities as leverage to help your brand get noticed. The new word-of-mouth marketing, influencer collaboration is a powerful tool as it's a great social proof. Influencers' skills and knowledge of TikTok get handy to reach more audiences, as they know their way around the platform and might be able to help you navigate between all the available content.
Top influencers may be out of your brand marketing price range, but many other smaller influencers have followers interested in your brand. If you have a tight budget, a smart approach is to start small and slowly grow your TikTok presence. Search and reach out to TikTok creators that aren't yet in the millions but have communities that have interests similar to your brand offerings. Finding creators that have the same audience as your brand and get good engagement are your best shot at becoming a viral TikTok brand. TikTok creator marketplace may be a great tool as it helps link up brands and creators.
Example: Outer Aisle Products Promoted Organically in Partnership with Content Creators
The keto-friendly brand Outer Aisle found their niche by seamlessly integrating their products to a large TikTok audience. They work with well-known TikTok creators notorious for creating healthy recipes. This brand found a way to pitch their products in an organic manner, since their products are presented by influencers that are recognized and respected by their targeted audience. They found their niche and exactly what their audience loves and is looking for. It's the way to present a product in a very simple and natural way, yet efficient and productive.
3. Create Original Content to Grab Attention
Interesting short-form content that engages the audience quickly is a great trick that viral TikTok brands use to get their audience to watch the whole video. Capture their attention with a strong hook to keep your audience's attention from the start and keep them entertained with high-quality content.
Original content takes many forms. You can intrigue and interest them by presenting solutions, tricks, tips, hacks, or anything that your audience will be looking for. The use of humor and memes is one of the most common ways how brands go viral on TikTok. Find something that works well with your brand. You might need to play try and error and try something new or different to discover the right fit.
Example: Fabletics Posts Fashion, Workout & Health Videos
Fabletics is an active-wear brand cofounded by Kate Hudson. To attract their target audience, women in their 30s, Fabletics post a variety of original content made to catch and interest them. They mostly post videos about fashion and practical information (workout tips and recipes for example). Their TikTok present isn't only about their products, but mostly on subjects that would interest and attract their consumers.
Example: NBA Uses TikTok for Comedy and Memes
The NBA is a massively popular brand across all social media. They are part of the most popular brands on TikTok with over 10 million followers. Their social media strategy is made to have specific content catered for each platform in a way that their audience knows what to expect and can't wait to get more. Their TikTok is the to-go-to platform for their audience looking for short content that is both funny and entertaining with content that is highly engaging.
4. Encourage Interaction
TikTok is more than a place to post videos. It is a place to engage with the audience over created content. Engaged brands on TikTok are more likely to become viral TikTok brands. There are many ways to engage with your audience and encourage general interaction on TikTok:
Use CTA (call to action) to generate more engagement.
Ask questions, make recommendations, suggest tasks or challenges.
Share or ask your audience to share personal stories using your brand products or services.
Ask your audience to share your video or hit + sign to follow you.
Direct them once they see your content, to your website for example to buy your product.
Example: Mejuri Give their Customers a Voice
The jewelry brand Mejuri uses TikTok to showcase their products by putting the spotlight on their customers and letting them share their stories about how they connect with the products. It is a brilliant way to showcase social proof, add a very personal touch and make their audience feel part of the brand. TikTok videos give their customers a visual day-to-day context of the products and help them see how others style them. By giving their customers a voice and a platform, the brand can connect and engage with their audience in an organic way.
5. Use TikTok Tools
TikTok archives: TikTok hosts a massive library of tools to improve your videos, including popular music, audio clips and video effects. The great thing about the platform is that you don't have to be a professional video maker to make a good video or make a viral video, as they offer tools to up your video quality easily.
TikTok advertising: TikTok paid ads are powered by their own advertising platform. Those can help you run in-feed ads or create branded content. It is a way to quickly make your brand seen on the platform. Ads can be powerful as they can target per age, location, demographics, and most importantly target people that are very likely to enjoy what your brand is creating, as they are already interested in content similar to your brand content.
Pro-accounts: Signing for a TikTok pro account is a great move if you are serious about reaching and growing your TikTok audience, as it will help your brand connect better with followers across the platform.
Key Takeaways for Your Brand's TikTok Strategy
Understand how the TikTok algorithm works.
Don't oversell your product: promote experience with your product in an organic and natural way.
Influencer marketing is the way to increase your virality with low marketing cost.
The size of your brand doesn't matter: the way you connect and engage does.
Use your clever strategies on TikTok: make your products and services shine on the platform.
Listen to your TikTok audience: monitor trends and hashtags to get more chances at viral video success.
Conclusion
TikTok videos are a great way to show a different side of your brand and experiment. Getting viral overnight is unlikely to happen, but dedication, creativity, hard work and learning to play with the trends are already a great start.
Creating high quality content, following trends, and engaging with your audience can sometimes be overwhelming. Don't be afraid to team up with a TikTok social listening service to help you manage your TikTok presence and get all chances on your side to become one of the viral TikTok brands.
Whether you've established your presence on TikTok, or are running your first campaign, ICUC helps brands scale their community for long-term engagement and loyalty. Book a call with us.
Share
Related Articles