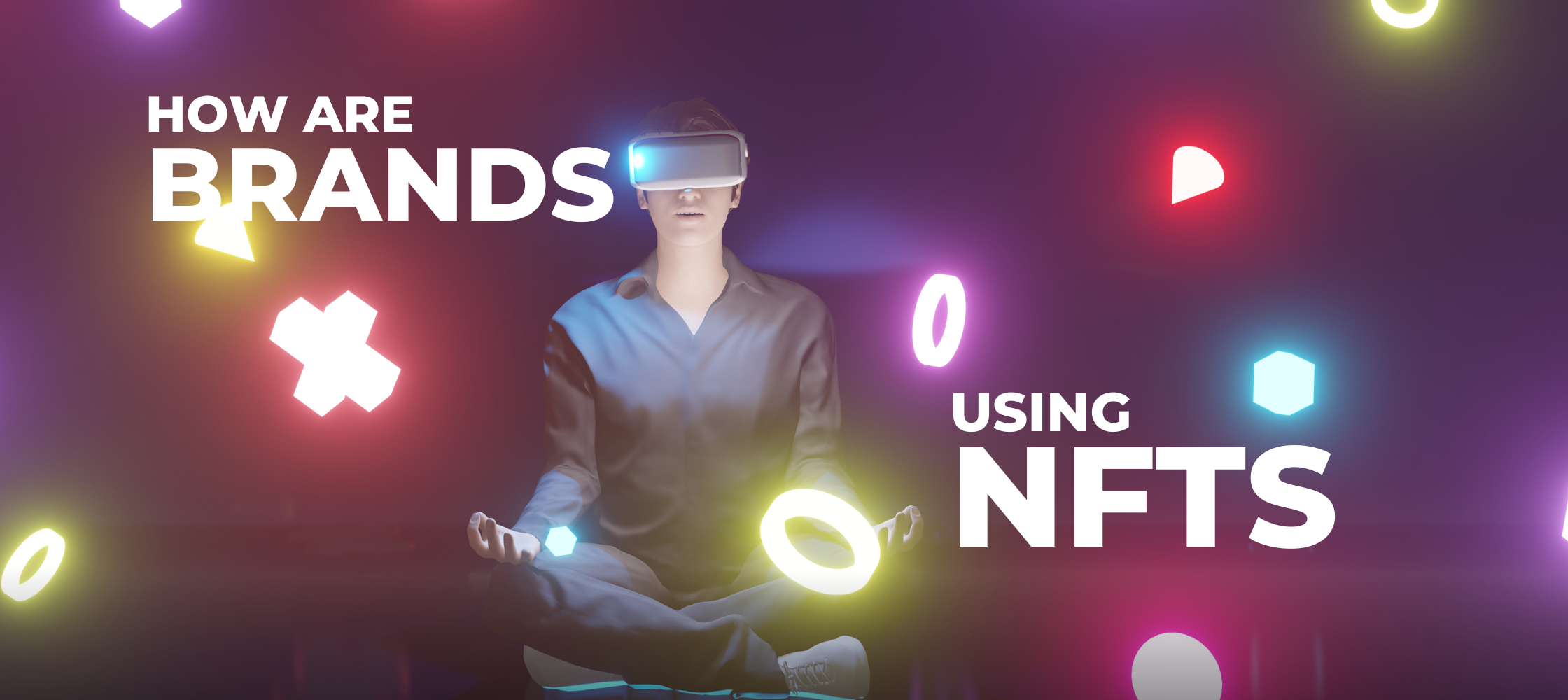 NFTs are much more than just JPEGs – these online expressions now intertwine with businesses and brands within a larger creator economy taking Web3 by storm. Popular NFT projects have the potential to expand through collaboration and co-creation with fellow creators and brands alike. Bringing together resources and unifying owners can expand the utility and value of the collaboration, and ideally strengthen the value of each individual project simultaneously. In this article, we'll talk through the basics of NFT to kick off your marketing strategy.
What Are NFTs?
A non-fungible token, or NFT, is a blockchain-based digital representation of an asset with a unique signature that can be anything ranging from tangible items like artwork, clothing, and collectibles to non-tangibles like music and specific moments of basketball games. It has a speculative value that is determined by the community and may be traded or exchanged without any risk of duplication.
How do NFTs work?
Non-fungible tokens are unique, specific, and exclusive electronic codes that are recorded and secured by the blockchain system. This ensures transactions are recorded in an encrypted form and therefore, the information included in the blockchain cannot be altered. In this way, once an NFT, or unique digital asset, is "minted", ownership is guaranteed as they can only officially be owned by one person or entity at a time.
Both digital and physical assets can be recorded as NFTs by any individual or brand. In order to do so, there are companies that offer the service of creating non-fungible tokens for a fee.
Examples of NFTs
As mentioned above, the possibilities of NFTs are endless because each one has its own unique code. In order to better understand NFTs, it is essential to look at a few examples of them. NFTs can be classified into the following major categories which, however, are not exhaustive:
Art:

Artworks are currently the most popular form of NFT and therefore, the one that sells the best. Artists can have their work digitized and sold as actual works of art. To date, the most expensive NFT in this category is a piece called "Everyday's: the first 5000 days" by a now renowned artist called Beeple. It represents 13 years of the artist's daily work and was sold by Christie's Auction House for $69 million.

Avatars

: In order to enter the NFT space, avatar collections are the easiest and most assured method. There are thousands of unique avatars in avatar collections, each of which varies in rarity according to its traits. Certain traits are rarer than others, and resale value depends almost entirely on the rarity of the trait.

Music

: A problem for musicians is the fact that streaming platforms and record labels take a significant percentage of their earnings. By selling their work as NFTs they are able to reap all of their rewards. Some artists have earned millions of dollars in just a few hours.

Collectibles

: NFTs can be considered a digital form of trading cards. In the same way that limited edition baseball cards sell for thousands of dollars, NFT trading cards do too. Some trading cards are simply for collecting pleasure, but most offer actual games that you can play with your NFT cards.

Big sports moments

: Memorable sports moments are something NFTs can provide that don't really have a physical equivalent. This type of NFT is a video clip of a significant moment in sports history. One of the most famous and the most expensive NFTs in this category is The LeBron James Dunk which sold for more than $380,000.

Gaming item

s: In this category, gamers that play NFT-based video games can purchase in-game content that will be exclusive to them. This includes items like skins or characters, and they can even compete to win them. The attraction here is that each particular item will be unique with the gamer having exclusive ownership of it.

Virtual worlds

: Players can own a piece of the game they're playing with virtual worlds NFTs. From buying virtual real estate, character accessories, or even buying and selling goods, the potential is huge and the possibilities are endless. One of the most famous virtual worlds is Decentraland which users have reported having made significant profits when selling their virtual real estate.

Tickets / Access tokens

: Tickets for events can now be minted as NFTs and auctioned off or sold at a fixed price. One of the advantages of selling tickets as NFTs is ensuring traceable and secure transactions. This puts an end to forgery or scammers as the ticket cannot be printed or duplicated. The digital ticket can even be resold afterward as a collectible item. Another spin to this is where the NFT is sold as an access token to an elite club or group that benefits from exclusive NFT releases, community connections, and virtual world access.

Fashion

: As fantastical as it sounds, virtual fashion is a highly lucrative industry. Big fashion brands have already started grasping opportunities to capitalize on NFTs. Brands sell their items as NFTs to be used and worn by avatars and gaming characters. When Adidas launched its first NFT collection in December 2021, which consisted of access to digital assets and also actual gear, the brand saw net returns of $23.4 million in one afternoon. Burberry and Louis Vuitton have created NFT fashion collections including kimonos and sneakers for avatars.
In 2019, Nike obtained a patent to give them an edge over other brands. In a convergence of real and virtual worlds, owners of NFT Nike sneakers have the option to have them manufactured as real-life items. This patent will allow them to profit from both digital and physical sales.
Importance of non-fungible tokens (NFTs) to brands
The advent of NFTs brought a distinct shift in the way brands engage and interact with their consumers by creating experiences and connecting with them in new and revolutionary ways. NFTs enable companies to redefine the sense of community, strengthen their loyal customer base, bring authenticity, and give voice to their consumers. This novel way of communicating with a brand's audience transcends all sectors from food, clothing, art, and entertainment to sports, technology, and even real estate. In this way, brands are also able to demonstrate that, regardless of sector, they are able to stay relevant to their audience.
How are NFTs influencing the marketing industry?
NFTs help brands stand out in this highly-competitive digital age. In addition to building brand awareness, they can also be used to deliver consistent messages across multiple platforms, increase sales, and build an effective online presence. Increased spending on digital assets and consumption of virtual content has led brands to seek new ways to market their products and services using NFTs. They provide ways for brands to market their products or content by creating unique experiences. NFTs can be combined with existing marketing strategies and social media moderation to make them more customized, relatable, and appealing.
How are Brands Using NFTs?
Brands are using NFTs to improve brand awareness and increase audience reach by providing innovative ways to motivate users to engage. Brands can benefit from NFTs by using them with the following primary objectives:
Creating new income streams

Increasing brand loyalty and awareness

Building brand culture

Fundraising

Building a loyal digital community for its users
Best ways to use NFTs for brands
Here are some of the best ways that NFTs can be used for brands:
Collaborations:

brands can collaborate with NFT artists to create unique digital collectibles.

Connection:

encouraging users to interact with brands in the metaverse by offering immersive experiences through 3D virtual reality.

Creating digital assets:

brands can make NFT versions of their physical products or branded merchandise.

Linking NFTs to products:

involves adding a unique QR code to a physical good or service your company provides in the real world, which the user can scan with their mobile phone to claim the NFT.

Prizes:

branded NFTs can be given as prizes in social media giveaways.

Special events:

brands can mint and auction special NFTs for access to a particular event similar to a VIP guest list.

Memorabilia:

a specific ad campaign, launch, or significant milestone in a brand's history can be minted into NFTs and sold or auctioned in the same way collectibles are.
Challenges and risks linked with NFTs
While there is no argument that NFTs are expanding ways for brands to engage with their audience like never before, there are a certain number of challenges and risks accompanying them.
Accessibility:

In order to acquire NFTs, one must have a digital wallet and own cryptocurrency. This is a deterrent as the majority of people do not have access to these technologies, nor do they have the technical expertise required for this market.

Stability:

Despite the hype surrounding NFTs, the marketplace is not stable. Because they are backed by cryptocurrency – which is notoriously volatile – price swings can occur suddenly and drastically reduce (or increase) the value of NFTs. The owner risks the possibility of total loss as they do not have a fixed value, and there is no governing organization regulating it.

Environmental Impact:

Finally, and perhaps the most consequential issue concerning NFTs and cryptocurrencies is the environmental impact. Given that they use blockchain technology to be minted, they use significant amounts of computing power resulting in large amounts of harmful emissions being released.
Is it worth it for brands to invest in NFTs?
As NFTs are rapidly gaining popularity, brands should seize the opportunity of this cutting-edge technology which allows them to redefine how they do business and engage with consumers. Given that companies are always looking for ways to boost revenue, adding another lucrative and trendy stream can only benefit the brand.
There is already a large audience that spends several hours in virtual worlds daily, and it only seems set to increase. This is ultimately why it is worth it for brands to invest in NFTs.
Bring Value to Brands Using NFTs
It has been established that NFTs can be greatly beneficial to brands, especially when incorporated into a successful marketing strategy. A more concrete perspective of this is visible when applying the funnel marketing concept.
3 phases of NFT marketing funnel
NFT Funnel marketing mirrors the consumer's journey through three phases:
Attention and Interest:

attracting potential customers' attention through social media marketing.

Decision:

convincing the potential customer to take a more active interest in NFTs and choose the brand in question.

Action:

the customer finalizing their decision to purchase an NFT and making the transaction.
How can brands leverage NFTs in the phases of the marketing funnel?
The best NFT founders leverage their community spaces and consistent activity to support their stakeholders at each step. For brands, this means leveraging a community-first mindset when approaching a marketing funnel. Because the reality is that launching an NFT is not like other marketing initiatives. Sadly, most founders don't add value at every single stage. It's a giant missed opportunity, partly because it's hard to be always on and available.
Start with a community playbook to garner top-funnel awareness and interest. Bringing owners together for in-person, branded events is one way to get new eyes on your NFT. From there, you'll want to offer more nuanced offerings to loyal community members, such as exclusive discounts and coupons, or sneak-peak access to future NFT drops.
All the while, you'll also want to employ a community manager (or multiple!), to maintain interaction and monitor activity for both questions and opportunities to connect personally. For example, NFT communities often meet on Discord, so having a few staff members with eyes and ears is helpful. Consider activating a social listening tool to get the best results possible from conversations happening in and around your branded NFT project.
Brands using NFTs
Here are a few examples of how brands from various sectors are using NFTs:
For International Friendship Day in 2021, Coca-Cola released its first NFT Collection which comprised 4 NFTs, one of them being a Coca-Cola bubble jacket that can be worn by characters in Decentraland. The proceeds from this campaign were donated to Special Olympics International which is the world's largest organization for disabled athletes. They then released a Christmas Collection which sold out in 0.3 seconds.
In November 2021, McDonald's USA released a limited-edition NFT Collection to celebrate the return of its McRib sandwich. However, the McNFTs were not for sale. McDonald's ran a contest where users had to follow the brand on Twitter and retweet the invitation in order to participate and gain exclusive access to the 10 NFTs in the collection. By the beginning of 2022, it had been retweeted more than 90,000 times.
The world-famous Music and Arts Festival, Coachella, also ventured into NFTs, but with a different twist. Every paying participant was given an NFT digital image of a flower that bloomed during the festival, to have as a keepsake. Needless to say, such items only increase in value as collectibles.
The Future of NFTs
At this point, it's too early to assess the impact of NFTs on a large scale and how they will evolve in the future. However, many of those who use them have seen a lot of success. According to HubSpot Blog Research, 39% of those who use NFTs say they have the best Return On Investment of any channel in their media mix. Furthermore, we are living in a society where people want to feel more connected to the brands that they use, and NFTs, in providing unique user experiences, achieve this irrespective of the industry.
Conclusion
Remember, when it comes to launching and maintaining an NFT, community should always be top of mind. Looking for support in strategizing your NFT community playbook? We, at ICUC, are waiting to help you take your brand community to the next level. Get in touch with us today!