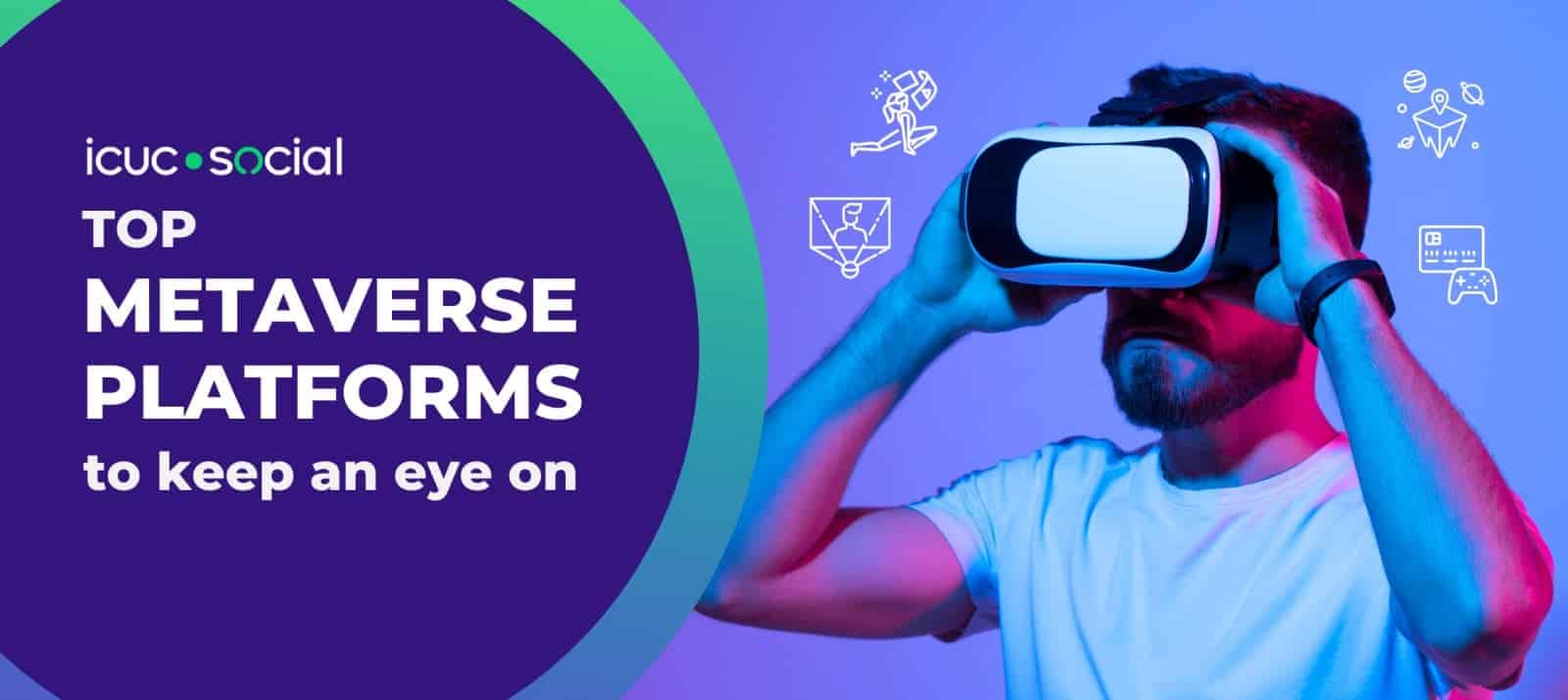 The last few years have shown us the value of connecting with consumers in a holistic way especially when in-person efforts and marketing plans aren't possible. Metaverse platforms give that 'physical world feel' from afar and allow their customers to be whomever they want to be in that space. Brands specifically are able to bridge existing gaps between themselves and daily active users. They can transpose their brand identity into an avatar as a reminder that the company is powered by humans. Those with loyal fan bases can empower their audience to become producers and characters in a world that they already love and are committed to. While the universal metaverse where multiple worlds are intertwined is not here yet, companies have already found opportunities to step into this world. The following are the different platforms that companies big and small should take that journey with.
Top Metaverse Platforms to Keep an Eye On:
Roblox
Roblox is known as a space for kids to create, play and engage with others. It became extremely popular at the height of the pandemic as parents relied on it to help their children continue to socialize. Roblox hosts games and virtual experiences that are created on their platform. This includes selling avatar customizations and Non-fungible Tokens (NFTs) to earn Robux, the platform's digital currency. Roblox is one to watch because of its ability to allow companies to reach a key demographic that most leave out: future buyers. Companies like Hyundai Motor Company and Nike have leveraged Roblox to develop spaces for kids to play and essentially leave a lasting impression. For example, Hyundai's virtual experience, Hyundai Mobility Adventure, allows future drivers to familiarize themselves with Hyundai's vehicles and technologies through their five virtual themed parks. This puts the steering wheel into the hands of potential drivers who will recognize their logo and link it to their positive childhood experience.

Epic Games
Epic Games, another giant in the video gaming world, offers a space for players to connect and create, similar to Roblox. Through their platform, Unreal Engine, creators are able to build their metaverse projects and create digital assets. The successful Fortnite creator is claiming their stake in the metaverse by acquiring several software development companies including Bandcamp. This will further expand the opportunities their users have to monetize their art and engage in a niche world centered around their passions. Investors have noticed Epic Games' trajectory and have endowed them with a billion dollars to boost the innovative technology that their platform promises in the future.
Decentraland
Decentraland, one of the largest and most popular Metaverse platforms, is at the forefront of the newest trend in real estate: owning virtual plots of land. This Ethereum blockchain-based platform allows users to purchase LAND within the virtual environment using MANA, Decentraland's digital currency. LAND is an NFT which gives users ownership within Decentraland. Owners are able to vote on anything from new policies to new avatar NFT wearables that may be introduced to the platform. The innovative idea of co-oping this software encourages people to be completely invested in this platform with the hopes of creating a virtual world where they can potentially earn in real life. While Decentraland is described as a gaming platform, it is poised to truly merge real moments with virtual experiences. This is evident in its newest endeavor, virtual fashion week. Top fashion brands like Tommy Hilfiger, Dolce & Gabbana, and Hugo Boss will be on the runway offering the hottest wearables to buyers. It will be open to everyone — owners and guests — but only MANA holders can purchase the items they see in the virtual retail shops. These NFT wearable designs have the unique feature of being taken from digital content to physical objects when traded.
Sandbox
Another Ethereum blockchain platform to be on the lookout for is SandBox. This digital landscape is anchored in the gaming world but at its core, much like Decentraland, it is a real estate metaverse. The website allows players to reserve and purchase space for their own virtual experiences or games to exist. In addition, users can sell NFTs, and create games and assets to engage their virtual community. Companies are using this opportunity to expand their brands to allow their audience to have genuine experiences. For example, The Walking Dead fans will soon be able to purchase real estate within the brand's Sandbox Metaverse and virtually immerse themselves into the show. World-renowned rapper Snoop Dogg is also venturing into Sandbox bringing his world to his fans through various activities including playing games, visiting the Cozomo Art gallery opening and earning SAND rewards, Sandbox's crypto coin.
Efinity
Efinity is a metaverse that, at its core, is a space for artists to turn their digital art work and other assets into blockchain NFTs. These flexible cross-platform NFTs can also uniquely be integrated into any space including games. This company boasts the hands-on approach of helping users manage and monetize their work in its virtual space. Efinity offers a market where the artists can sell their work and foster the feeling of exclusivity through this NFT space.
Honorable Mention: AmazeVR
While AmazeVR is not a metaverse platform, the entertainment experiences it offers is a unique look into what the future holds for the ideal metaverse. This virtual reality platform creates events that allow concert goers to gather in a theater with the AmazeVR VR headsets and enjoy a more intimate experience with their favorite artists than the traditional concert. Though users will be in the same space, they will interact virtually using their own avatars. This has the potential to level the virtual playing field for their audiences who may not be able to access the front-row feeling at a typical event.
Why You Should Consider These Different Metaverse Platforms for Your Business:
The prospect of a global metaverse not only changes how users interact, it challenges the marketing priorities of businesses. These metaverse platforms are not only useful for larger brands – smaller businesses can leverage these opportunities to gain new interest in their brands. While the creation of the larger metaverse happens before us, smaller companies should start thinking about the best metaverse platform for their brand. Create a game centric world for younger audiences or future buyers using Roblox? Focus on building virtual hubs to invite potential consumers into with Sandbox or Decentraland? Sell the NFTs that everyone wants but only a few can have with Efinity? These platforms take real-world events and allow their consumers to enjoy a fully immersive experience that hinges on genuine interactions.