RESOURCES >
By

Founded in 2011, leading bone conduction technology retailer Shokz has reached record growth – in 2019 alone, they saw 55% YoY sales growth. When they moved their headquarters to Austin, Texas in 2020, it was official – they needed a trustworthy agency partner to scale with them.
A tough pandemic year shook things further. With a growing demand, Shokz struggled to address a growing amount of negative customer sentiment online, and a lagging customer response time. Their internal teams weren't built for customer service and insights at scale.
They partnered with ICUC, and within just one year, the two teams saw major changes in Shokz customer sentiment.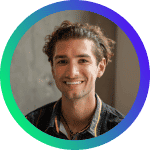 With ICUC, we cut a 5-hour response time in half and saw a 10K item jump in engagement. These shifts have been paramount to our brand community's health and our ability to share our products with the world.
COLIN GREENSEICH
Social Media & Influencer Manager