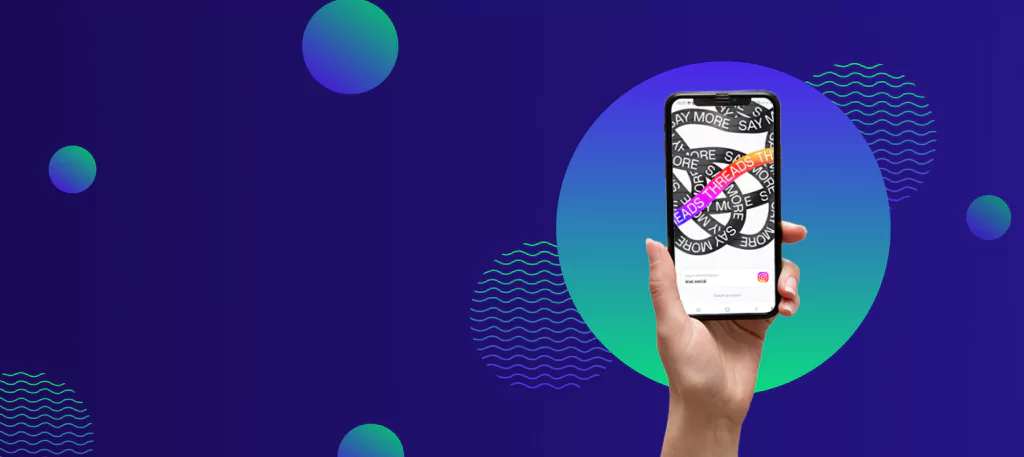 Instagram Threads is a brand new platform from parent company Meta launched on Wednesday, July 5th, 2023. After the first two days of activity, the app has already seen 70 million registered users, including popular celebrities, brands, and journalists.
Threads, positioned as a "text-based conversation app" is seen as a direct rival to Twitter, intended to touch on conversations the community cares about, according to the platform. In this article, we'll discuss how to join Threads, how to leverage the platform as a brand, and potential concerns or at the very least, considerations.
How to Use Instagram Threads
One immediate appeal of Threads is its existing integration – you must have an Instagram account to create a Threads account, and from there, users will have the option to retain their usernames and follow the same accounts they do on Instagram, on Threads.
Here's the easiest way to create an account:
Download the Threads App from the Apple App Store on iOS or Android.

Log in with your existing Instagram account credentials.​

Auto-populate the bio and following lists when prompted.

Or, create a new bio and list following.

You're in.
Alternatively, you can:
Search the Threads official Instagram account, and click on the link in bio to download.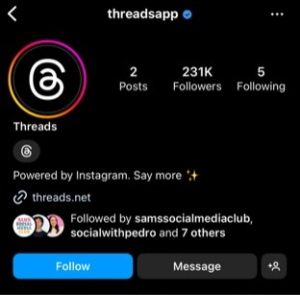 Users may elect to start fresh by manually creating a bio and building a new follower list. Or, you can simply transfer all data from Instagram with the auto-install prompts. To change a Threads handle, users must also change their Instagram handle. The two accounts are linked.
If you have multiple Instagram accounts, you can also create multiple tangential Threads accounts, like McDonalds below.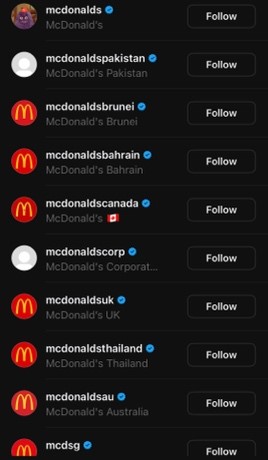 Advice for Brands Using Threads
Because Threads is a new platform, it brings a fresh, bare-bones, "un-hinged" feel. The blank slate offers brands a chance to get creative — offer a new bio, re-strategize your messaging, or bring a new aspect of your brand story to life!
Publishing on Threads
The platform's home feed is similar to Twitter. Each post can be up to 500 characters long. Consider creating a fresh content calendar for Threads — simply reposting content from Instagram and Facebook is not recommended. Instead, use Threads to give the audience a look inside the thoughts of your brand archetype, while maintaining brand cohesion across multiple channels.
The projected audience is expected to include general audiences, influencers, organizations, and brands. Content visibility could be high, especially for well-established and mature brands.
You can opt to populate the new account(s) like other brands have (see, Calm, Netflix, and NYX Cosmetics) or reserve the handle for future social listening and content planning.
Paid Campaigns on Threads
Threads has yet to release paid structuring to advertisers.
Community Management on Threads
While little has been revealed about Threads' compatibility with community management and social listening tools like Sprout Social and Sprinklr, it's reasonable to assume the connection will mirror that of Meta's Facebook and Instagram functionality.
Threads gives brands other information sources to evaluate their audience, sentiment, and engagement data. Utilize this opportunity to drive deeper connections with potential and existing consumers, stakeholders, employees, and partners.
For companies that have paused content or engagement on Twitter based on the Elon Musk controversy, the audience exodus, or poor ad or organic performance, Threads is worth considering.
Accessibility on Threads
Threads is currently free, with unlimited posts. No tiered service options have been mentioned to date.
How is Threads Involved with Mastodon's AcitivityPub?
Threads is aiming to leverage Mastodon's ActivityPub according to a post by Head of Instagram, Adam Mosseri. In a preview, Mosseri wrote, "We're committed to building support for ActivityPub, the protocol behind Mastodon, into this app. We weren't able to finish it for launch given a number of complications that come along with a decentralized network, but it's coming."
ActivityPub is an open, decentralized social networking protocol that allows API creation, updating, and content deletion. Unlike Bluesky's invite-only format, another Twitter competitor, Threads is available to anyone.
Meta's Threads release comes just days after Twitter announced new changes, like limits to the number of tweets a free unverified user can view in a day, and an outage that impacted weekend activity, amongst other PR issues.
Brand Concerns about Instagram Threads
Though Threads holds great engagement potential for brands, data collection and social platform fatigue pose serious threats to its long-term and global growth.
Data Privacy Concerns on Threads
Via mandatory data privacy disclosures required on iOS, the app may collect highly sensitive information about users to profile their digital activity, including health and financial data, precise location, browsing history, contacts, search history, and other sensitive information.
Data collection to this extent poses a threat to the launch of Threads in the European Union, given its stricter privacy regulations regarding the collection of personal data.
Moreover, incoming EU regulations ban the use of sensitive data for ads entirely and may require explicit consent for tech giants to combine data for ad profiling (See: the Digital Services Act and Digital Markets Act).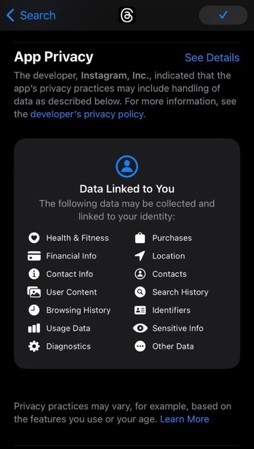 Social Media Fatigue and Threads
Additionally, Threads is up against growing social media app fatigue and a plethora of historic feature failures — IGTV, IG Shopping, and Facebook Live Audio Rooms, and even in-platform podcasting. Even Metaverse has struggled to gain the traction that was originally anticipated. Threads has gone through its own evolution — the company originally announced the platform as a video messaging app in 2019. That concept was axed and replaced by Threads as it has come to be known today.
What do Twitter Users Think of Threads?
Mosseri acknowledged that Twitter's conversational format has benefits for connection. He wrote, "The post-and-comment model is great, but it really does not support public discourse nearly as well as the tweet-and-reply model. Elevating the reply to the same level as the original post allows for much more robust, diverse discourse. Which is part of the reason we didn't just try to shove this thing into the feed on Instagram or a separate tab."
There is buzz around Threads among Twitter users, especially following the news that unverified users will have a limited number of tweets they can view daily. Threads could serve as a new solution to existing moderation and outage concerns Twitter has faced.
Final Thoughts
Threads's audience may be a pool of untapped potential for brands to captivate and engage. Consider exploring the platform and testing out concepts. As early adopters, you have a unique position for impact. If your brand is a mature Facebook and/or Instagram user, initiating account creation on Threads is a low lift with potentially high reward.
Blog contributors: Emily Marquis, Heather Curtis and Alaa Morsy.