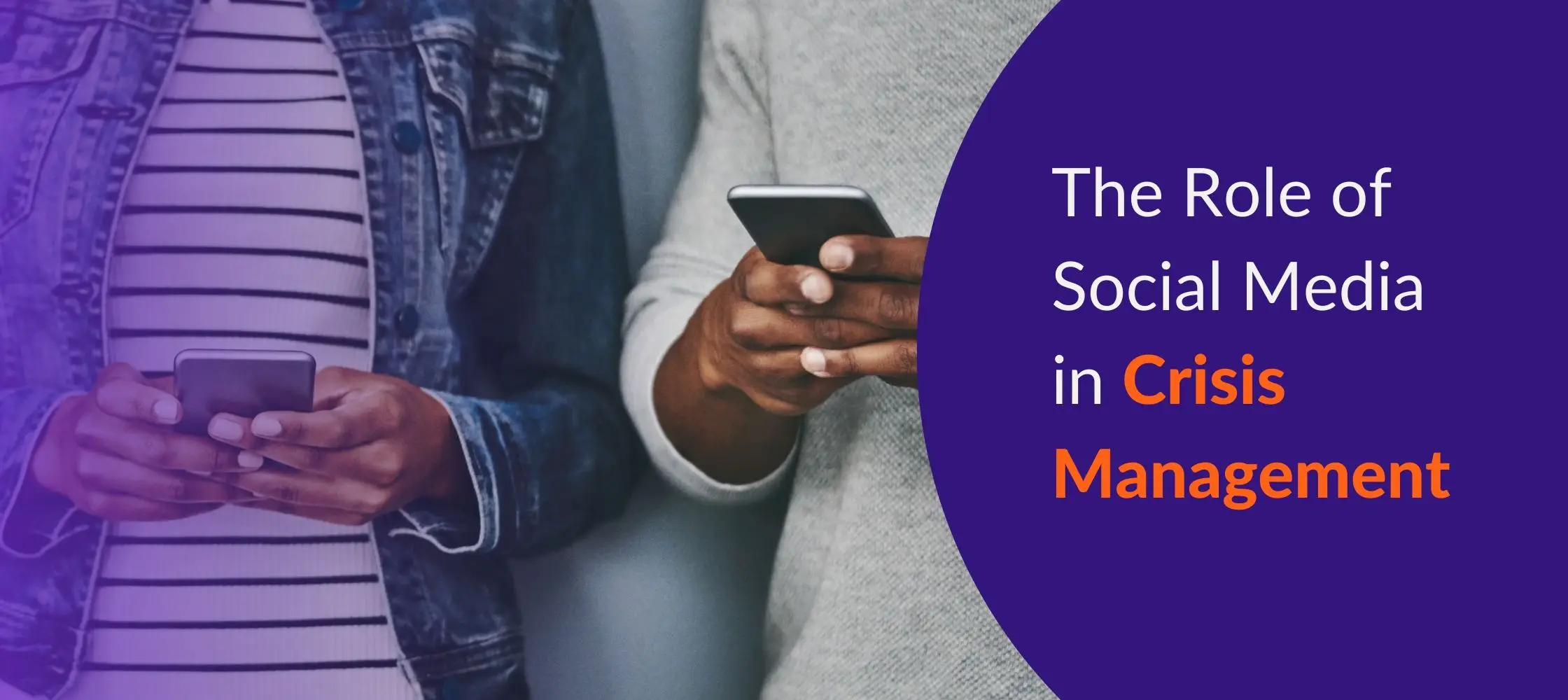 Social media crises can take many forms. Discontent around executive pay, commentary on employee misconduct, cybersecurity breaches, and fake news scandals are all examples of crisis. No matter the origin, all types of crises can lead to damage that ranges from a few days of negative reports to long-lasting impact.
The truth is, any organization with a public profile is at risk of a social media crisis, regardless of if they are using the channels or not. As such, brands need to be ready to respond and manage any possible crisis situation.
The most powerful tool in crisis management is social media monitoring. In this article, we'll look at the role of social media in crisis management strategies, the general progression of crisis moments, and how to prepare for and put out those fires through social media monitoring.
How to Communicate During a Social Media Crisis?
During a crisis, social media can help brands communicate updates with crucial information and support the ones that need help the most. These tactics involve involve reflecting internal changes accurately to your inner circle as well as the broader world.
Social media during a crisis is not only key to listening and learning the latest developments or reactions but it has become a pivotal tool to talk directly to people via posts. This could look like a Tweet update, for example, or promptly publishing the press link from an article by your CEO.
Let's walk through the steps of effective communication on social media during a crisis: preparation, monitoring, evaluation, engagement, and focused content.
Preparation
Communicating well during a social media crisis starts long before the crisis is on the horizon. You may not be able to predict when a crisis happens, but you can be prepared for it by creating your social media crisis management plan.
Your crisis communication plan should help prepare and guide your team to react quickly and efficiently to any possible crisis, and it should include:
Protocols, policies, and guidelines

Response action plan with pre-written communication messages

Internal and external communication contacts

Pre-assigned roles within your team

Extra team members list and contact information to assist (Crisis team)

Any other crucial information needed
Real-time media monitoring
Social media moderation is a crucial part of any social media crisis to help track and report what is being said about your organization in a timely manner. Real-time, around-the-clock monitoring enables you to difuse or clarify ongoing negative conversations. Monitoring teams will see and escalate negative comments and then offer counter-responses quickly. Social media moderation can also help you identify your allies in the influencers and customers that stay positive about your brand and are willing to advocate on your behalf to push perceptions in your favor.
Identify and evaluate the risk
Monitoring your social media will help your brand stay informed and on top of any potential crisis. To make the most use of social media listening, your team needs to know how to identify risks and potential threats. What your brand considers a potential crisis will be unique to your brand market, industry, and overall social media practices.
To understand the risks associated with any social media interactions, your brand needs to understand the elements of the situation (who, what, when, where, and why). Once your brand is able to identify and evaluate the risk properly, you will be able to take the actions needed. Your social media crisis management plan should guide you on how to properly engage with your audience and what type of response is required to diffuse the situation.
Engage the audience
Even in times of crisis, engaging with your audience is important to monitor the situation and overall sentiment toward your organization. Audiences and the public expect you to address the situation immediately, so it's important to respond as quickly as possible, even if your company is still working out the issue internally.
Your audience will most likely have questions that need to be answered. It's best to respond swiftly on the platform in which the problem first occurred. Community management services can help your brand address and respond to any crisis around-the-clock.
Keep the conversation fresh
Channels of communication between your brand, your audience, and your customers should be open and clear from out-of-topic conversations to help you manage and focus on the current crisis. Turn off any scheduled social media posts or engagements that may be out of sync with your current social media crisis.
Sharing facts in real-time, rather than waiting until you have all the answers, helps create trust among your audience. You can keep the social media crisis conversations fresh by:
Making a hashtag for your crisis

Releasing messages with the correct information to counter any misinformation

Publishing short and actionable messages

Staying calm and informative

Sending updates frequently
Social Media Crisis Examples
Social media crises hit when we least expect them. They can take many forms from negative comments on ads to industry crises. Here are some of the most common.
Negatives comments on ads
Negative comments can be handled to prevent any further damage to your brand from upset customers. Even small complaints should be addressed with grace and good sense, as negative comments on ads can escalate quickly and impact your business.
Multi-channel crisis
A crisis can start on a platform, escalate, and quickly jump from one platform to another. Quick, open, and honest communication with your audience across all your channels is key. Online community management will help your brand control the story that is being shared and maintain good faith with customers.
Vendor, partner or collaborator crisis
Whom you team up with can have a considerate impact on your brand in times of crisis. Your collaborators are not immune to any personal, executive, financial, or technological crises (just to name a few), and their crises might affect you in a small or bigger way depending on how your collaboration is seen by your audience. As a brand, it's your perogative to communicate according to your brand mission and values, and deliver the updates that matter to you, as well as your audience. With any communication, authenticity is paramount.
Fake news crisis
Your brand must be sensitive to the power of social media. A silly comment can get picked up by others and quickly snowball into a social media crisis. Whether the source has been confirmed or not, false, unintentional, or context-lacking comments can and will be shared on social media. You should be prepared to react quickly and update your audience with a statement that includes the proper, true information, as well as a reminder of your values and commitments. As with all social media crises, your timing is key.
Industry crisis
There are many crises that can happen, such as one that touches your industry. Those types of crises need specific industry expertise to help you manage your crisis. Your team should keep your audience informed with regular updates to provide reassurance and stability.
Technological crisis
Your brand most likely uses a plethora of public platforms, private software, and heavily-integrated applications to manage everyday tasks and customer products and services Problems in overall technology systems may arise and create a technological crisis, from breakdowns of software and security breaches to slow and glitchy applications.
In times of a tech crisis, ensure your brand has a backup plan for communicating and knows how to escalate the issue to the tech team to ensure quick resolution. In the meantime, a social media management team can help you inform and communicate with the affected parties to reduce the impact of the crisis on your business.
Product failures and customer dissatisfaction
Customer dissatisfaction can vary from quality and pricing issues to problems with customer service and product failures. When not handled right away, simple customer complaints and dissatisfaction can escalate into a potential crisis. Organizations should closely monitor reported customer issues. Negative reviews, for example, can negatively impact the business, create a bad reputation, and lead to a loss of customer trust and loyalty.
Why Does Social Media Crisis Management Matter To Your Business
Flagging potential threats and identifying potential reputational damages are key to social media crisis management. In this way, social media crisis management plans can help your brand diffuse a crisis before it arises, or reduce considerably the reputational and economic impact on your organization.
A strong social media crisis management plan will help your brand:
Prevent short and long-term brand reputational damage

Restore calm and stability

Avoid dips in sales and revenue

Return to equilibrium as soon as possible

Maintain, or even strengthen customer and employee loyalty and satisfaction
Social listening services can help you monitor conversations and sentiments around your brand to understand when and how your brand is discussed across social media platforms. It will also help your business spot any potential problems and crises before they arise.
Social Media Crisis Management Mistakes
Everything posted on social media has the potential to be viewed and shared indefinitely. Social media can help you protect your brand reputation, but when mishandled can lead to catastrophes. The instantaneity of social media makes news — and mistakes — spread quickly across people and channels. Take the time and train your team to avoid some of the most common social media crisis management mistakes.
Disappearing from social media
Strategizing for a crisis can take time. While your team may need to take a 'pause,' know that silence isn't a healthy long-term strategy. You can't disappear from social media during such a vital moment. Your audience needs to be updated and reassured. You need to show that even in a crisis moment your brand is there. Focus on positive engagements and avoid slow or delayed responses.
Leaving questions unanswered
During a crisis, the number of comments, messages, and tweets you receive might be overwhelming, as many will have questions. Your main focus should be positive engagements to provide reassurance. Leave space and time to engage with your audience and reply to their questions.
Let your audience know what the best way is for them to reach you. You can create an FAQ page to provide answers to everyone in a more efficient way. You might even want to include those in your social media crisis management plan.
Being unprepared
Take the time beforehand to prepare a strong social media crisis management plan. Not having a crisis plan is risky and will most likely affect the quality of your reaction statement and the speed with which you are able to make decisions. Having specific responses in place will save you time and energy when you need them the most.
Preparing and training your team members beforehand will provide your brand with the strong tools and bases needed to push through a crisis. Keep in mind that when a crisis occurs, your team will feel stressed and worried. During those hard times, creating content on the spot with the right tone and information will most likely lead to errors and costly mishaps.
Trying to profit from the crisis
It might sound lucrative to use the attention garnered around your social media crisis for sales purposes. Short answer: Don't. During a crisis, activities that appear profit-driven can damage a brand's reputation and revenue. Capitalizing on your social media crisis to bolster your brand in the marketplace is not a wise business decision. Avoid launching a product or service during a crisis.
Not being patient
Patience is the key to emerging from any crisis: take your time to do it right. Your planned campaigns can wait (convey this message to your teams). Rushing to get out of any crisis as soon as possible is risky, and can result in avoidable mistakes and inconsideration toward your audience and the implicated parties. Take the time needed to get all the tools and help you emerge from the crisis.
Posting your regular scheduled content
Postponing any scheduled social media posts or engagement that may be out of sync with your current social media crisis is a wise marketing strategy. Your brand should consider pausing all campaigns and scheduled posts that are inconsistent with your current crisis. Your social media content should be sensible and considerate of the current matter at hand.
Conclusion
Crisis moments hit when we least expect them. One bad tweet or viral comment can impact a company's sales for months to follow. Social media's role in crisis management is key to not only preparing for the worst but also handling and mitigating any potential crisis with confidence as it arises.
Looking to keep your brand out of crisis? Book a meeting with us to learn more about social media in crisis management with 24/7 support from community management experts.