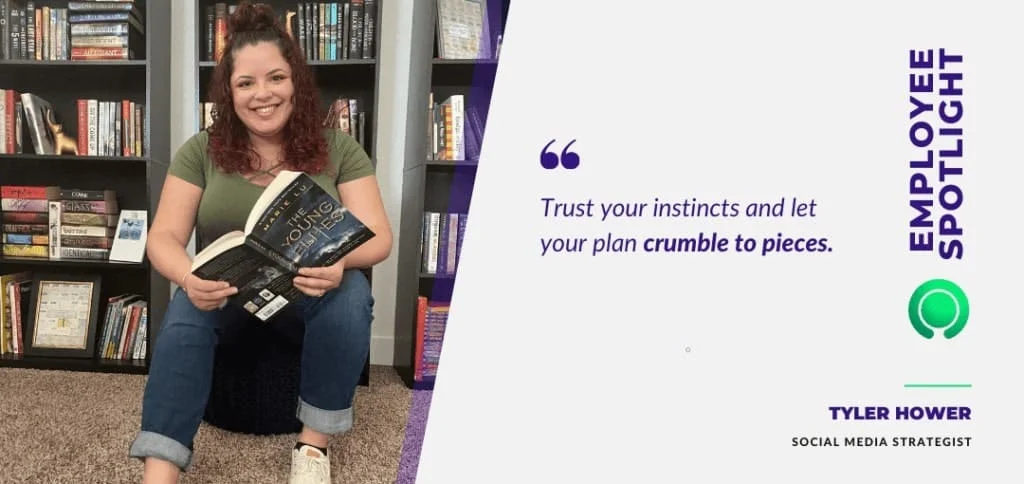 World, meet Tyler Hower, one of ICUC's Social Media Strategists empowering brand voices around the globe. Out of only 50 slots in the entire Dentsu network, ICUC's parent company, Tyler is a recent nominee to the Hispanic and Latino Management Accelerator Program, a 6-month training to the potential in new leaders within the marketing universe. A media and pop-culture wizard, Tyler not only asks the important DEI questions brands and companies need to be asking but brings her expansive knowledge to her client accounts at ICUC. Let's check out a day in the life of Tyler Hower.
What's your role and what do you do every day?
I am a Social Media Strategist, which means on a day-to-day basis I do a lot of things ???? … my tasks are essentially centered around uplifting brand voices; I'm making sure the team and I, including Content Specialists, nail our client's brand voice. I'm frequently writing copy and new content and brainstorming on how to elevate a brand voice to the next level. Right now, I work on the Starbucks, DCP Entertainment (a podcast group), and Subway client accounts.
How did you first learn about ICUC?
Before ICUC, I worked for a non-profit, and when I was there, I was wearing a bunch of hats. My main hat was social media and marketing, and that's how I met Erika Lovegreen, ICUC's current SVP of Marketing. At the time, she was on my board, and she was our primary contact for communications. I had created a new brand voice document (the first time our nonprofit had one), and I reached out to her for her feedback. She said, "What you're doing is too good to be here … you need to come work for me!" Shortly after that conversation, I had some interviews with a few ICUC employees, and then hopped on over! Erika was amazing and brought a lot of enthusiasm about ICUC right away. That was about 2 years ago now.
What do you like most about your job?
I enjoy the sense of community. Also, my work is flexible, but I still get to achieve important goals.
Can you tell us about your nomination to the Hispanic and Latino Management Accelerator Program?
It took me by surprise! No one told me they had nominated me. Only 50 employees from the Dentsu network were selected, so it's quite special. (Shout out to Jenni Lopez who was selected from ICUC as well!) It's going to be 6 months long, designed to train people who have leadership potential but may not be in a leadership role currently, and further help them become the next generation of leadership in the company (or at least give us the skills to be good at).
What do you enjoy doing outside of work?
"Pre-pandemic I played a lot of adult sports — mostly soccer — but also kickball and softball. I read a lot, and consume plenty of media and pop culture. Because of that, I watch TV and read articles. I'm interested in how regular everyday pop culture influences social issues within the larger society. For example, even a show about magic is still digesting what is happening in real life through the spells they're talking about.
I like to think to myself, 'Is this medium benefiting us as human beings, or are they harming our culture?' And I ask, 'How are the show writers and producers balancing social issues?' … Because not every show can go full-throttle social justice movement on us, right? Shows must work these issues into the storyline … they just need to figure out how to do it. At this point, media channels can't do anything; we don't live there anymore."
What advice would you give your younger self?
"Trust your instincts and let your plan crumble to pieces.
When I was a kid, I wanted to be an engineer, so I spent a lot of time working on that through high school. Then, when I was applying to colleges, I realized I didn't want to pursue it (I don't even like physics!). My degrees are in professional writing and communication studies, which ended up helping me in the social media space."
Three words to best describe you?
"Curious. Professional Over-Analyst."
What is the best place you've traveled to, and why?
"I went to Puerto Rico a couple of years ago and got to see family and some generational land (I'm ½ Puerto Rican). The coolest part was the zip line there called The Monster – it's the longest zip line in the world. You zip over three towns! It was so much fun. I went slow enough to really enjoy the full view."