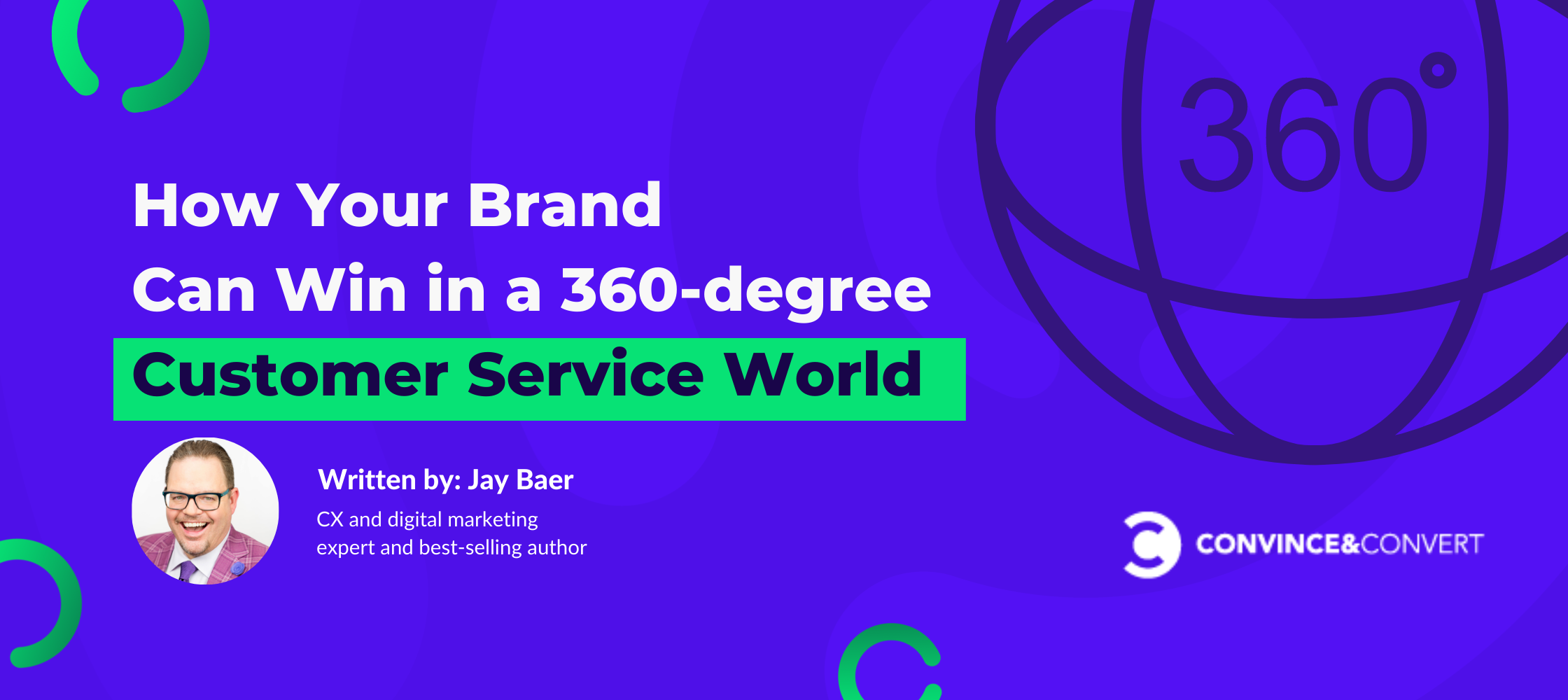 My customers, your customers, all customers have been through a lot. It's been a crazy couple years—and that's probably an understatement.
And it turns out, when EVERYTHING has been hard, customers crave EASY.
Today, customer service may be a more important competitive differentiator than at any time in modern business history.
Customer expectations for service continue to escalate, and the labor shortages and supply change issues wrought by the pandemic are no longer valid rationales for providing anything less than top-notch customer care.
In fact, my new research report on consumer patience – The Time to Win – found that 83% of consumers expect businesses to be as fast (or faster) to respond than they were before the pandemic. Yikes.
Despite these heightened customer expectations, businesses continue to disappoint those same customers. Astonishingly, the American Customer Satisfaction Index, which gauges overall consumer sentiment around service quality, is the lowest it has been at any point since 2005!
You may think all of this is bad news. But it's quite the opposite.
I've been a digital marketing and customer experience strategist for 29 years, and I'll pass along to you a simple, yet important, truth that I've witnessed in many business cycles: the more disappointed customers are in aggregate, the easier it is for a specific brand to delight and differentiate.
My recent research spotlighted the correlation between customer service and desirable business outcomes. The Time to Win study found that 3 in 10 customers are more likely to spend money, when a business responds to them faster than they expect.
The converse is also true: 5 in 10 customers are LESS likely to spend money when a business takes longer to respond than they expect.
So here's the reality: customers expect more from brands than ever. Those expectations are rarely met. Exceeding those expectations can have a meaningful impact on revenue.
I want you to elevate above your competition. I want you to successfully use customer care as a fulcrum that separates your brand from similar providers. Here's how:
1. Be Fast

Two-thirds of customers say speed is as important as price.
During the pandemic, many offline interactions moved online, where our perception of time differs. The result: customers want it right, AND they want it right now.
Of all the dimensions of customer service and customer experience, fast response is proving to be the most critical. And too often, brands just can't deliver it.
In fact, 67% of customers have asked a business a question about something they purchased, but the business was so slow to reply, the customer just wanted to return the item, or cancel the service.
Now is the time to proactively (and urgently) improve response times at every stage of the customer journey. If you don't have enough in-house personnel to get faster, consider augmenting with experienced, third party experts.
2. Close the Uncertainty Gap
Customers may know less about your business and how it works than they have for a long, long time.
Last week, I went to a soccer match at Indiana University, where I was startled to discover that no cash is accepted. Not for tickets. Not for concessions. I'm Captain Tap to Pay, so I wasn't unhappy, just surprised.
Next morning, off to Orlando. Stopped at a tiny, nerdy coffee shop. Here, they ONLY take cash.
Within 18 hours, I made purchases at two places that had the EXACT OPPOSITE system for separating me from my money.
You probably think your customers have a pretty good handle on how to assess what you offer. How to buy. How to contact you. And all the rest. But they don't.
I can almost guarantee that they are frequently confused. We all are. Everything is changing, and FAST. Innovation + pandemic shifts = how does this work now?
If something as fundamental as payments is in great flux, the details of your own business are as well. The Uncertainty Gap is real, and it's a chasm that is growing larger, not smaller, for many brands.
Now is the time for you to perform a "Got It Audit". Can your customers and prospects figure it out for themselves, quickly and easily? And if not, how can you explain and educate better? The best customer service is self-service.
Take a look at the McDonald's UK interactive FAQ center – Your Right to Know, to see how dynamic and useful closing the Uncertainty Gap can be.
3. Don't Hide the Humans

I am not pollyanna enough to suggest that all customer care interactions be driven solely by humanoids. I fully understand the operating efficiencies inherent in chat bots and similar technology.
And certainly, good chat bots can assist in the "getting faster" element of this playbook, as well as the closing of the Uncertainty Gap.
But ultimately, when the need is tricky or complex, people want people.
In the Time to Win study, we asked consumers what channel they would select if they could pick only ONE to use to contact businesses. 75% said telephone. PHONE! Not exactly known as the most efficient or enjoyable contact mechanism. But customers opt for it because they can be nearly certain a human being will be on the other end of the line.
I absolutely recommend you look to expand and enhance your use of chat bots throughout the customer journey, but only on two conditions:
First, that you don't try to do too much. Good chat bots are set up to handle a defined type and level of query, quickly and easily. When brands try to replicate more and more of the knowledge of a human agent in a bot, the customer experience tends to decline markedly.
Second, that you focus real energy on the bot to human handoff. It is imperative that customers have the opportunity to depart botville and head on over to peopleland. It needs to be clear, fast, and seamless.
Given that kindness and empathy have proven to be one of the top differentiators in customer care, squeezing all the humanity out of your service scenarios makes it impossible for you to stand out in those areas. Embrace the people, whether it's your in-house team, or a trusted partner like ICUC.
4. Be Everywhere
Your brand's "customer service channels" are not what you say they are. That decision is made by your customers.
And the reality is that ANYWHERE your brand is present – especially online – is a likely service channel, eventually.
Year ago, in my book Hug Your Haters, I predicted that Instagram would become a customer service channel. At the time, it was just a bunch of pretty photos. Indeed, many brands now devote as much – if not more – effort to customer care on Instagram than they do on Facebook.
The next wave of this reality is crashing on the shores of brands right now.
There is a great reshuffling of consumer online attention happening. To make the point clear, realize that TikTok now gets more Web traffic than Google.
Where your customers are spending time online depends, of course, on what kind of business you're running, and the corresponding demographics and psychographics of your buyers. But these are the places I'd be building out customer care programs RIGHT NOW if I were on the brand side:
Twitch
Fast and furious video streaming with live chat. Especially given the many influencer activations and branded content sponsorships happening here, brands need to have a customer care presence available to answer questions and provide clarifications.
Discord
Chat rooms souped up with Skype functionality. Discord is on the glow up, and has manifest customer care opportunities. One of the best use cases today are dedicated private brand communities.
This is similar to yesteryear's customer communities like Harley Davidson's HOG (Harley Users Group), but running on Discord instead of freestanding software and/or a Facebook Group.
Macy's launched a Discord server for customers this summer that has 9,000 active users providing feedback and asking/answering questions. Given Discord's role as THE place to talk about crypto and NFTs, it was wise for Macy's to also drop a 10,000 NFT series at the outset of the server.

Reddit
It can be a little prickly up in there, and brand participation needs to be handled carefully but the fact is that Reddit is highly trusted among customers, especially younger consumers.
Even if a brand isn't actively responding in Reddit, it is imperative to have resources monitoring every brand mention, as the narrative on Reddit can be very strong. Further, Reddit threads tend to rank very well in Google search results.
Nordstrom is using Reddit as a customer care channel very effectively, launching their own subreddit several years ago.
The Metaverse
The winners in the metaverse are still being sorted out, but there's no question there will be a there there, eventually.
The level of resources being invested in VR, AR, and virtual identities is staggering, and brands should be exploring options right now for participation. There are actually two customer care angles in the metaverse.
First, supporting "real world" customers in the metaverse. And second, supporting metaverse customers who purchase digital goods and services in this parallel reality, and need support.
Gucci, for example, is building out virtual retail in the metaverse destination Sandbox, and will need to stand up customer care processes in case someone isn't happy with their digital handbag, and so forth.
Does the proliferating number of customer care outlets put additional pressure on the brand, of course? But it also provides more avenues to provide better customer service than competitors, adding brand value along the way.
Conclusion
Fast. Informative. Human. Everywhere. These are the four tenets of online customer service today. If you can elevate your brand's game in these areas, customers will not only notice, they will reward you for your efforts.