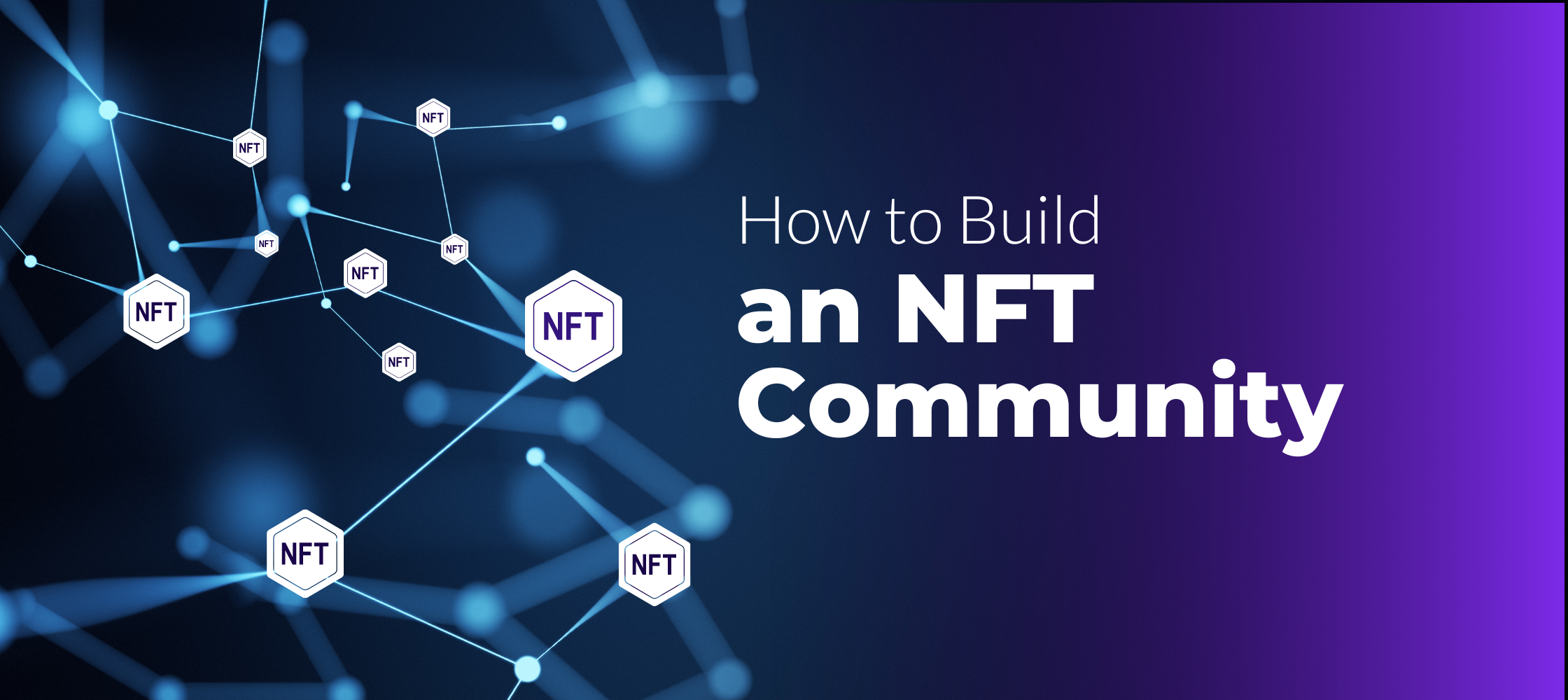 Non-Fungible Tokens, mostly known as NFTs, are a fast-growing innovation in the online space. As a new form of investments and social media communities, NFTs and their related potential are still being explored. Learning how to build an NFT community is a great marketing strategy to stay on trend, push your brand to its fullest potential, and reach a larger, like-minded audience.
What is an NFT Community?
An NFT community can be described as an online group where people come together to discuss NFT-related news and developments with the possibility of trading and exchanging NFT.
People become part of NFT communities by buying, minting, or acquiringNFT from group collections that are generally created by brands. Some of the best NFT communities can be found on Reddit, Telegram, Twitter, and Discord, among others.
Benefits of Creating an NFT Community
NFT communities give members a way to support other members and brands by sharing creations with their own network. People are now provided with a platform to promote their work in a way that would not have been possible otherwise. There are many benefits of creating an NFT community, such as:
Showcasing your work

Exchanging ideas

Pitching to investors and buyers

Collaborating on projects

Finding like-minded people
Collectors and artists can make a living and exchange digital versions of assets safely and cost-effectively by buying and trading for profits. Creating a strong NFT community will drive sales on your NFT projects, boost awareness, and improve your overall brand image.
How to Create Your NFT Community
Learning how to build an NFT community takes dedication and resources. The most valued of these communities are virtual places where individuals can connect, engage, and feel heard. Top NFT communities always keep their community and its interests in mind to help them achieve their goals. Here are some ways to grow your online NFT community and help you connect with like-minded people.
Define your target audience
Top NFT marketplaces attract and retain people that share their objectives, goals, and mindset. Whether you're a brand or an individual, the audience you want to reach is the community you want to interact with online. It should embody the aspects of your brand identity you hold firm. An excited audience aligned with your brand is key to the success and growth of a community.
Your target audience will also dictate which platform you should focus on, based on their interest and needs. Telegram and Discord are two of the major channels where NFT communities go to interact, with Twitter, Reddit, and Instagram not far behind. Explore and research platforms that your target audience uses the most.
Set a vision for your community
Great NFT communities are built on a vision that resonates with the values and interests of your target audience. Establishing clear rules and cultural focus will set the tone for your brand and attract more like-minded people to your community.
Use strong storytelling to attract potential community members. Share your vision and intentions with your NFT community. It's more than sharing your art and NFTs – it's about sharing your driving purpose and why your audience should join your community versus another.
Build awareness around your brand and make people excited about it
There are a number of ways to build awareness and excitement for your brand. Making sure your NFTs are unique to you is a strong starting point. Another avenue is offering new NFT drops, which allow creators to pre-announce when they will drop a new collection and are great for stirring interest. Creating rare NFT or special NFT characteristics can build a sense of rarity and uniqueness to your product.
Creating an NFT community can be challenging, but creating events to generate interest and build hype around your community is a good way to start. Make sure to cater these events around the interest of your audience for maximum engagement.
Create an online presence
A strong and consistent online presence creates a sense of community and belonging. Engage with your online community as much as possible to make them passionate about your project. Your community needs to feel involved in the progress of your project, so make sure you keep them updated and make them feel heard.
Teaming with like-minded people is key when it comes to growing an NFT community. Collaboration with other NFT projects is a good way to share knowledge, communities, and popularity, as well as reach a wider audience for both parties.
Be reliable
To build a strong and loyal community, you need to deliver on your promises. Your community expects you to stay true to the vision and mission you set for your project. Establishing truth and legitimacy is the best way to build a consistent network and be respected among your peers and community. Make sure you keep your audience in the loop if any changes to your initial vision occur.
Provide value and utility
An NFT community is more than a place to trade and exchange NFTs. They can have unlimited functions and purposes, in real life, online, or virtually. NFT communities provide a sense of belonging to those in the NFT world
Engaging efficiently and meaningfully is key to building a strong relationship with your community. As that can require a lot of time and effort, a community management service can lighten your load and make sure you are covered around the clock.
5 Snags To Avoid While Building an NFT Community
Building an NFT space is not an easy task: it requires time and resources. You might be tempted to speed your way to the top NFT marketplaces by using social media shortcuts in the short term, but they are most likely not going to do you any favors long term. Take a look at five snags to avoid while building an NFT community.
Fake engagement
Community engagement is key to growing a strong NFT community. It may be tempting to use fake engagement to grow your NFT community – such as bots that can artificially increase the number of views, likes, or comments.
But fake engagement is not going to help your brand in the end. A long-term strategy based on organic engagement and authenticity is worth more to your brand than any fake engagement opportunities.
Customers and potential business partners will do their research before taking part in your NFT project. Using fake engagement, even in small amounts, will most probably cost you, as they are looking for projects with proven and authentic results.
Creating a generic or unachievable roadmap
A strong plan and vision will encourage people to join you on your journey. Roadmaps let everyone know about the direction of your community, your goals, and potential milestones. You might be tempted to boost your roadmap to make it more impressive and attractive to potential members.
Impractical or generic roadmaps are often a red flag and might disinterest people from the start. Sincerity is key. Do not overdo it or plan over your head, but stay real to your aptitude and means. This is how the top NFT marketplaces do it.
Making it a one-person job
As you start to create your NFT community, you might be able to handle all the roles related to the management of your community, from online review management and community engagement/moderation to marketing strategies and partnerships management. It can quickly become overwhelming as your community gets bigger and stronger. Don't hesitate to hire reliable people to help you achieve your goals and manage your community's day-to-day activities.
Ignoring feedback from the community
Your community knows more about your NFT project than you might think. Consider their suggestions and feedback, and examine how you could implement them. Adjusting yourself according to your community suggestions will create a larger sense of belonging among your community and make them more interested in your NFT projects. Taking into account feedback from your community makes them feel seen and heard, and also attracts new members and activity.
Don't let your community members be too safe side-minded
Maintaining a good atmosphere in your NFT community, while encouraging organic engagement and meaningful conversation will help your community members to stay united. A strong community stays together and reduces the potential of your community becoming too safe and side-minded, leading to higher NFT prices and departure from your project.
Social media moderation will keep you covered and help foster that united and loyal community.
Conclusion
Starting an NFT project and learning how to build an NFT community is not going to happen all in one day. Top NFT marketplaces implement strategies and plan ahead, investing time and resources to engage with their audience in a meaningful way.
Book a meeting with us to learn more about how to build a successful NFT community with a team of 24/7 community management experts.