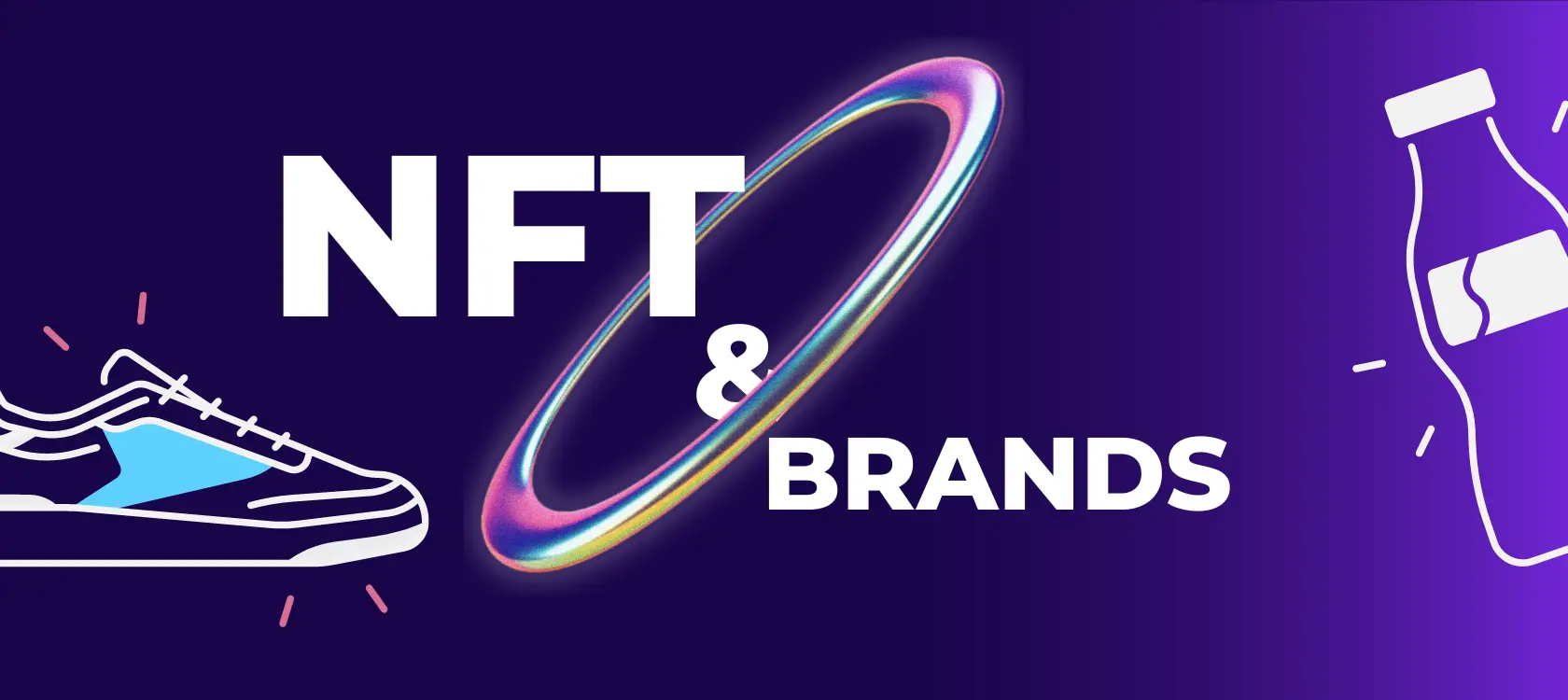 NFTs are becoming increasingly present in the online space, as they offer huge opportunities for brand marketing strategies. Non-fungible tokens, mostly known as NFTs, are digital pieces of art tied to blockchain technology. This new online space comes with new challenges, as brands must learn how to market and engage with these digital goods. In this article, we'll look at how brands are using NFTs to create meaningful digital experiences as well as strategies and steps you can use to get started with your own NFTs.
What Brands Have Used NFTs
Non-fungible tokens allow businesses to offer customers digital ownership of a product, from a pair of shoes to an event ticket. They also offer consumers a chance to buy into a community and create a deeper connection with the brand that would otherwise not be possible when buying a traditional product.
Nike
Sneakers and sports apparel brand Nike tied a physical item to a digital collectible. Nike uses NFTs to certify the veracity of a pair of sneakers, as each purchase now includes a digital version of the product. This virtual version adds a digital seal of authenticity to the physical product while creating a strong link with the subculture of Nike's marketplace.
Coca-Cola
Coca-Cola chose to use NFTs as a marketing tool in its wider marketing strategy to raise money for important causes. One of those auctions included unique NFT artworks showcasing iconic Coca-Cola products like the digital redesign of an iconic Coca-Cola delivery jacket, a vending machine, and many other classic designs.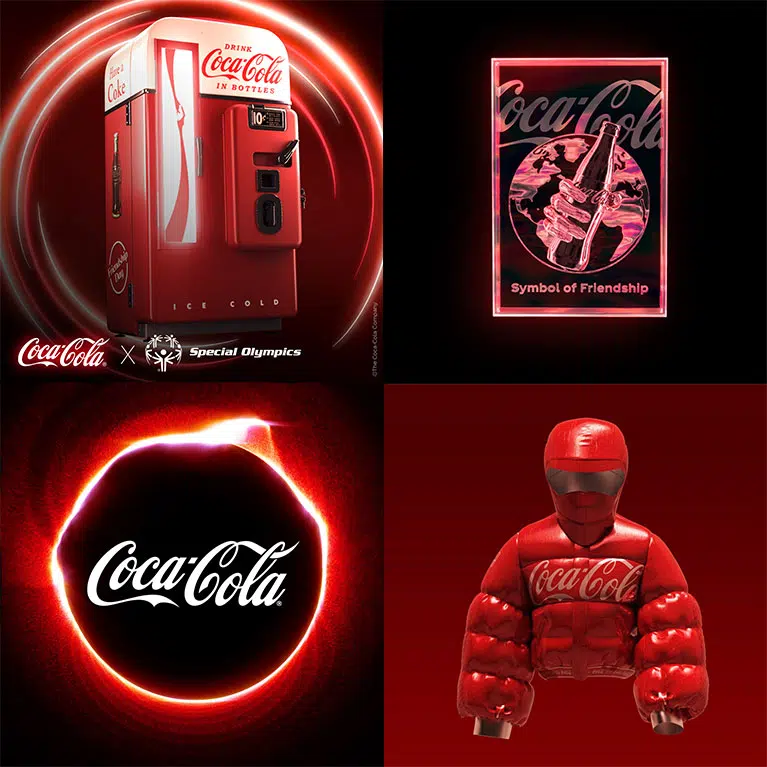 Source: Coca-Cola
Formula 1
Some Formula 1 teams have embraced NFTs. For example, the Red Bull team launched a collection of NFTs with 3D models of F1-related theme collectibles, such as cars, helmets, cards, and overalls. McLaren also launched a racing collection of NFTs, allowing fans to purchase individual digital components to build their own complete digital F1 car.
NFL & Ticketmaster
NFL and Ticketmaster teamed up to offer commemorative NFT tickets for Super Bowl LVI. Their initiative allowed fans that attended the event to access a complimentary and customized NFT based on their section, row, and seat. They leverage NFTs in their marketing strategy in a valuable way by making a normally standard product different.
How Your Brand Can Use NFTs
How brands use NFTs shows how this upcoming new technology has the power and potential to not only define brands but also help them grow and transform their social media strategy.
Collectibles and exclusivity
Creating collectibles and exclusive NFT collections is a great way to build hype around your brand with unique and creative non-fungible tokens that can't be found elsewhere. Exclusive NFT drops provide a unique experience to customers while maintaining project momentum.
Event tickets
NFTs can help your brand provide extra value, add another layer of excitement, and enhance your customer experience by providing attendees a virtual version of their ticket that can be used as is or as a collectible for them to remember the event.
Digital merchandise
From t-shirts with logos to jewelry, your brand can create a variety of branded digital merchandise for your customers to buy in the virtual world. Digital NFT merchandise can also be used to present virtual prototypes of some of your brand's future products to get feedback from your audience while building hype.
Sell physical products
Your brand can create NFTs that unlock exclusive physical products for your customers. NFTs can be used as VIP membership tokens, a loyalty reward program, or even as collectibles that give you a prize in the real world once you get the full NFT collection.
Fundraiser and charity events
Non-fungible tokens change the way your brand raises money for social causes. Your team can raise funds by selling NFT collectibles, artworks, or any other virtual products. NFT fundraisers help reach a larger community and attract new customers that might not have traditionally been interested.
Safety and authentication
Non-fungible token technology can be used by brands to create authentication systems for customers to prevent counterfeiting and fraud. Brands can use NFTs to issue individual serial numbers for their products to provide an additional layer of safety and authentication.
How To Create an NFT for Your Brand
Minting a non-fungible token enables brands to present innovative types of content to connect users, improve sales, and provide personalized merchandise in the virtual world. Creating a unique and profitable non-fungible token takes just 5 steps.
1. Pick item
Your brand NFT can be an image, an audio production (song), a short video (animated GIF), or a game, but it can also take other forms. Provide value to your audience by creating a unique item that can't be owned elsewhere. Make sure your NFT is created from something you own the digital rights to, as creating an NFT from media you don't own can have serious legal ramifications.
2. Choose blockchain
NFTs are unique crypto assets stored on a blockchain that acts as a distributed public ledger that permanently records any NFT transactions to ensure each asset is tracked and verified. Take your time and choose the blockchain that fits your requirements and needs such as cost, user experience, and mobile use.
3. Set up digital wallet
After choosing your blockchain, you will have to open and fund a digital wallet — such as Coinbase or MathWallet — that supports your blockchain to store your NFT. To do so, you will need to download a cryptocurrency wallet app and create your account by providing a username, password, and security keys for recovery and backup purposes.
4. Select NFT marketplace and upload file
Your next step will be to choose your NFT marketplace: the platform that will allow you to create your non-fungible token and upload it. You will then be able to follow the instructions on your platform to complete the upload process, as most of them offer step-by-step guides to help you.
5. Set up sales process
Once your non-fungible token is created and you have added it to your wallet, you simply have to hit the sell button on your NFT platform. You can choose your price and how long you wish the sale to last to create your official NFT listing. Once your NFT is listed, you should have a unique URL that you can share.
What Is Needed To Get Started
Successful brands use NFTs in a meaningful way by creating unique and useful NFT collections for their audience. Let's take a look at what you'll need to get started.
Unique and interesting ideas
To create a non-fungible token project, brands should include characteristics that showcase the uniqueness of their brand. For example, you can create branded digital collectibles or make digital NFT versions of your brand's physical products. If you don't have the resources or are looking for something specific, partnering with an NFT artist can help your brand achieve these goals.
Digital art tools
When choosing your digital tool consider one that fits your editing needs and gives you a precise, high-quality rendering. Your digital art tool should be easy to use with sufficient features and templates to help simplify your overall creation process. Pick a tool that you know and are comfortable with, or team up with a digital artist that does.
Strategies for growing community
User interaction is key to growing an NFT community, and your brand can support this community in a number of ways:
Connect with your audience via their preferred channels

Diversify your streams of engagement

Encourage user interactions

Create meaningful engagement opportunities

Leverage influencer marketing
A strong community management strategy will help your brand grow its community. You can find resources to do it in-house or team up with a community management agency.
Value to provide users who purchase
There are different ways to generate awareness and value around your NFT. Integrate the value your NFT adds to your social media marketing strategy. Spell out the benefits to your community and encourage them to engage and interact with it.
Promotion ideas
A strong marketing strategy will help your brand promote your NFT to your target audience and attract newcomers. There are many ways to promote your NFT to your audience including:
Online and in-person events

Free subscriptions

Exclusive discounts and coupons in the form of non-fungible tokens

Limited seasonal releases

Creators collaboration to create one-of-a-kind tokens
Conclusion
Brands are using NFTs to engage meaningfully with their community and reach exciting lengths of new customers. Starting an NFT project and learning how it can best work for your brand can take some time, but you don't have to go at it alone. Schedule a chat with us to learn more about how your brand can create and use NFTs to your advantage with our team of 24/7 social media strategy experts.