Week of May 22, 2023
Tuesday, May 23, 2023: First reported by NBC News, Florida Governor Ron DeSantis will announce he is running for U.S. presidency on a live discussion through Twitter Spaces on Wednesday, May 24 at 6 pm E.T. News first broke about the virtual discussion at Wall Street Journal's 2023 CEO Summit Council on Tuesday. Musk's support for DeSantis is not old news — he told the public back in November that he would support the governor should he run. Reporters have noted that this will bring eyes back to the Twitter platform after months of irregularity and swaying loyalty.
Musk's full endorsement of the Florida governor is still in question. Last Friday, he tweeted in support of his direct opponent, U.S. Senator from South Carolina, Tim Scott.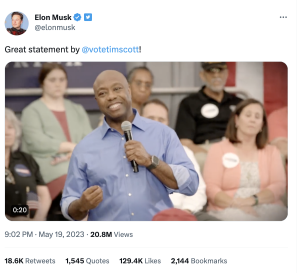 NBC News writes, "Even if Musk stops short of a full endorsement of DeSantis, aligning with his presidential announcement puts him and the company more squarely into a presidential election than any other tech company before it."
Brand safety: Prepare for Wednesday's live presidential announcement with added moderator hands on deck. Twitter's algorithm is poised to support Twitter Blue subscriber comments, but as is the case with social platforms, popular, and sometimes inflammatory, comments will appear first feeds. Prepare templated responses should your brand get involved in any conversations. Keep sight of your brand values and mission and direct users to private conversations when necessary.
Week of May 8, 2023
Friday, May 12, 2023: After months of swimming in Twitter's constant changes and overhauls — some verifiable, some hearsay — Elon Musk announced he's hired a new female CEO of X Corp. Following his teaser tweet on Thursday, May 11th, Elon announced Linda Yaccarino as next in line, set to start in approximately 6 weeks. Linda Yaccarino is a top advertising executive at NBCUniversal with a 30+ year career in advertising and media. The Tesla and SpaceX owner claims he never intended to remain as full-time CEO and will transition into an executive chair and CTO.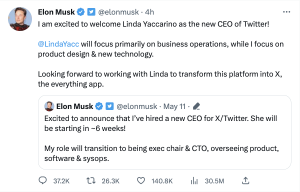 Brand safety: Bottom line advice for brands right now
Since X Corp's dissolution of Twitter's independent Trust and Safety Council within a sweep of major layoffs, concerns have risen regarding Twitter's monitoring and safety capabilities and a rise of hate speech on the platform. Brands have pulled back advertisements and public officials have opted out entirely.
But the jury is still out on whether or not hate speech rose since Musk's takeover. Two public studies tracked an increase in hate speech-associated terminology on the platform in correlation to new accounts added since Musk. Meanwhile, Twitter's internal reports in tandem with social listening tool Sprinklr indicated a decrease in hate speech, based on an entirely different terminology tracking system, one that takes into account context of use and a 'toxicity' rating for slurs, rather than solely word count tallies.
The ambiguity continues — for brands utilizing Twitter, this is not a time for fear, but rather a time for added vigilance.
Here are some things a brand leader could consider during Twitter's ongoing overhaul. Leverage social listening tools and additional team resources to:
✅ Understand the heart of your followers' sentiments about Twitter. These tools will also tell you if your followers are leaving the platform and why.
✅ Monitor your own channel for hate speech or inappropriate conduct.
✅ Review your escalation procedures and crisis plans. We never know when there will be a concerted effort to attack a brand online. This is your time for proactive planning.
If you'd like advice or need support for moderation, community management, social listening, or strategy, please reach out! We're here to support you and your online brand community 24/7 around the globe, on Twitter and beyond.
Intermission: The Check Mark
On April 23, 2023, as thousands of legacy users (pre-Musk verified accounts) were already losing their blue check marks, Twitter announced advertisers must have a verified checkmark, or subscribe to either Twitter Blue or Verified Organizations, in order to continue advertising on the channel. This marks an official push for subscription model revenue as the company dissolved any remnants of the legacy checkmark program starting April 1.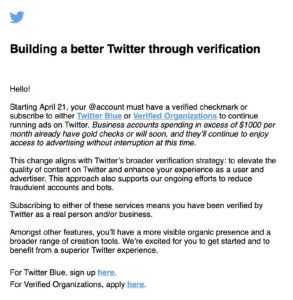 The news came out following months of an ongoing official checkmark process. Here are the existing categorizations, according to Twitter.
Blue: The blue checkmark means that an account has an active subscription to Twitter Blue and meets Twitter's eligibility requirements, which include certain safety criteria such as proof the account is active, complete, and non-deceptive.
Gold: The gold checkmark indicates that the account is an official business account through Twitter Verified Organizations.
Grey: The grey checkmark indicates that an account represents a government/multilateral organization or a government/multilateral official.
Intermission: X Corp
On
April 11th,
official corporate partners of Twitter received a message from Twitter Inc. stating that it has been renamed to X Corp.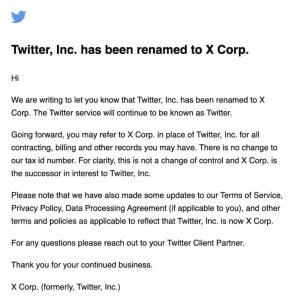 This message confirms a transition previously indicated in court filings, according to Forbes, that Twitter's owner Elon Musk continues to reshape the social media company towards an ultimate vision of an X "everything app."
Musk's maneuver mirrors that of Google's transition to Alphabet in 2015 or Facebook's switch to Meta in 2021. For years, the Twitter CEO has teased his vision of the X app, likening it to China's WeChat. There were no specific brand implications besides a corporate name change on billing and contracts.
_________
While there is little information on a timeline Elon said he would make the move "as soon as I find someone foolish enough to take the job."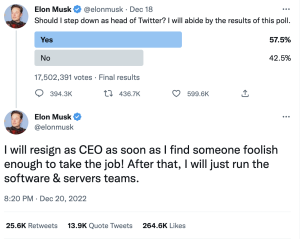 Monday, December 19: Twitter's Blue for Business announced in a press release.
Twitter shared in the release its piloting Blue for Business, a new program that allows brands to distinguish between their business and key employees on the channel. These accounts will show as a square badge next to the display names. So far, there is no information on cost, eligibility, or how a brand can go about verification.
On the same day, Elon took to Twitter in a poll asking users to vote if he should stay CEO. He promised in a tweet to step down and honor the outcome. In the outcome, 57.5% of the more than 17 million users that voted chose to oust him.
Thursday, December 15: Twitter suspended accounts of more than half-dozen journalists, including reporters from The New York Times, The Washington Post, and CNN.
Elon claimed the journalists were endangering his family through tracking data of his private jet. Both the EU and UN condemned the ban.
Days later, the journalists were re-instated.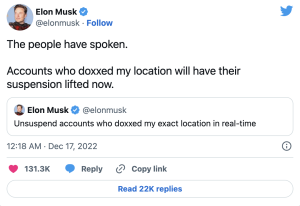 Monday, November 28: Then, Apple comes into the picture.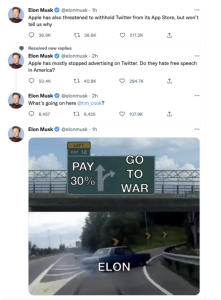 While still fully unverified claims, Reuters quickly reported on the matter, stating, "[Apple] spent an estimated $131,600 on Twitter ads between Nov. 10 and Nov. 16, down from $220,800 between Oct. 16 and Oct. 22, the week before Musk closed the Twitter deal, according to ad measurement firm Pathmatics."
The good news? Twitter's Context feature is still in action, which provides background to Musk's more exclamatory points.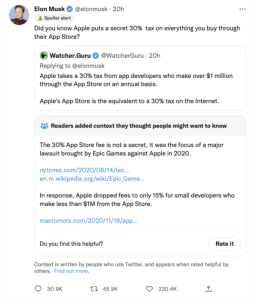 Sunday, November 27: Elon returns from the U.S. Thanksgiving holiday with this to say:

Tuesday, November 22: Twitter has allegedly gone from 7,500 staff members in September to around 2,700 now. The staff cuts are leading to advertising campaign issues and content moderation changes, both largely unwelcome by corporate entities to private users.
Earlier in the week, the Product Lead at Reddit, Peter Yang, tweeted one example of a brand advertiser's qualms (Peter Yang has historically been optimistic about Twitter's future within the creator economy).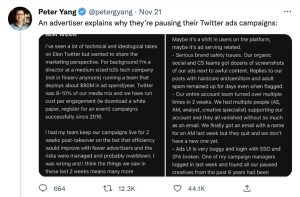 The New York Times claims that Elon's tactics are far from unusual for the entrepreneur. They wrote, "David Deak, who worked at Tesla from 2014 to 2016 as a senior engineering manager overseeing a supply chain for battery materials, said Mr. Musk 'clearly thrives in existential circumstances.' He added, 'He quasi creates them to light the fire under everybody.'"
Social Media Today writes that users have reported:
Being unable to view replies

Repeatedly seeing certain tweets at the top of the feed

Longer load times

Time-scrambled DMs

Replies showing above the main post

Video loading issues
Monday, November 21: Two important progressions take place…
The company

will pause Twitter Blue subscriptions entirely

(no more November 29 relaunch, brands!) in order to assure there is a discrepancy between Verified users and Twitter Blue Subscribers, responding to an alarming rate of impersonation accounts utilizing the check mark motif.

Elon continues to boast about Twitter's growing user base. Critics argue these numbers are in part because staff and Elon are allowing formerly blocked users back on the platform, including bots and spam accounts.

Musk continues to boast about Twitter's growing user base. Critics argue these numbers are in part because he and staff members are allowing formerly blocked users back on the platform, including bots and spam accounts.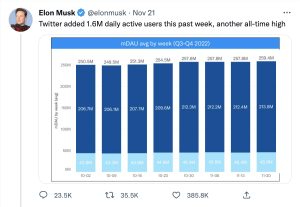 Sunday, November 20: CBS jumps back on Twitter. "After pausing for much of the weekend to assess the security concerns, CBS News and Stations is resuming its activity on Twitter as we continue to monitor the situation," the news station Tweeted on Sunday morning.
Saturday, November 19: Former U.S. President Donald Trump was reinstated on Twitter.
Meanwhile, media outlets break down what exactly went south with the FTX scandal and the unstable state of the crypto market. Read more from New Yorker's, The Intelligencer.
Thursday, November 17th: News breaks around 8:00 pm ET that Twitter closed its offices as employees quit by the hundreds as a result of the "Fork in the Road" decision. The company will keep doors closed through Monday, November 21st to confirm the departures. Meanwhile, Musk appears as ostensibly confident as ever.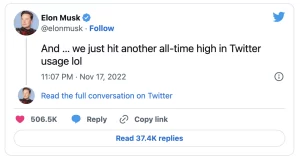 Intermission: Taylor Swift Breaks Internet
Meanwhile, Taylor Swift broke her own corner of the internet. Her upcoming Eras Tour shut down Ticketmaster as 14M Swifties clicked with fury to access tickets. We're not sure what's more exciting.

Wednesday, November 16th: Elon gave his employees an ultimatum to either quit or stay at the company through an email entitled, "A Fork in the Road." Poetic as it sounds, the email informed those who do stay to expect long, intense work hours.
Of note, leading up to this letter, Musk had already fired about 3,700 staff members, including top-level executives and creative department teams. Amongst those who have already departed of their own volition held roles in content moderation, cybersecurity, and legal compliance.
Tuesday, November 15th: Responding to the wave of fraudulent accounts, Twitter paused subscriptions, and Musk announced Blue will relaunch 'rock solid' on Tuesday, November 29th. The relaunch comes on Giving Tuesday — a day intended for radical generosity — and falls one day after Cyber Monday, a day that saw over 97.3 million online shoppers in 2021.

Monday, November 14th: Monday's events shook the regulated and pharmaceutical industry, as the first brand of its kind, Eli Lilly, took a fraudulent hit. An account imposter using an $8.00 Twitter Blue subscription used the check mark to masquerade as the company's verified account @LillyPad, tweeting from @EliLillyandCo, "We are excited to announce insulin is free now".
The resulting blow was real-world fiscal impact — Eli Lilly's shares declined by 6% the day after, and pharmaceutical companies across the board had to remedy the confusion with costly time and resources.
Intermission: Background on Musk's 'X'
This chaos didn't emerge out of the blue. Musk's desire for a "town hall," central hub started before Tesla & SpaceX. This tweet from October 4 might give us a clue.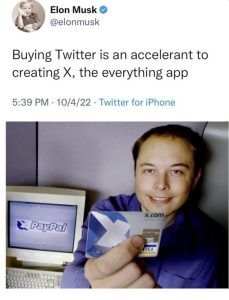 Many believe his 'X' is intended to replicate a version of WeChat, China's most widely used all-inclusive people, and businesses app. The portal combines many facets of daily life — users can publish writing, call friends, book doctor's appointments, and make financial transactions (i.e. pay taxes and even sell cars).
PayPal to 'X'
Musk began in the financial sector and founded a company that eventually merged to become today's PayPal — a successful company in the public's eye but a halfway complete vision for Musk.
His intention today is to leverage his existing enterprises, Twitter, Tesla, SpaceX, and his PayPal connections, and find a weave it into his 'X' project, whether created from scratch or through an existing platform.
That said, the outlook of an "everything" app to dominate the app market outside of China is murky — censorship and regulation in China are much different than in the U.S. and other nations.
Tuesday, Nov. 8: A tweet from Musk told his followers to vote for a Republican Congress to "curb the excesses of both parties." Reporters predict his political dialogue on the platform will create a more intense partisan line on the purchase.
He then clarified to his 115M followers, "To be clear, my historical party affiliation has been Independent, with an actual voting history of entirely Democrat until this year."
Monday, Nov. 7: Musk suggests putting all of Twitter behind a paywall and says content moderation policies will eventually evolve but remain the same for now.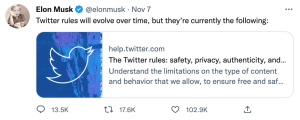 Sunday, Nov. 6: Clarification: Paid verification was reportedly delayed until after the election.
Saturday, Nov. 5: Pay-for-verification plan appears in an iOS update.
Friday, Nov. 4: Half of Twitter's nearly 7,500-person workforce was laid off, according to the Associated Press.
Since Musk's takeover, several major advertisers, such as Audi, General Mills, and Pfizer, have temporarily paused ad campaigns on Twitter.
Tuesday, Nov. 1: Musk suggests charging for verification. In a series of tweets, Musk said Twitter would charge $8 per month for a verified blue check mark as part of a subscription plan.
Saturday, Oct. 29: Twitter saw a surge in racist slurs. Twitter's Head of Safety and Integrity, Yoel Roth tweeted that the company has "seen a small number of accounts post a ton of tweets that include slurs and other derogatory terms."
Friday, Oct. 28: Musk says he plans to form a new moderation council.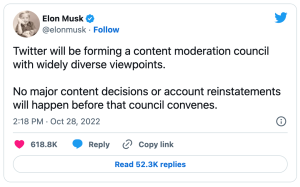 A securities filing also noted that Twitter's stock is being delisted on the New York Stock Exchange. This would take the company from public to private.
Thursday, Oct. 27: Musk takes over Twitter and fires executives including Twitter's CEO Parag Agrawal, the CFO Ned Segal, and the Head of Legal Policy, Trust & Safety, Vijaya Gadde.